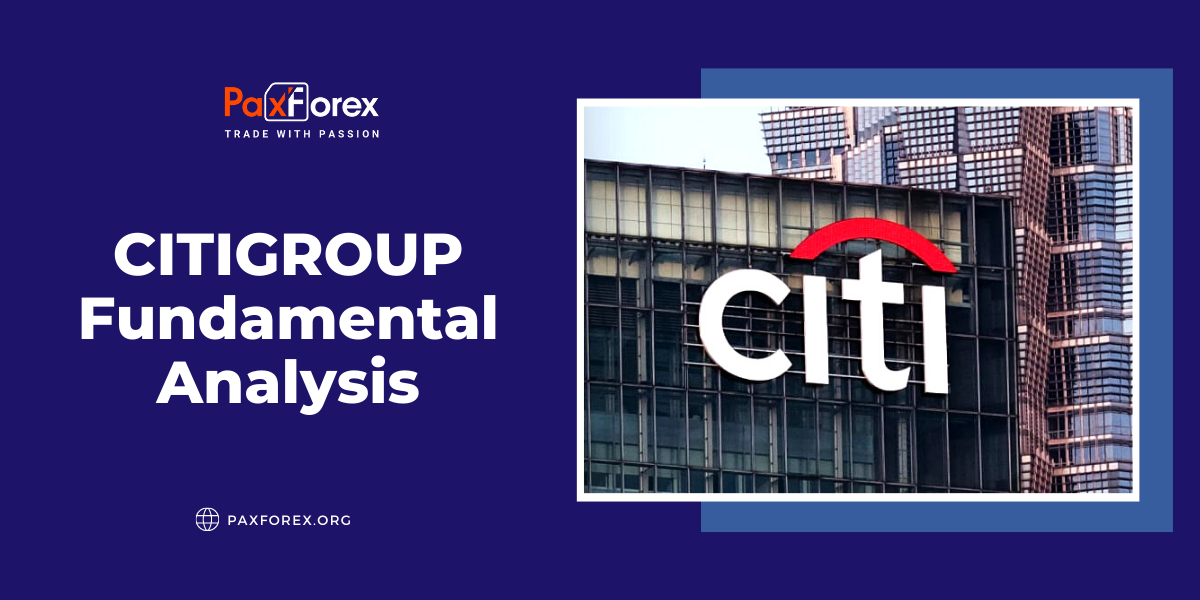 Source: PaxForex Premium Analytics Portal, Fundamental Insight
As you could see, Citigroup stock has performed well over the past few months. In addition, over the long term, analysts expect the bank's stock to rise significantly as it implements its renewal strategy and fixes its regulatory problems. While no one knows exactly when that will happen, we can say with some confidence that when Citigroup reports its third-quarter earnings, there should be even more reasons for the stock to rise, especially over the long term. And here's why.
Most banks are valued relative to their tangible book value (TBV), which is how much the company would be worth if it was liquidated immediately. After years of lagging returns from the industry and lengthy regulatory problems, Citigroup's stock and valuation are struggling. After falling to the $30 mark at the start of the pandemic last year, the stock has recovered and has been trading around $73 a share in recent days. But even at that level, Citigroup is trading at 94% of TBV. That's cheap compared to most Citigroup peers and the industry as a whole.
However, once Citigroup reports earnings, investors will have even more reasons to buy the stock, as experts anticipate TBV per share to rise. When TBV rises, a bank's stock price tends to follow because if you think a bank is worth a certain valuation, the stock price must also rise to match that valuation. The way things are going, Citigroup is going to show a pretty significant increase in TBV next quarter because the bank is buying back shares, and when banks do that by trading below TBV, the math works so that the TBV per share ends up going up.
We know that Citigroup is buying back stock because management told us so during past earnings reports. In the first half of 2021, Citigroup returned about $7 billion to shareholders through dividends and share buybacks. But at the time, banks were also subject to Federal Reserve limits on how much capital they could return to shareholders. Citigroup CEO Jane Fraser said $7 billion was the maximum a bank could return under Fed rules. Those limits were lifted at the end of the second quarter, which leads us to believe that Citigroup probably bought back more shares in the third quarter than it did in the first two quarters of this year.
The opportunity to buy back shares below book value is usually a boon for banks - especially a well-capitalized bank with good returns, like Citigroup. That's why most expect management to take advantage of the opportunity. Wells Fargo analyst Mike Mayo said during a second-quarter earnings call with Citigroup, "I mean, you're not blind to the fact that your book value is $78 and your stock price is $68. So you should probably sell chairs and silverware and whatever else you can to buy back your stock, from my perspective."
Citigroup bought back $1.6 billion and $3 billion worth of stock in the first and second quarters of this year, respectively. Assuming Citigroup buys back more shares than it did in the second quarter - given that the stock traded below TBV all quarter and there were no restrictions from the Fed - we can expect TBV to potentially grow more than it did in the first two quarters. TBV per share rose 2.5% in the first quarter and then 3.1% in the second quarter, so it would be very reasonable to assume that TBV per share would rise by at least 3.5% or 4%. Another 4% added to Citigroup's TBV per share brings it to almost $81. Suddenly, a 94% TBV per share valuation would bring Citigroup stock down to more than $76 per share.
There is no guarantee that life will turn out that way, as it rarely does. But in the long run, a higher TBV per share is great for Citigroup - especially if the company can execute on its strategy, which looks promising.
With that in mind, it's safe to say that there's now every reason to believe that Citigroup's TBV per share will rise simply because the bank probably bought back more shares in the third quarter than in any other quarter this year. When that happens, Citigroup's valuation will look lower than it does now, which may be right in the eyes of some investors. But as the bank's renewal plan becomes clearer, as it becomes more profitable, and as it hopefully can fix long-standing regulatory problems, Citigroup stock is likely to follow TBV upward. That's why we can conclude that the bank's stock won't stay this cheap for long.
As long as the price is above the 69.00 level, follow the recommendations below:
Time frame: D1
Recommendation: long position
Entry point: 71.54
Take Profit 1: 76.60
Take Profit 2: 78.40
Alternative scenario:
If the level of 69.00 is broken-down, follow the recommendations below:
Time frame: D1
Recommendation: short position
Entry point: 69.00
Take Profit 1: 66.60
Take Profit 2: 64.20