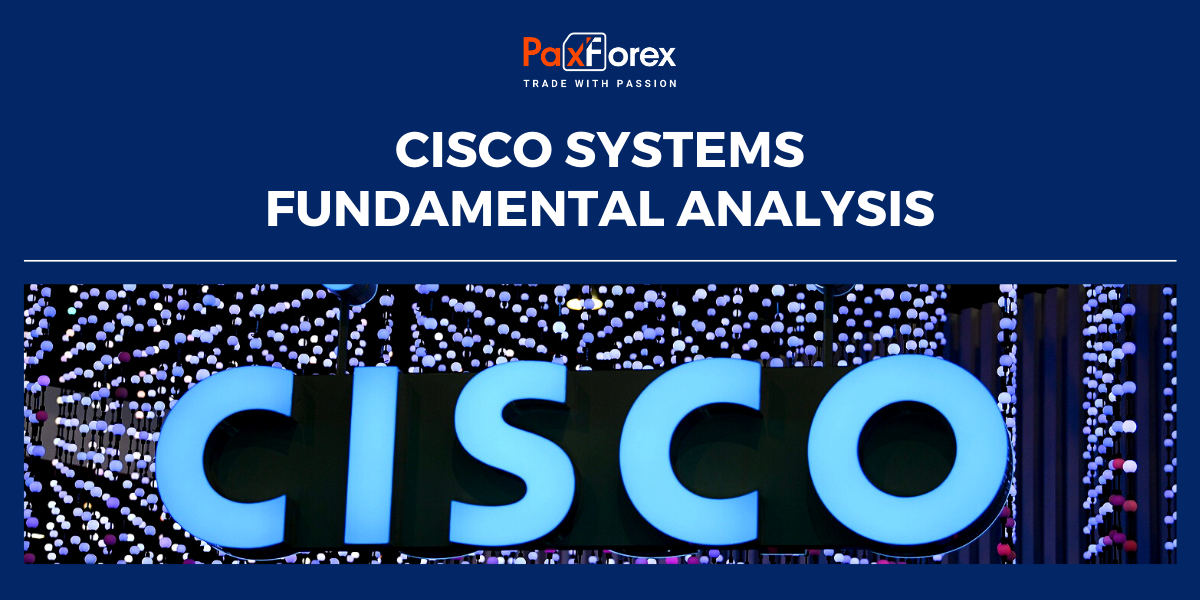 Source: PaxForex Premium Analytics Portal, Fundamental Insight
As they say, there is nothing certain except death, taxes, and the fact that acquisitions of Cisco Systems will continue. The supporters of long positions, currently in the minority, are extremely positive about these deals. Let's take a look now at the current state of affairs of the company.
The company aims to increase revenue from software and services and move away from its core business of selling network switches and routers. Some analysts shorting CSCO believe it is necessary to make a larger, transformational acquisition, especially after the disappointing guidance for the next quarter.
"We believe a more aggressive approach to mergers and acquisitions is needed to address the product shortage," Oppenheimer analyst Ittai Kidron recently said in a note to customers.
Cisco shares remain one of the leading U.S. technology companies by cash on its balance sheet. While Cisco shares pay attractive dividends, the share buyback program has slowed. Last quarter, Cisco suspended its share buyback program.
Under the coronavirus emergency, Cisco shares lag behind the S&P 500.
Before the pandemic, management said 30 percent of all revenue would come from software in fiscal 2020, up from 22 percent in 2017.
Also, the growing total of current subscriber revenue is key to Cisco's strategy.
One viewpoint is that corporate networks will be less important if remote work takes root in a pandemic.
Besides, an increased investment may be necessary to acquire a stake in next-generation corporate networks. Cisco wants to migrate from local data centers to a hybrid cloud infrastructure.
Much of Cisco's revenue growth comes from acquisitions.
In May, Cisco acquired ThousandEyes, a network intelligence company, for $1 billion.
In 2017, Cisco acquired software vendor AppDynamics for $3.7 billion. At the end of 2017, it acquired the company BroadSoft for $ 1.9 billion.
In July 2019, Cisco acquired Duo Security for $2.35 billion, its largest acquisition in the cybersecurity industry since the acquisition of Sourcefire in 2013. The acquisition of Duo Security strengthened Cisco's position in a new category called "Zero Trust Cyber Security.
Bank of America analyst Tal Liani noted in a recent study that Cisco faces increased competition from Zoom Video Communications, Microsoft, Splunk, and Datadog, all of which are based on cloud technologies. Liani said Cisco can make the purchase "by looking at the application development and delivery process, with CDN technology as a potential target.
In addition to acquisitions, the new accounting rules are a plus for revenue recognition. The rules, known as ASC 606, require that licenses for multi-year software be pre-recorded.
As companies migrate workloads to cloud computing, such as Amazon Web Services, part of Amazon, they can spend less on internal computer networks. Also, Cisco has lost ground in several major markets, although it is striving to restore cybersecurity.
During quarantine, companies have reduced IT costs.
In the quarter ending July 25, Cisco's profit fell by 4% to 80 cents per share compared to the same period last year, the company said. Revenues fell 9% to $12.2 billion, the company said.
Cisco's profit for the current quarter is expected at 70 cents compared to 84 cents a year earlier. Cisco expects its revenue to decline by 10% in mid-October to about $11.84 billion. Analysts predicted an adjusted profit of 76 cents with revenue of $12.25 billion.
The company said its CFO, Kelly Kramer, is resigning. Cisco also plans to cut costs by $1 billion per year and refocus its research and development projects.
One highlight for Cisco is that Catalyst 9000 computer network switches are driving sales growth. The Cisco CEO said the Catalyst 9000 upgrade cycle is "in the early stages".
It is also possible for Cisco to update data centers. The so-called "Internet cloud" consists of data centers of warehouse size.
They are filled with stacks of computer servers, storage systems, and network equipment. Most data centers that use cloud computing currently use communication equipment at 100 gigabits per second. The cycle of upgrading data centers to 400G technology has been postponed.
Cisco agreed in 2019 to buy Acacia Communications, a 400G device manufacturer, for $2.6 billion in cash. The deal was not closed. Earlier it bought optical device manufacturer Luxtera for $660 million.
Arista Networks has outperformed Cisco in the cloud data center market, taking over Microsoft, Facebook, and Amazon as customers.
With the acquisition of Acacia, Luxtera, and Leaba Semiconductors, Cisco aims to enter the cloud data center market, said Marshall of Morgan Stanley.
Analysts also note that Cisco is in a good position as corporate customers move to network technologies called software-centric broadband or SD-WAN. This technology often listens for bandwidth on the public Internet.
With SD-WAN, companies have less need for expensive private data networks rented from telecommunication companies.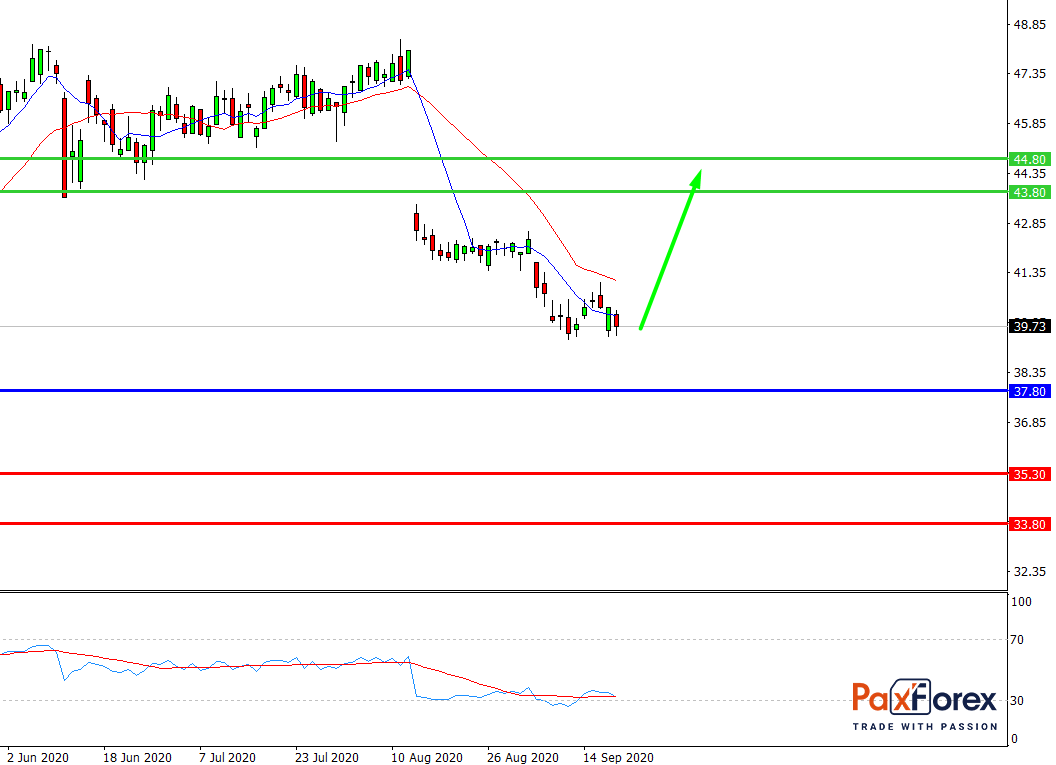 While the price is above 37.80, follow the recommendations below:
Time frame: H4
Recommendation: long position
Entry point: 39.80
Take Profit 1: 43.30
Take Profit 2: 44.80
Alternative scenario:
If the level 37.80 is broken-down, follow the recommendations below.
Time frame: H4
Recommendation: short position
Entry point: 37.80
Take Profit 1: 35.30
Take Profit 2: 33.80