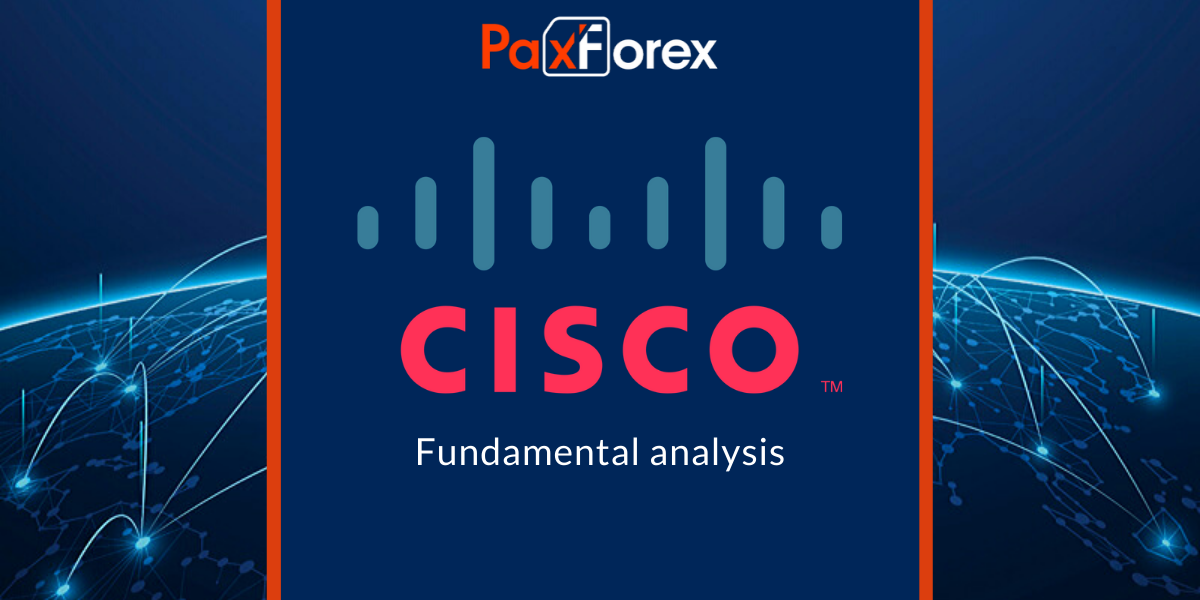 The Cisco company was not spared the pandemic and the worldwide quarantine. The recession will harm the company's short-term activities. But the technology giant should also benefit from the "homestay" policy. Cisco's core business is selling network devices and software. During the last quarter, the company's infrastructure platform segment, which mainly includes solutions for computer networks, accounted for 54.4% of total revenues. This segment is subject to expected reductions in global computing infrastructure costs. Due to the uncertainty associated with the coronavirus outbreak, research company IDC presented a pessimistic scenario, according to which IT sector costs in 2020 will only increase by 1% compared to 4% earlier. But Cisco also offers communication solutions, such as Webex and Jabber, that allow employees who work remotely to communicate and collaborate from anywhere. These solutions represent an important part of the company's application segment, which reached 11.2 percent of total revenue in the last quarter. Since many people work remotely due to the coronavirus outbreak, Cisco has increased traffic to Webex 22 times in the last few weeks. Part of this increase is due to the spread of free Webex offers to support the rapid deployment of remote work. But this development is likely to benefit Cisco in the long run, as businesses need time to become familiar with these types of solutions.
he Cisco security segment also includes cloud solutions such as Umbrella and Duo Security. These tools protect and authenticate employees from anywhere, which complements the use of Cisco remote communication tools. Again, Cisco does not provide detailed information on the performance of these individual solutions, but Chuck Robbins, the CEO, emphasized in his latest revenue report that Duo Security and Umbrella are important drivers of the company's security business growth, which accounted for 6.2% of total revenue in the last quarter. Measures that require people to work from home to deal with the coronavirus are likely to result in increased demand for these cloud-based security solutions.
The impact of the coronavirus outbreak remains uncertain, but the company may experience such a difficult situation for years to come. Its cash flow exceeded its total debt by $11.1 billion at the end of last quarter. Management may also use insurance tactics to acquire technology shares, which have recently become cheaper.
Besides, Cisco has demonstrated its ability to generate free cash flow over the past decades, including during the 2008 financial crisis. And despite the short-term volatility, free cash flow has been growing steadily over the long term.
Looking ahead, Cisco is still exposed to the growth opportunities that 5G and 400G technologies offer in the coming years. For example, giant telecom operator Verizon recently announced that it is expanding its capital program range to 2020 to accelerate 5G deployment. And IDC forecasts that 5G infrastructure costs will increase by 118 percent annually by 2022. The recession should harm the company's performance in the short term, and the share price could fall. But Cisco seems ready for these challenges, and its long-term outlook remains positive. Thus, the market now offers investors to consider buying Cisco shares at a low price of $12.2.