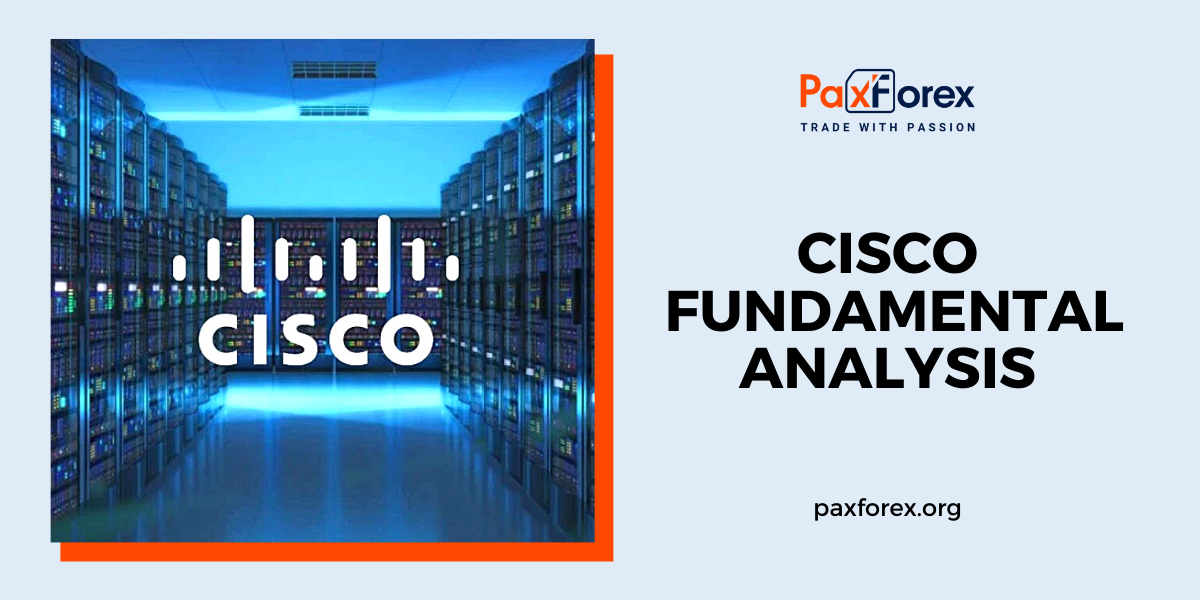 Source: PaxForex Premium Analytics Portal, Fundamental Insight
Shares of network equipment giant Cisco Systems have declined this year, as have most other technology stocks. The 25 percent drop in the share price has made them look cheap. Cisco reported adjusted earnings per share of $3.36 for the fiscal year 2022, which ended July 30, bringing its price-to-earnings ratio to 14.
That's not an overly optimistic estimate for a company that is an absolute leader in its core markets. Cisco had 42.3 percent of the Ethernet switch market in the second quarter, more than four times the share of its next-largest competitor. In the service provider and enterprise router market, Cisco captured about a third of all sales.
Despite Cisco's dominance, the company is subject to large drops in demand amid economic uncertainty. Cisco products are critical, but it's easy for enterprise customers to put off upgrades in a tough economic environment.
Given the possibility of a recession in 2023, is it a good time to buy Cisco stock?
If you look at Cisco's latest quarterly results, it appears the company is doing just fine. In the first fiscal quarter that ended Oct. 29, revenue rose 7% year over year to $13.6 billion, and adjusted earnings per share jumped 5% to $0.86.
Importantly, Cisco's full-year outlook is optimistic. The company expects revenue growth of 4.5% to 6.5% and non-GAAP earnings per share to be well above fiscal 2022 levels.
Cisco's transformation into a solution provider makes the company's results more predictable. While hardware sales are still its core business, the company has evolved into a strong recurring revenue company. In the first quarter, subscription revenue was $5.9 billion, or about 43 percent of total revenue. Of that, software subscription revenue was $3.3 billion and service subscription revenue was $2.5 billion.
Cisco's results this year will be driven in part by a large number of orders. The company expects to end the fiscal year with order volume two to three times higher than historical levels. Supply chain constraints during the pandemic delayed hardware shipments, and software subscriptions related to that hardware also fell behind. Cisco's software subscription revenue rose 11% in the first quarter as some of those subscriptions were delivered, though the company still has more than $2 billion of software in its backlog.
Even if the global economy enters a recession next year, Cisco's huge backlog and software subscription revenues will help support sales for a while, even if underlying demand deteriorates.
Although Cisco expects revenue growth this year, it is already seeing its customers turning down new orders. Total product orders were down 14% in the first quarter. The worst geographic segment for Cisco was Europe, the Middle East, and Africa, where product orders fell 23%. The company cited high energy prices in Europe as one reason for the drop in orders but noted that some of its product lines focused on lower energy consumption can perform well in that environment.
Although order volume was down, it was still the second-highest first-quarter order volume in Cisco's history. It was hard for Cisco to match last year's extremely strong quarter in terms of orders.
And it wasn't all bad news: Orders from U.S. enterprise customers were up slightly, partially offsetting weakness in other customer groups.
Cisco's order book gives it a revenue forecast for the next few quarters, but if the product order situation continues to worsen, the company will work on that order book and again find itself at the mercy of end-market demand. And if a recession hits next year, a prolonged period of low product orders is likely.
Cisco's market dominance and inexpensive valuation make it one of the most attractive technology stocks to buy right now. However, anyone considering an investment in Cisco should be aware that the company's earnings and profits can be somewhat volatile. An overstretched backlog is smoothing things out right now, but it can't last forever.
Be prepared for lower revenues and profits next year if the global economy continues to deteriorate. Over the long term, Cisco is aiming for revenue and profit growth of 5-7% per year. But that won't happen every year. If you're a long-term investor who can survive some temporary setbacks, Cisco is a great stock to buy.
As long as the price is above 45.00, follow the recommendations below:
Time frame: D1
Recommendation: long position
Entry point: 48.32
Take Profit 1: 50.00
Take Profit 2: 54.00
Alternative scenario:
If the level of 45.00 is broken-down, follow the recommendations below:
Time frame: D1
Recommendation: short position
Entry point: 45.00
Take profit 1: 42.00
Take Profit 2: 39.00