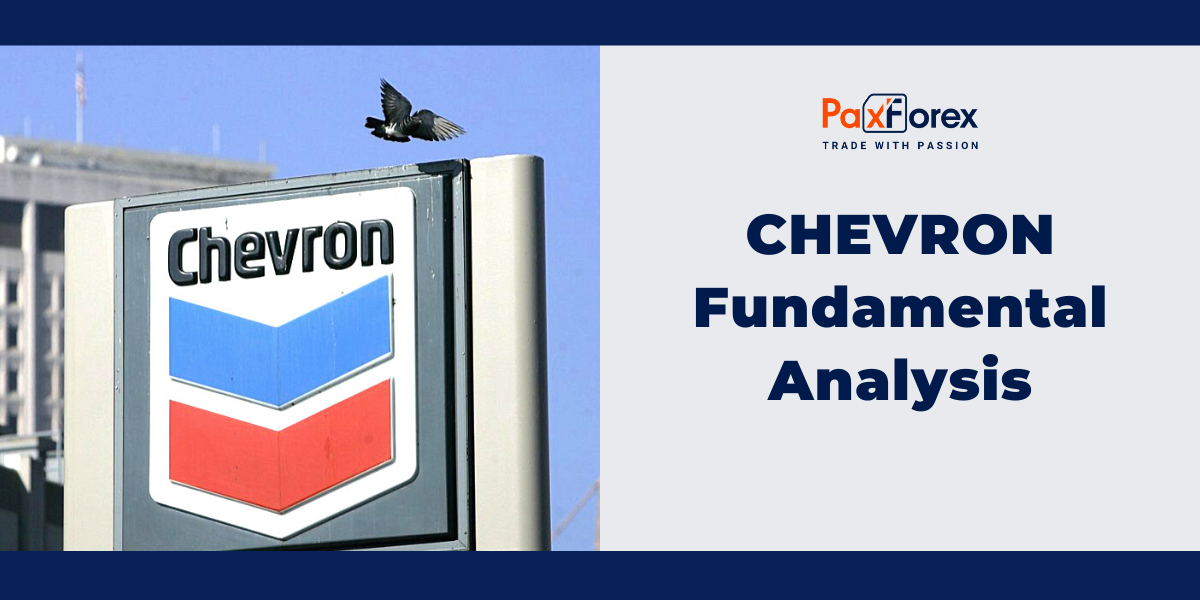 Source: PaxForex Premium Analytics Portal, Fundamental Insight
Chevron is increasing its presence in the Permian oil and gas-bearing basin, while oil production is weakening. So should we consider Chevron shares as a buy? Let's take a look at the earnings and the CVX stock chart.
Chevron is the last oil company in the Dow Jones Industrial Index since Exxon Mobil's adversary was "expelled" in late August, after more than 90 years on the key index.
But while Chevron will remain a "blue chip," the replacement of Exxon for Salesforce is yet another signal of a declining outlook for the energy sector.
Chevron's second-quarter results reported on July 31 were weaker than expected. The oil giant reported a loss of $1.59 per share. Profit fell by 65% to $13.49 billion. World production fell by 3% to 2.99 million barrels of oil equivalent per day, although production in the Permian basin increased.
Uncertainty about the economic recovery, as well as the oversupply of oil and gas, led to a downgrade against Chevron's commodity price outlook, leading to asset impairment and other charges, said Michael Wirth, the company's CEO.
The company also cautioned that while demand and prices showed signs of recovery, "they have not returned to pre-crisis levels and financial results could continue to deteriorate in the third quarter of 2020.
Over the past three years, Chevron's earnings grew by an average of 15%. Revenue growth of the energy giant Dow Jones was 0 percent in three years.
As a rule, investors should look for shares with stable profits and sales growth of at least 25 percent.
Chevron will report its third-quarter results on October 30. Analysts predict a loss of 13 cents per share compared to a profit of $1.59 per share in the corresponding quarter last year. Revenue is expected to fall nearly 30 percent to $25.5 billion.
Chevron shares also offer a dividend yield of 6.1 percent against about 2 percent for the S&P 500. Exxon reported second-quarter results that did not justify Wall Street's estimate. However,
Exxon shares can boast a dividend yield of 8.3 percent.
But analysts are optimistic about Chevron compared to its biggest oil competitors. In October, Credit Suisse restored its valuation of Chevron shares with a higher rating and a price target of 97.
"Chevron offers one of the strongest balances among major players, quite low break-even levels and an attractive growth forecast with a low level of risk... consolidated by extensive legacy positions in the Permian basin when oil prices improve," analysts say.
Chevron has invested heavily in the Permian Basin on the eve of the coronavirus pandemic and the collapse of oil prices. Chevron last year offered to buy Anadarko Petroleum for $33 billion, partly to get a key piece of land in the Permian Basin.But Occidental Petroleum put up a counteroffer for $38 billion, having received financing from Berkshire Hathaway Warren Buffett, and Chevron refused to negotiate without raising its rate.
Nevertheless, Chevron found opportunities to acquire even against the backdrop of the pandemic. In July, Chevron announced it was buying Noble Energy, an oil and gas company, by closing a deal worth $5 billion for all shares. Noble owns 92,000 acres in the oil-rich Delaware Basin.
In August, Chevron was among the energy companies that announced agreements worth up to $8 billion with the Iraqi government. The oil giant has approved a framework of exclusive negotiations for an exploration, development, and production contract for a major oil field in the Dhi Qar province.
Chevron stocks are also moving toward wider oil news from abroad. Shares have fallen after OPEC+ negotiations collapsed in March, causing the biggest drop in oil prices since the start of the Gulf War in 1991. But since then, the cartel has reached a new agreement as the pandemic hit demand.
While drilling and production operations benefit from higher oil prices, refining operations profitless when oil prices rise. Chevron is one of the oil companies processing oil off the Gulf of Mexico, which requires heavy crude oil for optimal processing. Sanctions on Venezuelan oil resulted in higher refining costs, which led to lower margins.
Chevron shares are not currently in the buy zone, and there is no discernible pattern to rely on. RSI continues to show poor performance compared to the market as a whole.Both profits and
CVX shares also fluctuate depending on crude oil prices, which are heavily influenced by external forces.
Earnings and revenues are declining, and the outlook is vague as crude oil production is expected to recover over an extended period.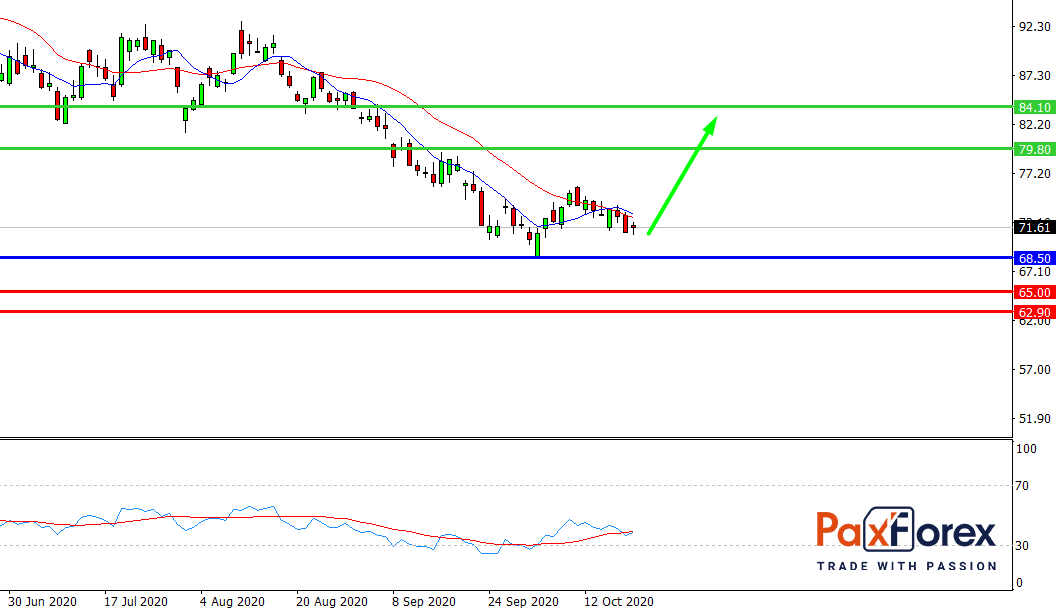 Provided that the price is above 68.50, follow these recommendations:
Time frame: D1
Recommendation: long position
Entry point: 71.29
Take Profit 1: 79.80
Take Profit 2: 84.10
Alternative scenario:
In case of breakdown of the level 68.50, follow the recommendations below:
Time frame: D1
Recommendation: short position
Entry point: 68.50
Take Profit 1: 65.00
Take Profit 2: 62.90