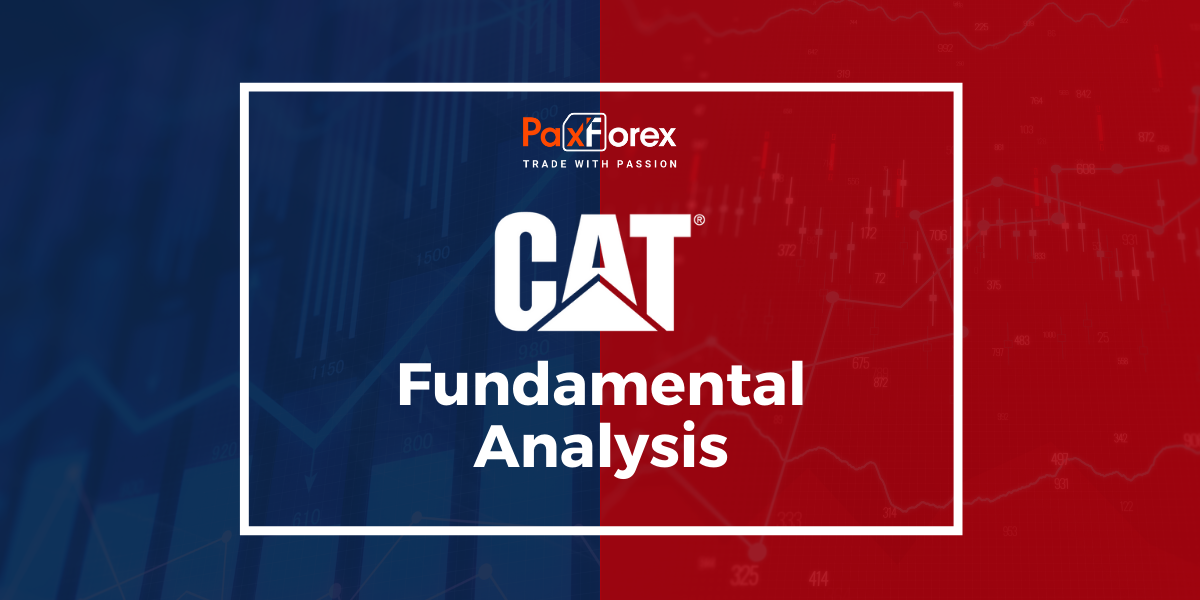 Source: PaxForex Premium Analytics Portal, Fundamental Insight
Presumably, construction, mining, and oil and gas were among the sectors hardest hit by the coronavirus pandemic. Nevertheless, shares of leading equipment maker Caterpillar show no signs of slowing down. The company's stock has nearly doubled from its March lows and is up 18% from a year earlier.
By analyzing the chart, one can see that Caterpillar's sales and profits are cyclical - they always have been and probably always will be. In other words, they go up in sync with the economy and then down with it. That's not a good quality in 2020, as the economy suffered from a sharp economic downturn, but the reality is that Caterpillar is well on its way to recovery. So is it worth buying the stock now in 2021?
Caterpillar relies heavily on its global dealer network for sales. During a downturn, retailers typically work with their inventory rather than buying fresh equipment from Caterpillar, which hurts the company's top line. In the first three quarters of this year, dealers reduced their inventory by $1.8 billion. Caterpillar's sales in the energy and transportation segment fell nearly 27% to $28.4 billion during that period.
However, Caterpillar's third-quarter sales declined only about 1% and remained flat in three segments: construction, resources, and energy and transportation (E&T). The company's operating margin also improved by 2.2 percentage points, reaching 10% in Q3. It is a positive development because the company faced similarly challenging business conditions in both quarters after the pandemic began.
The investment message behind the stock is simple. It is usually a good idea to buy cyclical stocks when the upside phase begins, and that is where Caterpillar is right now. The logic is that stocks usually start from a place where investor expectations are low, and then they climb a wall of concern as they recover. Also, as the company's earnings growth picks up, analysts often go out of their way to raise forecasts, so you can buy the stock while others are still waiting to hear what analysts have to say.
Because of this, Caterpillar is a valuable investment for dividend shareholders. The dividend is well covered by free cash flow, and management plans to reduce the cyclicality of its earnings by expanding its revenue services, which tend to hold up better than equipment sales at a slower pace since customers will still use the machines but may delay buying new equipment.
Thus, the company's free cash flow through the cycle will grow higher over time. Caterpillar's total sales in 2019 were $53.8 billion, of which $18 billion came from services, but management plans to generate $28 billion from services in 2026.
Still, there are two main reasons why Caterpillar may not be a big cyclical company right now. First, the company's stock has rallied strongly recently, and investors have already begun to actively rebound. Second, there is reason to believe that Caterpillar's recovery will not be as strong as in previous cycles.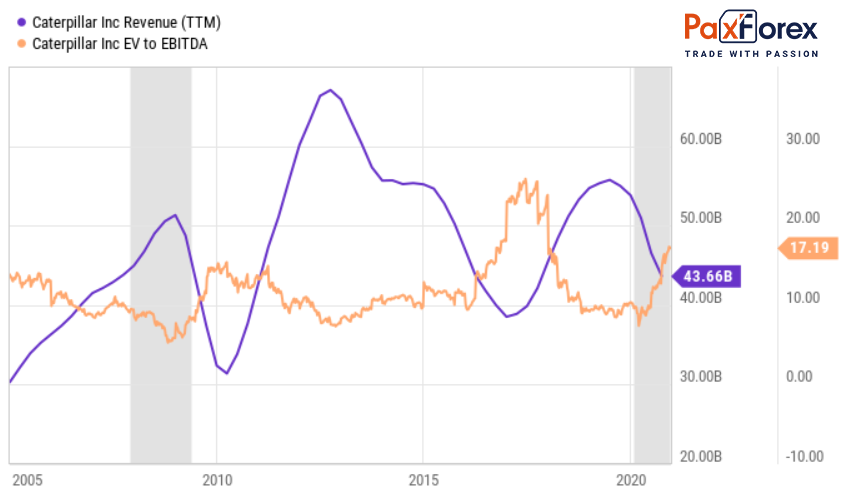 The chart of enterprise value (market cap plus net debt) to earnings before interest, taxes, depreciation, and amortization (EBITDA) shows that Caterpillar's price is already quite high.
Moreover, the fourth-quarter earnings decline is expected to bring the year-end EV/EBITDA multiple to nearly 21.Turning to the sustainability of the recovery, it helps that Caterpillar's
machinery earnings are up by the end of the year. Thus, investors can see how Caterpillar's earnings tend to fluctuate up and down with the cycle.
The unanswered questions are mostly about the company's resources and energy and transportation segments. While coal mining is far from the only market the commodities segment sells into, it is a key market, and there is no way to embellish the fact that coal production is falling in Caterpillar's key market in the United States.
Also, the number of oil rigs is a useful indicator of oil and gas spending (energy and transportation segment), and there is no guarantee that conditions will improve significantly, as they did in 2010 and 2017. Finally, locomotive sales (energy and transportation) may be in doubt as railroads continue to focus on initiatives to reduce their asset base.
Overall, Caterpillar sales appear to have bottomed out, which is good news, but it is far from clear that the rebound will be as strong as it has been in previous periods.
Dividend-focused investors may feel safe buying the stock, but for other investors, Caterpillar's current price looks a bit overvalued, given the caution around some of its end markets. Investors should keep a close eye on capital spending in the mining and oil and gas industries, as well as hope for increased infrastructure spending. Until clear evidence emerges, most investors will want to take a closer look at Caterpillar rather than rushing to buy the stock right now.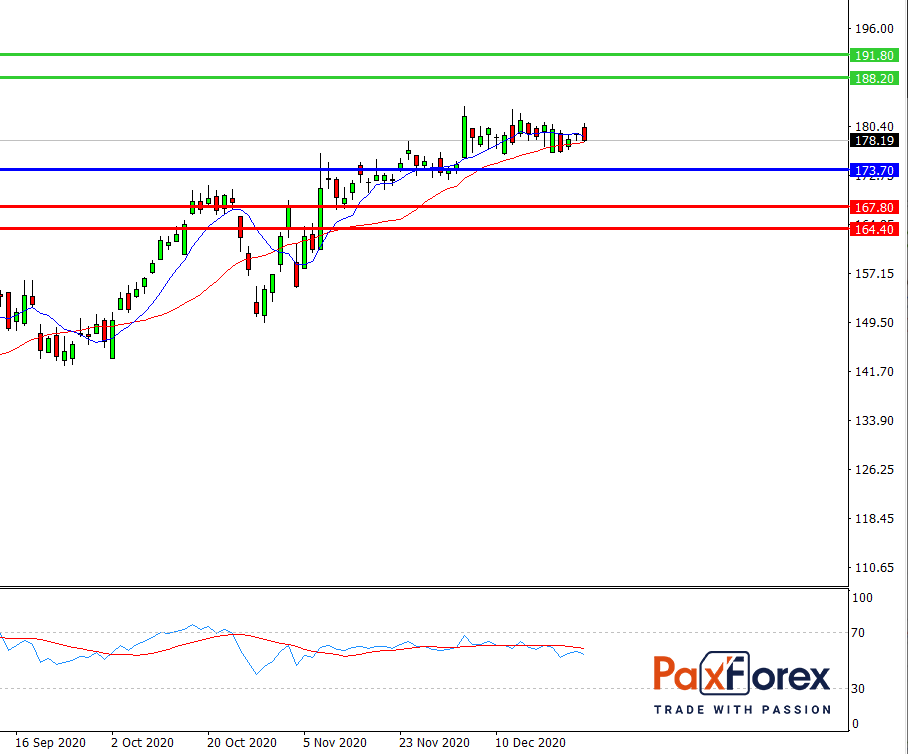 While the price is above 173.70, follow the recommendations below:
Time frame: D1
Recommendation: long position
Entry point: 175.20
Take Profit 1: 188.20
Take Profit 2: 191.80
Alternative scenario:
If the level 173.70 is broken-down, follow the recommendations below:
Time frame: D1
Recommendation: short position
Entry point: 173.70
Take Profit 1: 167.80
Take Profit 2: 164.40