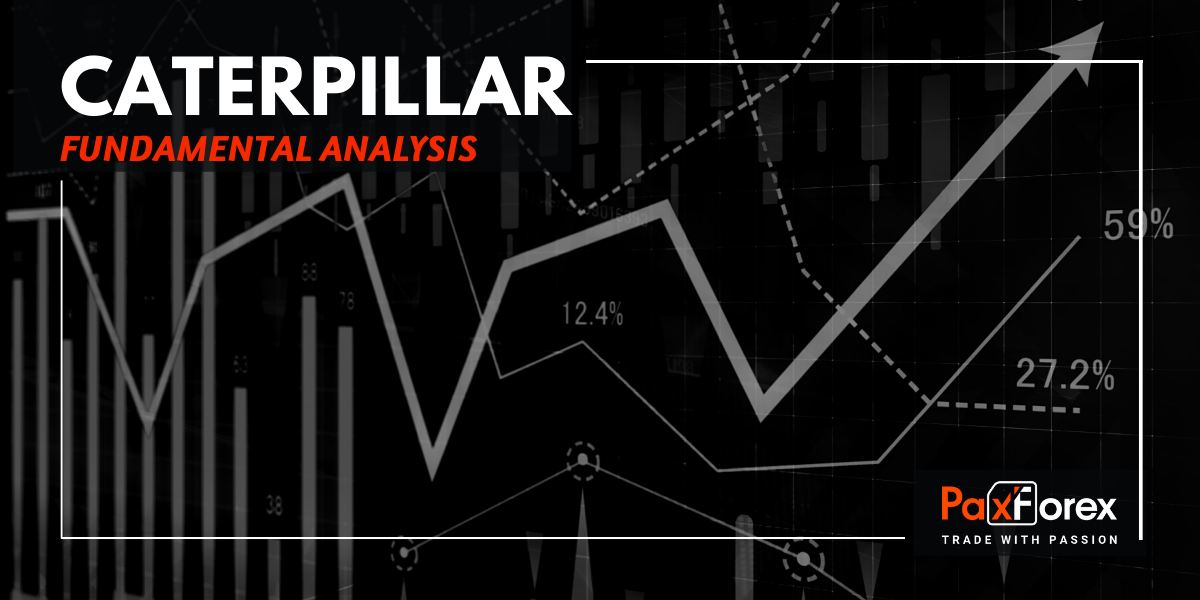 Source: PaxForex Premium Analytics Portal, Fundamental Insight
Construction, mining, and oil and gas industries may have been hardest hit by the COVID-19 pandemic. However, shares of leading equipment manufacturer Caterpillar show no signs of a slowdown. The company's shares almost doubled from their March low and increased by 18 percent from the previous year.
Either Caterpillar is doing something right that has attracted investors' attention, or the market is setting the price when the economy is recovering. The latter is not unjustified, given the positive signals given by the company's management during the last quarterly report. Does this mean that shares can be bought even at the current price?
Caterpillar relies heavily on its global dealer network for sales. During a downturn, dealers tend to reduce inventories rather than buy fresh equipment from Caterpillar, which is detrimental to the company's top rankings. Dealers reduced their inventory by $1.8 billion in the nine months ended September 30, 2020. Caterpillar sales in the Energy and Transportation category fell nearly 27 percent to $28.4 billion over that period.
However, sales in the third quarter fell only about 1 percent and remained flat in three segments: construction, resource and energy, and transportation. The company also improved its operating margin by 2.2 percentage points, reaching 10% in Q3. This is a positive sign as the company faced a similar challenging business environment in both quarters after the pandemic.
At the same time, management sees positive signs. They expect end-user demand and sales to improve in the fourth quarter and 2021, supported by some strong end-user markets.
Examples include the start of healthy housing and non-residential construction in North America, as well as steady demand for construction equipment from China. Caterpillar also anticipates increased mining orders, increasing the prospects for its Mining Division. The upstream sector is likely to be the weakest link, given low oil and gas prices and anemic demand for solar energy.
While this management comment is encouraging, other statistics are suggesting that the worst for Caterpillar could be over: retail equipment sales data. Note that during the quarter, which includes July, August, and September, total Caterpillar retail sales worldwide dropped 20 percent. In the quarter ended October, sales fell 17 percent, indicating a slowdown in sales after the leveling off.
The situation is even better when you consider Caterpillar's ongoing efforts to turn problems into opportunities. These efforts should not only help the company maintain its dividends, but also help it to become stronger.
Caterpillar began operations shortly after the pandemic began. Already in April, the company suspended base salary increases and incentive compensation plans for some of its employees, and cut discretionary spending to reduce costs. Caterpillar issued low-interest bonds to raise funds, even though it suspended its share buyback program.
These steps increased liquidity and left Caterpillar with enough flexibility to pursue growth opportunities, such as its decision to acquire The Weir Group's oil and gas business while the energy sector remains depressed. A cash transaction of $405 million was concluded with Caterpillar. The $405 million deal should increase Caterpillar's exploration and production services portfolio.
In explaining the reasons for the acquisition, CEO Jim Umpleby said, "We see this as an opportune time to strengthen our oil and gas product and service portfolio and, importantly, we believe the economics of the deal will be attractive even if oil prices remain low.
Caterpillar also maintained its dividends even though 2020 was an extremely challenging year. Caterpillar last increased its quarterly dividend by 20 percent in May 2019 and has maintained its payment ever since. Caterpillar has been increasing its dividends for 27 consecutive years and is committed to maintaining its Dividend Aristocrat status. "Dividends remain a high priority throughout all economic cycles. All decisions regarding dividends are made by the board of directors, but we expect the dividends to increase again next year," Umpleby said during the earnings conference call.
In any case, the cash flow situation at Caterpillar is not the worst. Caterpillar's free cash flow has comfortably covered the total dividend payout over the next twelve months. The company's shares are currently generating a decent return of 2.4 percent.
Caterpillar's sales seem to have bottomed out, the company has good cost management, financials are stable and the dividends look safe for now. However, as cyclical stocks, Caterpillar's fortunes are declining and keeping pace with the economy. We need to see solid signs of economic recovery to confirm that Caterpillar has reached the bottom.
The pandemic continues, and sectors such as energy and mining will take a long time to recover. The price of Caterpillar shares, however, is already close to its historic highs, indicating that it is ahead of its time. In short, you can keep an eye on the stock for now. Wait for a small drop to buy the stock at its best price.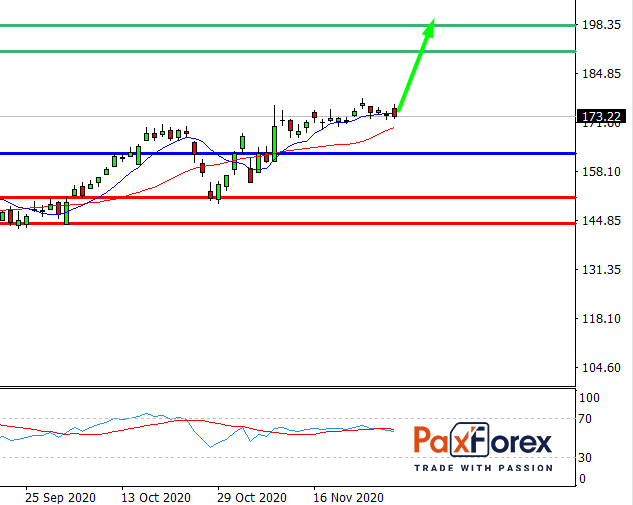 While the price is above 163.00, follow the recommendations below:
Time frame: D1
Recommendation: long position
Entry point: 173.00
Take Profit 1: 191.00
Take Profit 2: 198.00
Alternative scenario:
If the level 163.00 is broken-down, follow the recommendations below.
Time frame: D1
Recommendation: short position
Entry point: 163.00
Take Profit 1: 151.00
Take Profit 2: 144.00