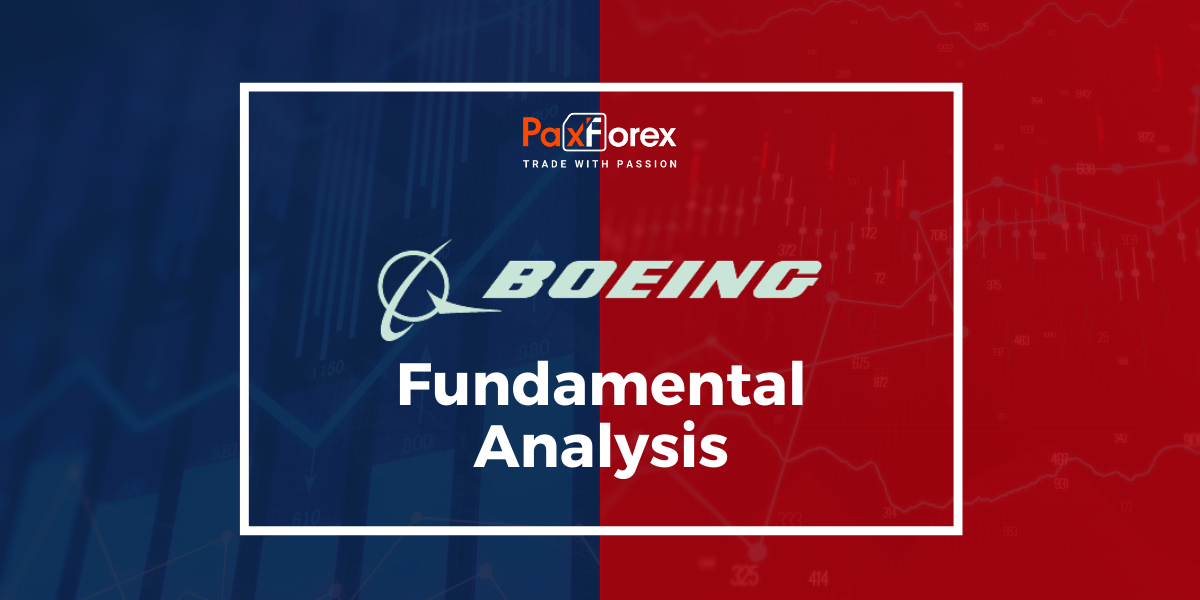 Source: PaxForex Premium Analytics Portal, Fundamental Insight
Boeing has made investors seriously nervous this year. The company's stock lost 75% of its value at the beginning of the year, but in the past few months, it has started to rise strongly again. As of the close of trading last week, the stock was still down about 32% for the year.
As you know, it only took one or two punches for this aerospace giant to get knocked out. First, the 737 MAX was grounded, and then the pandemic, which crushed airline demand, reduced airline revenues, and forced carriers across the industry to derail all growth plans.
Both of these issues seem to be being addressed, however, and some investors are getting excited about the company again. Let's take a look at what we can expect from Boeing as it flies into the new year of 2021.
First, we should remember that trouble with the 737 MAX hit Boeing long before the pandemic began. The plane was grounded in May 2019 after a couple of crashes, and in the first nine months of 2020 alone, Boeing lost more than $15 billion in cash due to costs associated with the plane and a lack of revenue at a time when deliveries were halted.
The Federal Aviation Administration re-certified the plane in November, and shortly thereafter Boeing announced a massive order for it from one of its most important customers. But Boeing has hundreds of planes that were made during the 737 ban, and not many good options to accommodate them.
Southwest Airlines, known throughout the Boeing fleet and holder of one of the largest 737 MAX orders, is playing hardball with the company and trying to get the planes at a low price. Alaska Air Group, another loyal customer (and based in the Puget Sound area, where Boeing makes the planes), has submitted a relatively modest order for 23 aircraft. It is well below what analysts expected to see before the pandemic began.
It is almost impossible to overstate how important the 737 MAX is to Boeing. Different versions of the 737 account for 78 percent of the total 4,240-plane orders, and most of those orders are for the MAX model. That amounts to more than $300 billion in future orders based on price lists.
At best, Boeing will need most of 2021 to work through its accumulated inventory; the company hopes to ramp up production to more than 30 planes a month in early 2022. Before Boeing began production, the company was expected to produce more than 50 planes a month by now.
Second, for all the issues the MAX has, Boeing can at least be content with the fact that its small, fuel-efficient aircraft are in demand. The same cannot be said for many of the other planes in the company's lineup.
As airlines recover from the pandemic, they are likely to focus on domestic traffic, and with passenger traffic not expected to return to 2019 levels for many years, there won't be as much need for the twin-aisle Jumbo jets that were once among Boeing's most profitable.
Because of the pandemic, Boeing has cut its guidance for total deliveries over the next decade by 10 percent, though it expects a possible increase in demand, so it has kept its 20-year forecast constant. The iconic 747 will be phased out, and a new version of the 777 has been delayed by a year.
The 787 Dreamliner, which provided much-needed revenue in 2019 when the 737 MAX was under a ban, is also having a tough time. The company announced plans in early October to close one of its two 787 assembly lines and cut production from 14 planes a month to five.
Over time, demand for international air travel should rebound, and sales of the 787, and to a lesser extent, the 777 should rise again. But that will take time, and for now, the focus at Boeing remains on cutting production rather than ramping it up.
This aerospace powerhouse has had a historically bad start to 2020, but it looks like the worst is over. All the necessary elements are already in place for Boeing's stock price to go up in 2021. Still, most investors have no desire to buy right now.
The company has taken on billions in new debt to give itself liquidity to survive this double-dip crisis. As a result, its net debt is now four times what it was before the 737 MAX problems. Management is focused on paying off this debt, possibly through a secondary stock offering, but the wounds of 2020 will persist for some time to come.
Boeing shares still look cheap compared to where they were trading a few years ago, but it's worth remembering that those record prices were reached during a historic uptick in new aircraft sales. Factor in additional debt and Boeing's current value is higher than the rates at which it has been trading for most of the last decade.
Even if the worst is over for Boeing, caution should be exercised when analyzing the stock.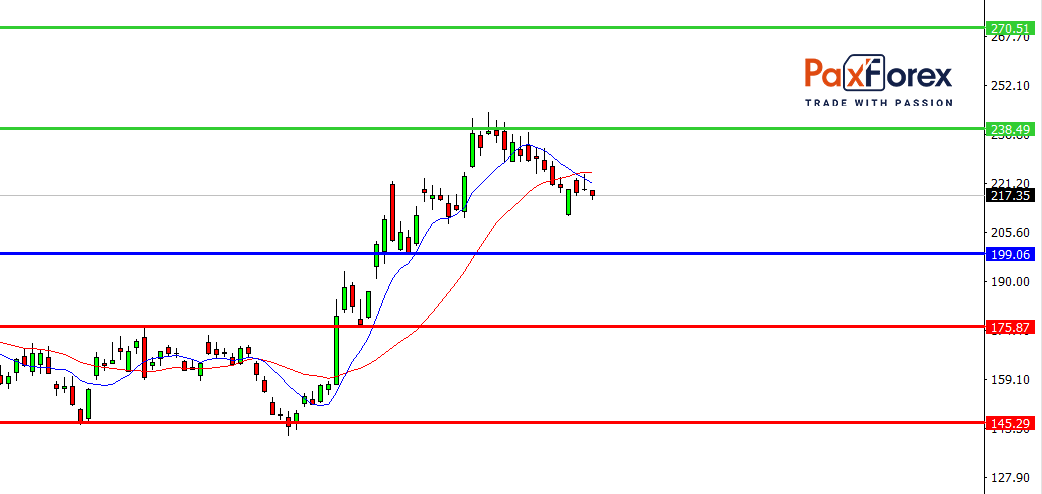 Provided that the price is above 199.00, follow these recommendations:
Time frame: D1
Recommendation: long position
Entry point: 220.00
Take Profit 1: 238.49
Take Profit 2: 270.51
Alternative scenario:
In case of breakdown of the level 199.00, follow the recommendations below:
Time frame: D1
Recommendation: short position
Entry point: 199.00
Take Profit 1: 175.87
Take Profit 2: 145.29