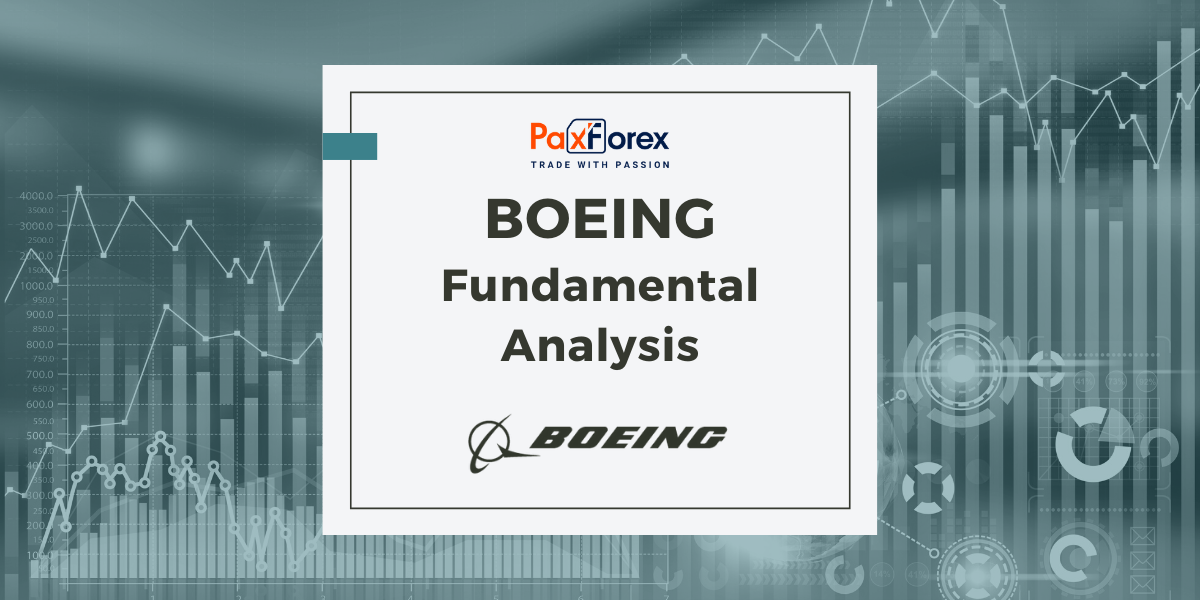 Source: PaxForex Premium Analytics Portal, Fundamental Insight
Boeing continues to show significant losses, and some 777 jets have been banned from flying. But the notorious 737 Max is back in the air, and shipments have renewed. Does this mean that Boeing is now a good buy?
First of all, it's worth recalling recent events. The Pratt & Whitney 4000-112 engine on a United Airlines (UAL) Boeing 777 heading to Hawaii collapsed soon after taking off from Denver on February 20. None of the passengers or crew members were injured.
Some of the airline companies, including UAL, equipped their Boeing 777s with a Pratt & Whitney engine configuration. The Raytheon Technologies (RTX) engine unit is under additional investigation after a Pratt & Whitney PW4000 exploded on a Boeing 747 cargo plane over the Netherlands on Feb. 20.
Over the past three years, Boeing's EPS growth has equated 0%. The company reported a whopping $15.25 loss per share in the fourth quarter, far worse than consensus estimates for a loss of $1.78 and an annual loss of $2.33 per share, as it accounted for $8.3 billion in pretax expenses.
The largest loss on the 777X program in Q4 was $6.5 billion as the first delivery was cut to the end of 2023 from the July 2022 schedule.
Revenues are down an average of 17% over the past three years. In Q4, Boeing posted a 15% drop in revenues to $15.3 billion, exceeding estimates of $15.2 billion.
Boeing's Q4 shipments fell 25% to 59. For all of 2020, deliveries fell to 157 from 380 in 2019 and 806 in 2018. Cash outflows were $4.27 billion in Q4 and total cash outflows of nearly $12 billion in 2020.
Notwithstanding the huge cash outflow, Boeing still awaits positive cash flow in 2022 with further improvements in the 737 Max program.
Still, however, the aviation market suffers long-term destruction. On Oct. 6, Boeing cut its 10-year forecast for aircraft demand in the industry by 11% from last year to 18,350 commercial jets because of the pandemic.
Let's not forget that the defense and space segments of the company's business are also facing negative news. In the fourth quarter, Boeing recorded a $275 million expense for the Air Force's KC-46 tanker due to "production inefficiencies, including the impact of the disruption." The total charge now stands at more than $5 billion. Nevertheless, on Jan. 20, the Air Force awarded Boeing a $2.1 billion contract for 15 more tankers, for a total now at 94.
Boeing also produces F/A-18 Super Hornets for the U.S. Navy and foreign militaries. But the Navy wants to cut back on the purchase of upgraded Super Hornets. Instead, it wants to shift money to its own Next Generation Air Dominance platform and other key aviation investments. In July, however, Boeing received its first order for what could amount to a $23 billion contract to build F-15EX fighters for the Air Force.
In September, Boeing announced that it had bid with General Atomics and Aerojet Rocketdyne (AJRD) to build the Missile Defense Agency's Next-Generation Interceptor fighter. The system is designed to protect the U.S. from the threat of intercontinental ballistic missiles. Last year, the agency canceled the Redesigned Kill Vehicle program over technological issues.
Lockheed Martin (LMT) has also applied.
Foreign military supplies are another factor to consider. The United Arab Emirates will receive Boeing EA-18G Growler electronic warfare aircraft as part of a U.S. arms deal after relations with Israel are normalized. Improved ties between Israel and other U.S. allies in the Middle East could facilitate more deals.
Meanwhile, the company's space business suffered a setback on Dec. 20, 2019, when its starliner capsule failed to reach a proper orbit for docking with the International Space Station. In February 2020, NASA discovered that a previously undisclosed software defect had been discovered during Starliner's flight. This problem could have destroyed the space capsule.
Boeing has scheduled another unmanned test flight for April 2 at the earliest, some 15 months after the first test failed to reach the ISS. This is a delay from the previous date of March 29 because damaged equipment needs to be replaced.
NASA's inspector general's report also noted continued failures of the Space Launch System launch vehicle. As the delays continue, NASA's Assistant Administrator for Human Spaceflight reported in August that SLS would cost $9.1 billion, or 30 percent more than previous estimates. Meanwhile, NASA's inspector general estimated Feb. 10 that SLS would cost $27 billion through 2025, up from a projection of $18.3 billion in 2020.
On Jan. 16, NASA interrupted hot-fire tests of the Space Launch System's main stage, calling into question a target launch date of late 2021. NASA attributed the premature termination to "test parameters that were intentionally conservative to ensure the safety of the main stage."
Boeing and NASA postponed retesting of the engines, which had been scheduled for Feb. 25, to review valve performance on the main stage. No new date has been announced.
Although the Boeing 737 Max is flying again, the Covid-19 is still hitting global air traffic, depressing already weakened demand for wide-body jets such as the 787 and 777X.
Undoubtedly, the vaccine approval has helped the company's stock, but the new mutations have raised questions about its long-term effectiveness.
Profits are likely to remain under pressure for some time, as the International Air Transport Association, a trade group, does not see air travel climbing to 2019 levels until 2024. Thus, it would be prudent to continue watching from the sidelines, for now, not to rush to buy.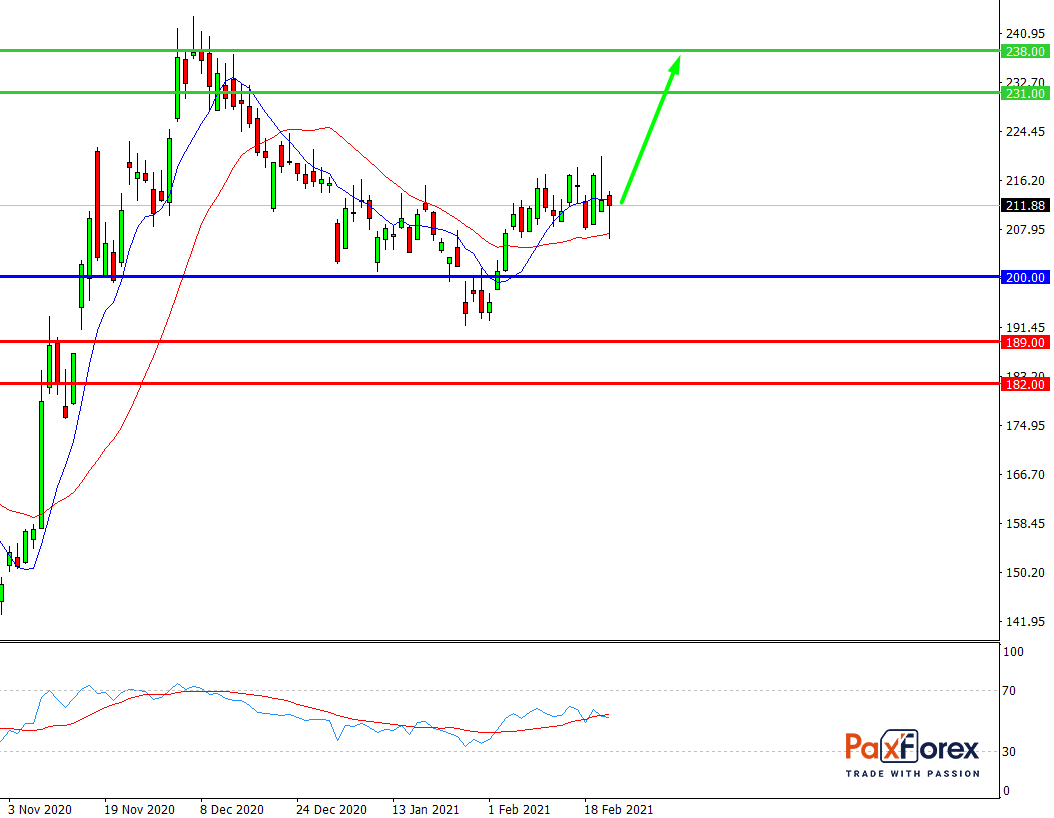 While the price is above 200.00, follow the recommendations below:
Time frame: D1
Recommendation: long position
Entry point: 217.00
Take Profit 1: 231.00
Take Profit 2: 238.00
Alternative scenario:
If the level 200.00 is broken-down, follow the recommendations below:
Time frame: D1
Recommendation: short position
Entry point: 200.00
Take Profit 1: 189.00
Take Profit 2: 182.00