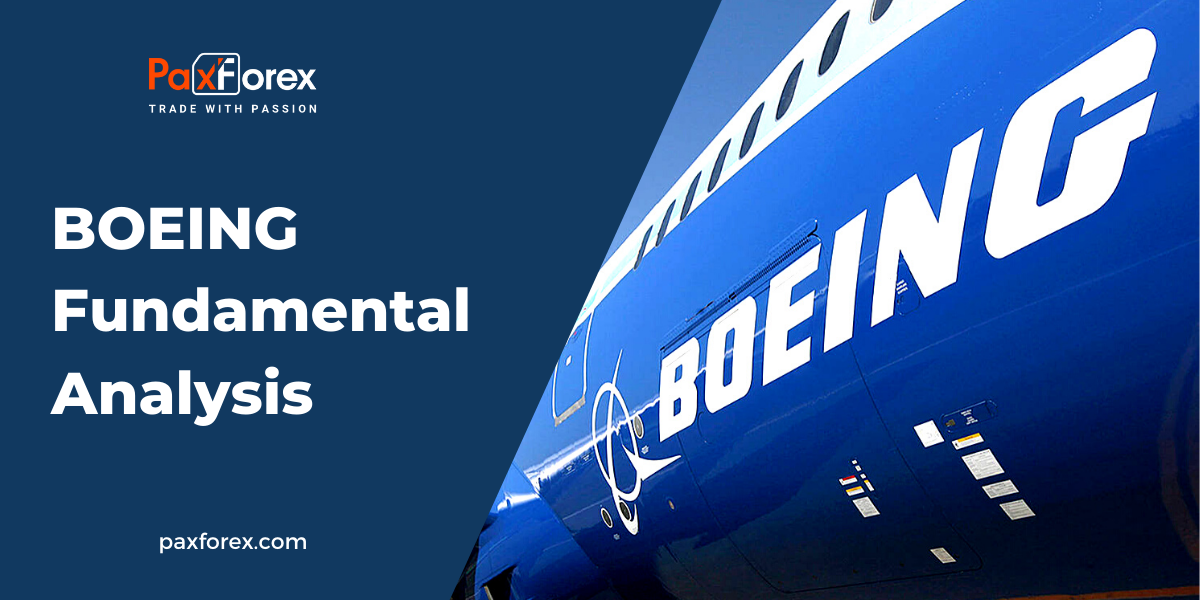 Source: PaxForex Premium Analytics Portal, Fundamental Insight
It was a tough two years for Boeing, which first faced a situation wherein March 2019, after a couple of fatal accidents, air travel on 737 Max aircraft was suspended, and the pandemic hit the company hard. The company's shares have fallen by about 50% to date, and the second-quarter results of Boeing reminded investors that there is no quick solution to the problem. Boeing lost $4.79 per share, as well as losses in cash equivalents amounted to $5 billion this quarter. There were also good moments for the company, including the revival of the Boeing defense business. While the situation is alarming in the near term, Boeing still has a strong product portfolio and enjoys a global duopoly in the commercial aerospace industry. Airlines are coping with a significant decline in demand for air services by cutting back on flights. It is likely to take years for flights to return to pre-pandemic levels. With airlines taking on billions of additional debt to survive the crisis, it may be even longer before we see a surge of new orders for planes. Sales of new planes in the second quarter were critical. Boeing also suffered a loss of $672 million from Boeing Global Services, which provides maintenance and support services to existing fleets. The division was an important part of the company's growth story two years ago and provided key revenue growth after the 737 Max was created. Potentially, there is good news for a long-term investor. It looks like airlines will be relying heavily on their existing fleets as demand for air services begins to return, and Global Services can help Boeing get a stake in the business, even if new aircraft sales remain sluggish. This so-called after-sales business tends to generate higher profits than new equipment. But there are also long term risks. Boeing has partially built its service system by moving towards vertical integration of the supply chain, shifting some of its avionics, power, and structural operations to its own facilities. Historically, vertical integration has worked well in the aerospace industry, but higher fixed costs can lead to leakages of cash and profits in bad times.
Boeing's long history is built around an impressive 4,500 unprocessed aircraft. This year the backlog has fallen slightly as buyers have revised some orders but still provide the company with more than $300 billion in future revenue. This order book is a powerful insurance policy. Airlines and leasing companies aggressively postpone orders to a later date due to the pandemic. The airline consulting company Teal Group said that during the last downturn in the industry from 2001 to 2003, the number of Boeing aircraft on the backlog decreased by only 500 - the number that was more than was taken into account for deliveries. Only 80 failures were reported during the two years. Nevertheless, Boeing had to reduce its production by 30%. Delays are even more likely this time, as the 737 Max production allowed customers to reorder. Southwest Airlines, the largest customer of the 737 MAX, told investors that, in its opinion, the contract with Boeing is subject to revision, as Boeing was unable to complete its tasks on time.
Boeing is preparing for a prolonged decline, announcing significant cuts in its commercial division and plans to reduce production. The Model 747, once it becomes the flagship of Boeing, will be discontinued in 2020, and production of the 787 Dreamliner will be reduced to six per month in 2021. The debut of the new Boeing 777X has been postponed to 2022. By the end of the year, Boeing plans to carry out the recertification of the 737 Max, which will enable the company to start supplying more than 400 aircraft. Two years ago, Boeing expected the 737 Max to become one of the best-selling aircraft of all time, and the company hopes that by now, it will produce more than 55 aircraft per month. Instead, it will build fewer than 80 aircraft in 2020 and plans to increase production to 31 aircraft per month in 2022.