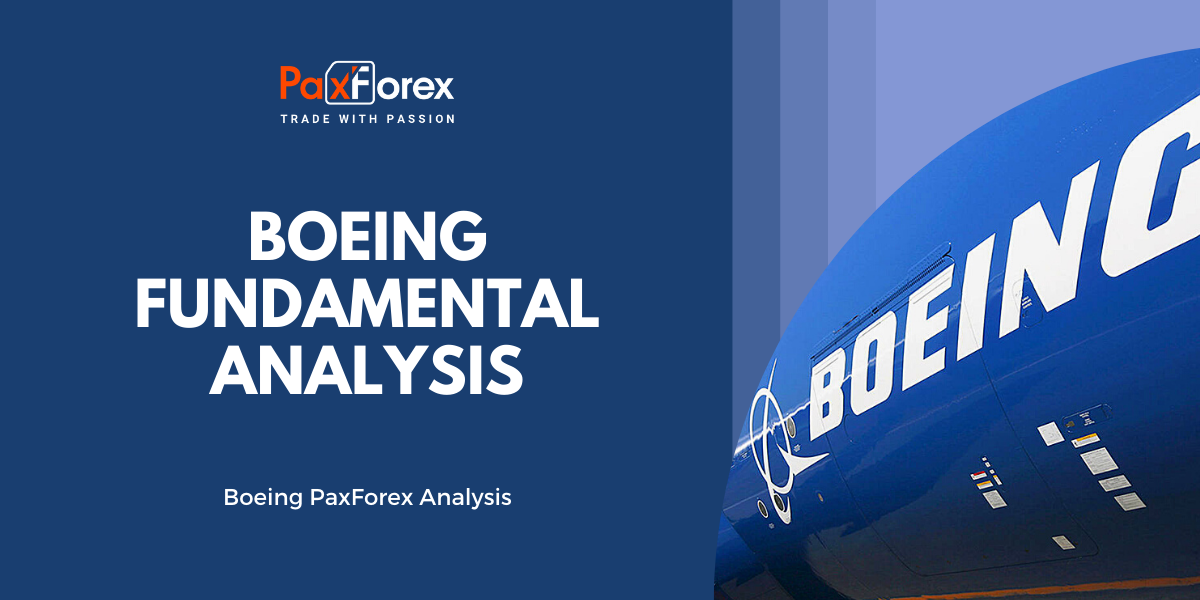 Source: PaxForex Premium Analytics Portal, Fundamental Insight
Boeing's revenue has bottomed out, as shipments of the 737 Max have been suspended while the coronavirus is pushing air travel. Investors should take a look at fundamental aspects of the current situation of the aerospace giant to see if BA should be seen as an investment.
The aerospace giant told how it plans to enter a survival regime with thousands of layoffs, deep cuts in aircraft production, billions of dollars in new liquidity, and cash-saving measures such as an indefinite suspension of dividend payments and share buyback.
On October 6, Boeing reduced its 10-year industry demand forecast for aircraft by 11 percent year-on-year to 18,350 commercial aircraft due to coronavirus.
Boeing's defense and space business also faced negative news. The KC-46 tanker for the U.S. Air Force was more than two years behind schedule and cost $4.7 billion for Boeing's cost overrun after spending $151 million in the second quarter. But this was due to additional fixed costs to reduce commercial aircraft production against the backdrop of the pandemic.
In September, the company announced that, together with General Atomics and Aerojet Rocketdyne, it had applied to build the Next-Generation Interceptor missile defense system for the U.S. Missile Defense Agency to protect against intercontinental ballistic missile threats. Last year, the agency canceled Kill Vehicle's redesigned technology program. Lockheed Martin has also applied.
Foreign military sales are a vivid sight for Boeing. The United Arab Emirates is reported to receive Boeing EA-18G Growler aircraft as part of a U.S. arms deal after the normalization of relations with Israel. The improvement of ties between Israel and other U.S. allies in the Middle East may open other deals.
The Company is still facing a decline in demand for new aircraft. Boeing reported no new orders for the aircraft in July, while customers canceled 43,737 orders the same month. So far this year, the company has -836 net orders for new aircraft.
In August, Boeing received eight commercial orders, including three 777, two 737 Max orders from Polish company Enter Air and three 737 Max jets from an unknown customer, with the first 737 Max orders placed in 2020. During the month 20 orders were canceled, 17 of which were for the 737 Max. Boeing delivered 13 aircraft, bringing the total number of orders for the year to 87.
As production slows down, Boeing plans even more layoffs, adding to its plan to reduce 10 percent of its 160,000 employees. The aircraft manufacturer announced in August that new redemptions were being offered to Boeing's commercial, service, and corporate employees. In a note addressed to employees, CEO Calhoun said Boeing is also "engaged in a full-scale transformation effort, evaluating every aspect of our business for opportunities for improvement.
Problems with automated flight management software using the Maneuverability Enhancement System caused the March 2019 Ethiopian Air and the October 2018 Lion Air catastrophes.
Together, these two crashes took the lives of 346 people.
Currently, 737 Max is on the ground for a year and a half, which cost the last CEO of his work. In December, the board of directors dismissed Dennis Muilenburg as CEO of Boeing against the backdrop of criticism of his actions in connection with the 737 Max crisis and the scolding of regulators for insisting on the early return to service of the problem jet.
In October, the Federal Aviation Administration released a draft report on updated pilot training procedures for the Boeing 737 Max, including updated preparations for the MCAS system. The report is open until November 2 for public comment on the updated training procedures.
The Boeing 737 Max has made steady progress in completing a long checklist of requirements before the grounding is lifted.
Calhoun said he expects timely approval from global regulators to support the resumption of Boeing 737 Max shipments in the fourth quarter compared to its April forecast for the third quarter.
Grounding the 737 MAX, stopping supplies, and halting production was costly. In January, Boeing announced additional costs of $9.2 billion for potential customer concessions on the 737 Max, $737 production costs, and $4 billion for "abnormal production costs. In April, Boeing announced an additional cost of $1 billion. In the second quarter, $551 million was spent on the 737
Max concessions. Combined with the cost planned last year, the 737 Max cost is currently approaching $20 billion.
Overall, the Boeing 737 Max aircraft are still not flying, and U.S. airlines have removed the aircraft from their schedule until fall. The coronavirus is hitting world air traffic, suppressing an already weakened demand for wide-body aircraft such as the 787.
After an epic free fall, BA stocks have risen slightly, but are still below the 200-day line. For most of the year, stocks fell behind the S&P 500.
Revenues will remain under pressure for some time as the International Air Transport Association will not see a recovery to 2019 levels until 2024.
Shares fell to their lowest level in seven years in early March, and Boeing's market limit is still below that of Tesla and Lockheed. Boeing shares are also not in any of the purchase zones and do not form a visible pattern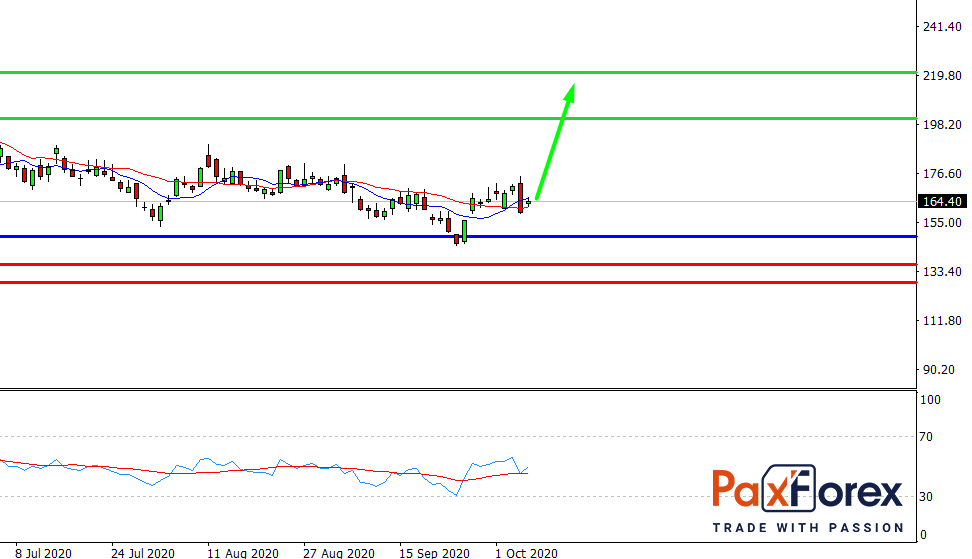 While the price is above 149.10, follow the recommendations below:
Time frame: D1
Recommendation: long position
Entry point: 159.54
Take Profit 1: 200.80
Take Profit 2: 209.40
Alternative scenario:
If the level 149.10 is broken-down, follow the recommendations below.
Time frame: D1
Recommendation: short position
Entry point: 149.10
Take Profit 1: 136.40
Take Profit 2: 128.60