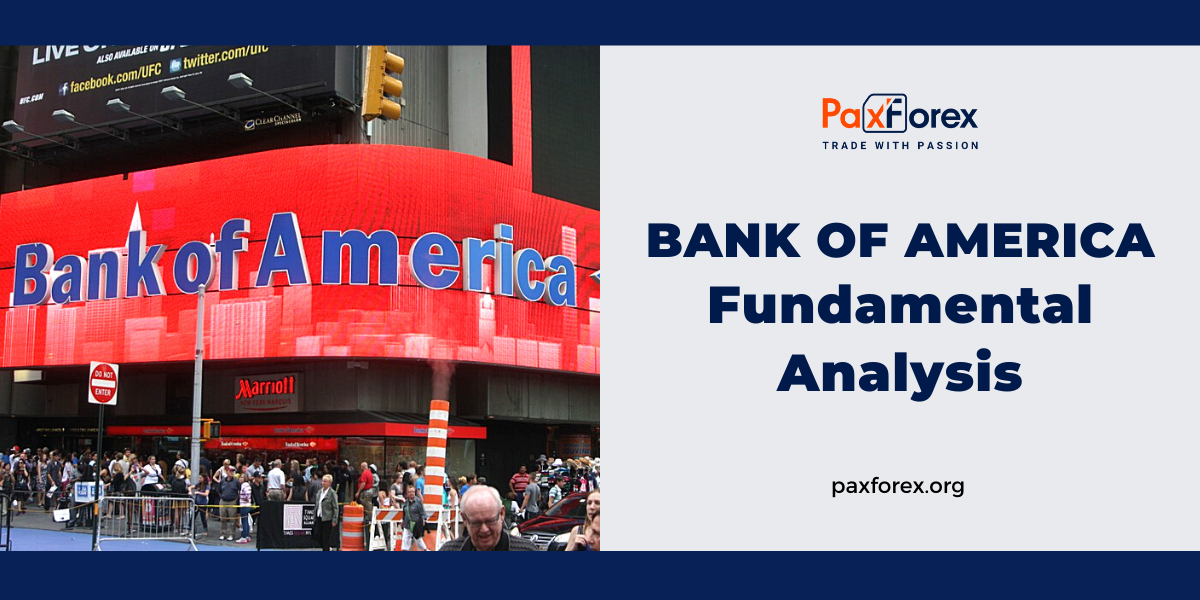 Source: PaxForex Premium Analytics Portal, Fundamental Insight
Being the second-largest U.S. bank, Bank of America was hit along with the rest of the industry, as the economy left much to be desired in 2020. But the bank is still well-capitalized, with sufficient leverage to handle even the severest possible scenarios in 2021, and it stands a good chance of returning to growth. Today, we suggest you consider what traders can expect from Bank of America this year.
Bank of America reported a third-quarter net income of $4.9 billion, down 15% from 2019. It is still investing in technology, and analysts believe this will improve in 2021 due to two factors.
First, the bank is likely to have lower loan loss reserves than last year. Despite the economic distress associated with the pandemic, Bank of America faced much lower deductions than expected, and it made lower loan loss provisions in the third quarter than in the first and second quarters (although they are still above its level from the third quarter of 2019). Continued lower deductions should lead to higher net income - as it did in Q3 when Bank of America surpassed forecasts with EPS of $0.51.
Earnings were still lower than a year earlier, and part of the decline came from lower net interest income. Interest rates will remain low this year -- in the near term. But management said at the end of the third quarter that the bank is reallocating some of its cash to securities to generate more profits in the future, as income from securities offset the decline in cash in the third quarter. If those inclinations proceed, it should show future earnings growth.
Increased investment banking activities
While the economy was in a recession, there was a surge in investment banking activity as clients moved their funds from stocks to cash. It contributed to the crash of the stock market, but smart investors benefited from the lower prices, bought and forced prices to refinance. Bank of America earns commissions on these transactions, and at $1.8 billion in commissions, up 15 percent from 2019, it was the second-largest quarter in the bank's history. Equity revenues rose 6% to $1.3 billion.
It was Bank of America's best category, with net income up to $9 billion, nearly a quarter of the total. That's a small share compared to JPMorgan Chase, which has both strong consumer banking and investment banking segments, and where the same category accounts for about half of the total. But Chief Financial Officer Paul Donofrio said: "We're gaining share, we think, in assets and other components of our market business. And we've certainly gained share in the investment banking business."
BofA is not one of the big investment banks, but management is moving in that direction, and that segment will improve over time.
Bank of America has a dismal dividend history. It had to cut its high dividend after the 2008 financial crisis. It started raising its payout again in 2014 and did so annually, but didn't raise it in 2020 amid the economic downturn earlier in the year and the Federal Reserve's restrictions on stock buybacks and dividend increases in June.
The Fed did loosen the restrictions in December for profitable banks, and BofA issued a quarterly dividend in October that currently yields 2.2%, better than the market as a whole. The current dividend looks safe, and there is hope for an increase as economic conditions improve.
Bank of America has a strong focus on digital technology, and customers notice that. CEO Brian Moynihan said during the third-quarter conference call, "It's worth noting that both our payment rates and deposit costs have come down as deposits have grown, and we've processed more transactions, but have been more productive as a result of digital processing."
In the third quarter, 77% of the bank's wealth management clients transacted online or on a mobile platform. The digital program received high marks, including first place for online and mobile banking functionality by Keynova, and first place for digital checking account sales functionality by Forrester.
The bank has invested in Erica, its virtual financial assistant, to help it build its millennial customer base as well as strengthen its position as the No. 1 bank for consumer deposits.
The Fed cut interest rates to near-zero last March to make it easier to borrow money and stimulate the economy as it was beginning to decline. It affects the bank's ability to charge interest on the assets that customers place in their bank accounts, resulting in lower NII and lower earnings.
Fed Chairman Jerome Powell reiterated that he would keep interest rates low until the economy is on a clear path of recovery, which won't happen anytime soon. "A full economic recovery is unlikely until people are confident that it is safe to resume a broad range of activities," he said in December.
That means Bank of America's interest income will remain low for now. Moynihan confirmed that, at least for the fourth quarter, he expects NII to remain flat, with an optimistic forecast that it will grow slightly. But if interest rates do change, it could revive BofA earnings.
So what does all this mean for investors? 2021 may not be the year that banks return to growth, but it's still possible if the vaccine distribution goes smoothly. Whatever happens this year, Bank of America is well-positioned for long-term growth and shareholder returns.
Provided that the price is above 31.50, follow these recommendations: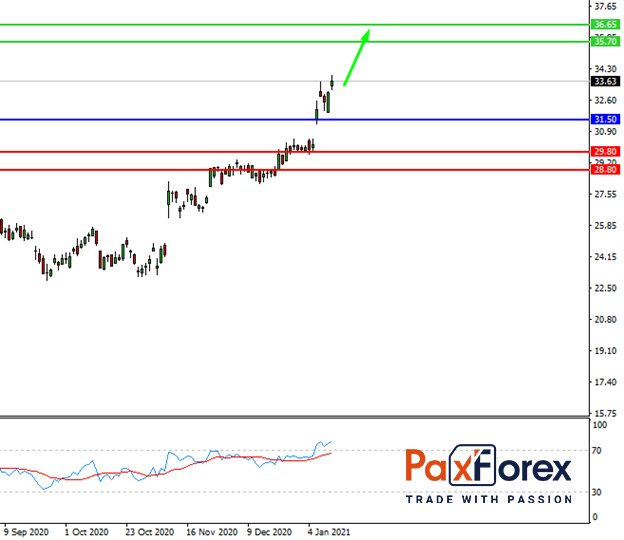 Time frame: D1
Recommendation: long position
Entry point: 32.86
Take Profit 1: 35.70
Take Profit 2: 36.70
Alternative scenario:
In case of breakdown of the level 31.50, follow the recommendations below:
Time frame: D1
Recommendation: short position
Entry point: 31.50
Take Profit 1: 29.80
Take Profit 2: 28.80