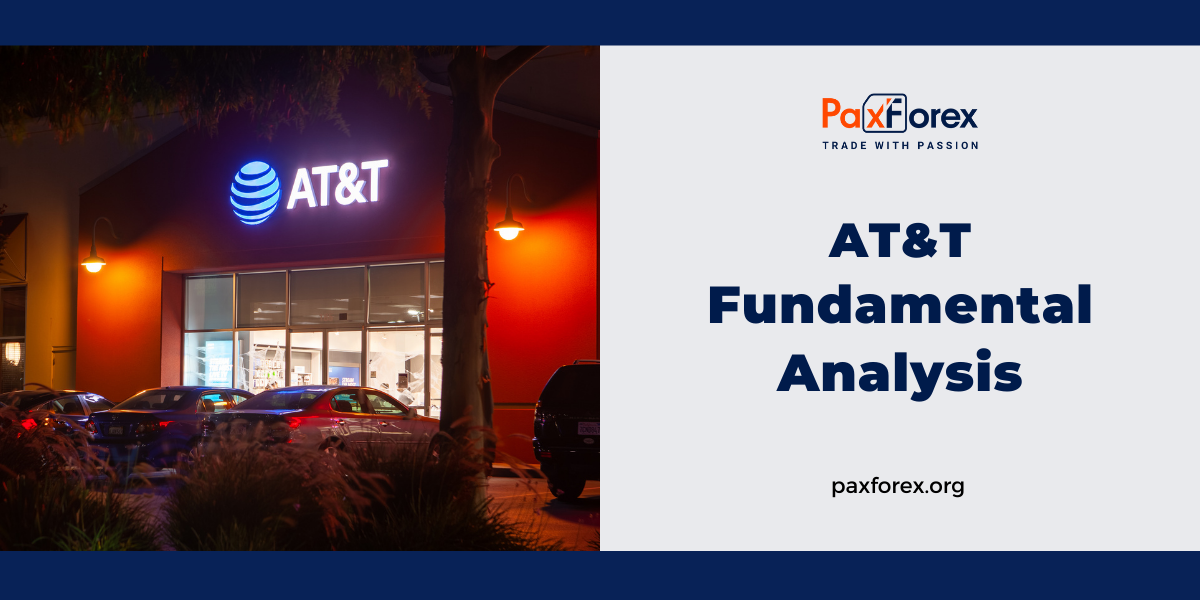 Source: PaxForex Premium Analytics Portal, Fundamental Insight
AT&T beat experts' estimates with its second-quarter earnings report. One of the highlights was 789,000 net additions to postpaid phone service. Analysts on average were expecting only 278,000.
AT&T has gained more than 2.8 million postpaid phone subscribers over the past four quarters. That's the best performance in the past 12 months in a decade, CEO John Stankey said during the company's second-quarter earnings call. The numbers are similar to T-Mobile and far exceed Verizon's net subscriber growth of 277,000 phones in the same period.
But investors shouldn't anticipate AT&T to keep that momentum.
One of the main factors contributing to the increase in net growth for AT&T is the decline in subscriber churn.
Across the wireless industry, subscriber churn rates are declining, but AT&T has improved significantly. Postpaid wireless subscriber churn dropped to 0.69% in the second quarter, down from 0.84% in the second quarter of last year and 0.86% in the second quarter of 2019. By comparison, Verizon's second-quarter subscriber churn rate increased to 0.65% from 2020, but it's still slightly lower than the 0.72% the company reported in 2019. T-Mobile's churn rate is clouded by the merger with Sprint, but it still shows improvement.
But the reason for AT&T's lower churn has been strong promotions. The company offers some of the best deals on new devices in the industry. While device promotions usually apply only to new customers, AT&T offers the same promotion to existing customers. AT&T is the most aggressive in its device promotions, while T-Mobile and Verizon are mostly opportunistic about new device launches and opportunities to get 5G devices into customers' hands.
As a result of AT&T's promotions, the company's wireless EBITDA margin is shrinking. AT&T maintained just 42.4% of revenues as EBITDA in the second quarter, down from about 45% in each of the last two years. AT&T's 10% jump in operating income came from equipment sales, which AT&T then reimburses customers each month as part of its promotions.
AT&T has also seen a decline in revenue per phone subscriber over the past couple of years. At the same time, Verizon's growth in revenue per postpaid subscriber has outpaced the growth in connections per subscriber over the past two years.
It turns out that giving customers more for less is a good way to increase subscribers, but not profits.
Increasing the top line at the expense of profit margins is not always a bad strategy. A smaller slice of the big pie can still mean a bigger pie. But AT&T's growth doesn't look solid. And at some point, revenue growth will slow while more customers take advantage of promotions on devices and services, which will negatively impact both margins and profits.
Analyst Craig Moffett of MoffettNathanson notes that in the industry, the number of postpaid phone subscribers is growing five times faster than the population. He says this is due to promotions encouraging customers to add lines they don't need. Obviously, this rate of growth is not sustainable for the entire industry.
But because AT&T's growth is largely dependent on promotions rather than the quality of service, it will be even harder to sustain. The company is at competitive disadvantage in building a 5G network because of its spectrum and balance sheet, which it is trying to clear through asset sales. T-Mobile is in a much better position than AT&T to become a 5G leader and
take market share on the merits of its network and services. And when AT&T's subscriber and revenue growth slows, but more customers take advantage of its promotional offerings, that means its profit growth fades as its margins narrow.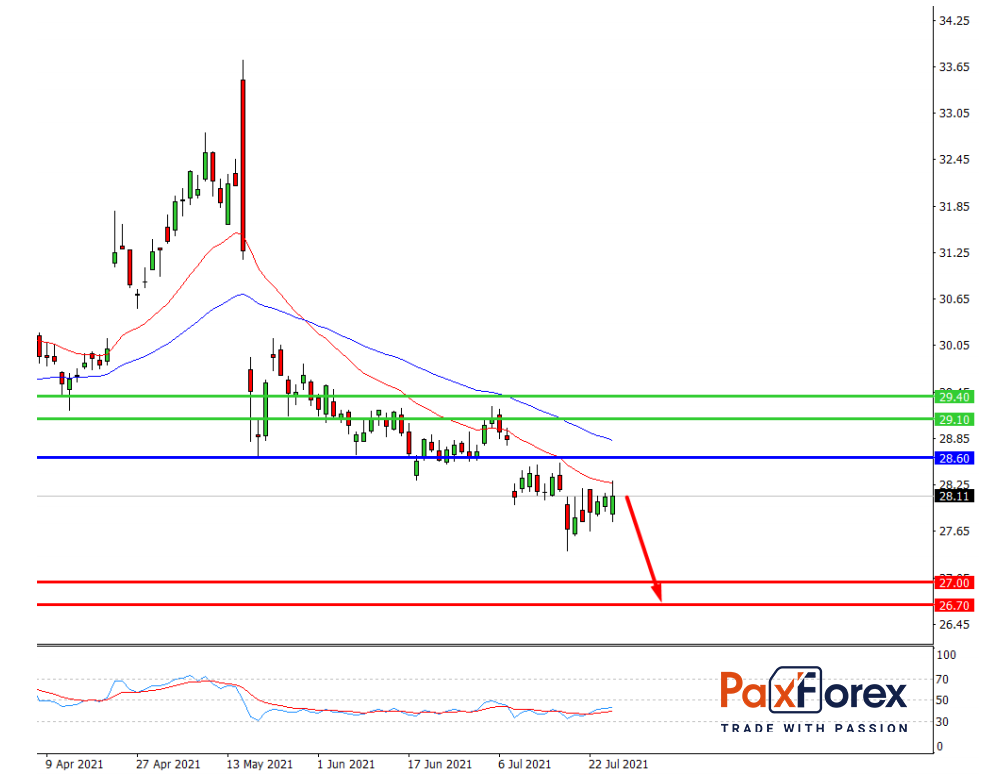 While the price is below 28.60, follow the recommendations below:
Time frame: D1
Recommendation: short position
Entry point: 27.91
Take Profit 1: 27.00
Take Profit 2: 26.70
Alternative scenario:
If the level 28.60 is broken-out, follow the recommendations below:
Time frame: D1
Recommendation: long position
Entry point: 28.60
Take Profit 1: 29.10
Take Profit 2: 29.40