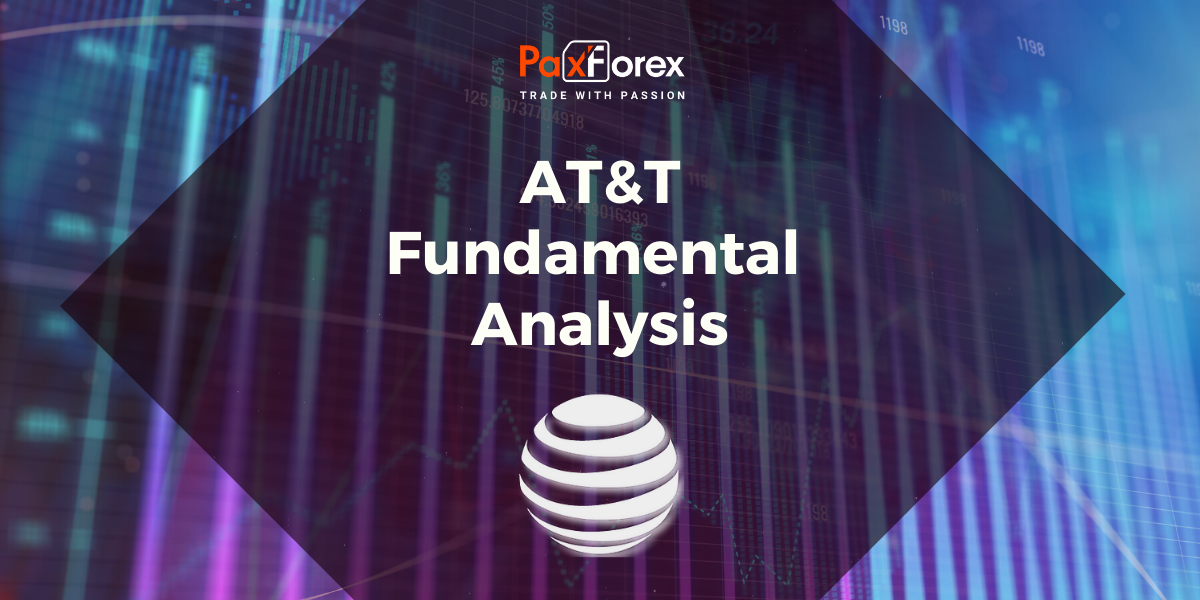 Source: PaxForex Premium Analytics Portal, Fundamental Insight
AT&T has spent several years and tens of billions of dollars to build a nationwide 5G network. Now, it is a step of major smartphone manufacturers to start selling 5G-compatible phones, which is likely to increase demand for 5G.
In this century, AT&T shares have not changed much. Approximately $29 per share, sold at a level that was first recorded in 1995! Now, 20 years after the dotcom bubble burst, they are trading at about half their peak. In 1995, the company received most of its income from local monopolies in the stationery business. Since then, however, AT&T has had to spend billions every year to keep up with various changes in wireless and Internet technologies.
The construction of 5G, as well as investments such as DirecTV and WarnerMedia, have contributed over $153 billion to the long-term debt burden. It is a significant debt for the company worth about 193 billion dollars.
The company was also forced to compete for the retention of wireless and Internet clients, especially Verizon and T-Mobile. However, due to the huge cost of building a nationwide 5G network, these three companies have now become oligopolists. Moreover, despite the assets of WarnerMedia and DirecTV, 5G is likely to become the main driver of AT&T stock growth in the foreseeable future.
One of the questions regarding this oligopoly is whether the price wars of 3G and 4G will continue. The good news for AT&T is that this is less likely. T-Mobile, which led most of the price competition, was also forced to spend tens of billions of dollars to build its own 5G network and acquire Sprint. It leaves less room for T-Mobile or Verizon to pull customers away with lower prices.
What's more, 5G will accept wireless speeds up to 300 megabytes per second (Mbps), compared to 12-36 Mbps 4G. 5G will expand technologies such as artificial intelligence, virtual reality, and the Internet. However, few predicted that the Apple iPhone technology would later spawn companies such as Uber. Similarly, we do not know what 5G technologies will make possible. However, none of these features are possible in the US without access to one of the three 5G providers. Therefore, we can assume that such innovations are likely to benefit AT&T. The Dividend Aristocrat status of AT&T plays into the hands of investors. The breakthrough of the decades-long series of increases in payments is likely to be a strong blow to investor confidence. With AT&T stagnating over the past 25 years, the company is unlikely to want to disappoint its shareholders by losing the Dividend Aristocrat status.
In the last quarter, AT&T earned about $7.59 billion in free cash flow, more than enough to cover its quarterly dividend payments of $3.74 billion. To continue paying dividends, AT&T also suspended its share buyback and borrowed additional funds earlier this year.
Besides, the forward P/E ratio is around nine. However, net profit declined in the last quarter, and next year's profit is projected to grow by 1.3%. Such slow growth may negate all the advantages of a low valuation. This profit may increase as 5G increases the demand for broadband access. Active investor Elliott Management has put considerable pressure on the company to sell the business to DirecTV. Such a sale could offer debt relief and increased profits, which would make AT&T shares more attractive to buy.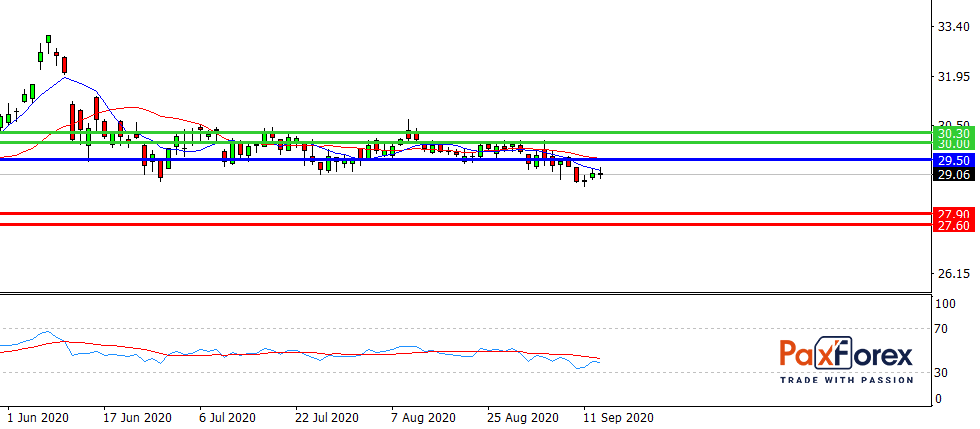 Analysis:
Provided that the price is below 29.50 please follow these recommendations:
Time frame: 30 min
Recommendation: short position
Entry point: 29.00
Take Profit 1: 27.90
Take Profit 2: 27.60
Alternative scenario:
In case of breakup of the level 29.50 follow the recommendations below:
Time frame: 30 min
Recommendation: long position
Entry point: 29.50
Take Profit 1: 30.00
Take Profit 2: 30.30