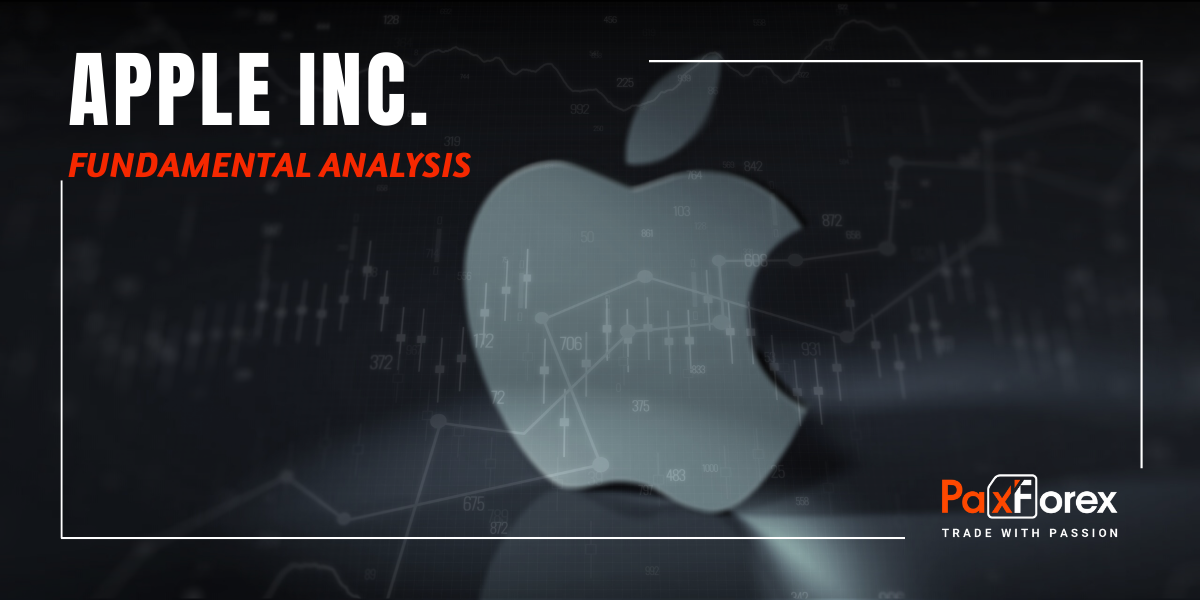 Apple shares (AAPL) showed excellent growth after the recent correction in the stock market due to coronavirus. Analysts hope that the financial performance of the consumer electronics giant will revive quickly when the global economy recovered from the COVID-19 pandemic. Apple company several times was an American success story. First, it ignited the personal computer revolution in the 1970s with the Apple II. Then it reinvented the PC in the 1980s with the Macintosh. Steve Jobs, one of the company's founders, returned to the management of Apple in 1997 and led a winning series of innovations that included the iMac, iPod, iTunes, iPhone, iPad, and App Store. Apple's biggest engine of success today is the iPhone. The smartphone, which debuted in 2007, sparked years of explosive growth and created a loyal customer base ready to buy Apple services and accessories. But iPhone sales have slowed as users keep their phones for longer between updates. Nevertheless, the company may be on the verge of a serious update cycle with its first 5G iPhone, which is due to be released this fall.
Apple usually releases its latest iPhone in September, but market uncertainty associated with the coronavirus pandemic may delay the release. The Wall Street Journal reported on April 27 that Apple is pushing back production for its iPhone 12 by about a month. The delay is the result of disruption to production in Asia and weakening global consumer demand, the report said. Apple is also reducing the number of phones it plans to release in the second half of the year, the magazine said. It is likely to release new phones between October and early December.
Two businesses have recently increased Apple's sales and profits: services and consumables. During the first quarter, revenue from Apple services increased by nearly 17% to $ 13.35 billion. Services include the App Store, AppleCare, iCloud, Apple Pay, Apple Music, Apple TV+, Apple Arcade, and other offers. At the same time, Apple's Home Products and Accessories division increased sales by 22.5% to $6.28 billion. The device includes gadgets such as Apple Watch, AirPods wireless headphones, and Beats headphones. It also includes Apple's HomePod wireless speakers and various other gadgets. On April 30, Cupertino, a California-based company, showed better than expected results for the March quarter but gave no indication. Apple earned $2.55 per share at $58.31 billion in sales for the second fiscal quarter ended March 28. In annualized terms, Apple's profit increased by 4 percent, while sales increased by 1 percent. In March, iPhone sales fell 6.7 percent to $28.96 billion. Mac sales fell 2.9% to $5.35 billion. And iPad tablet sales fell 10.3% to $4.37 billion. Growth in sales of services and wearing materials helped offset that decline. Apple did not issue a manual for this quarter, citing market uncertainty associated with the pandemic. Wall Street predicted that Apple's June quarter profit would be $2.07 and sales would account for $51.54 billion. Apple's revenue for the quarter was $2.18 per share, with sales of $53.81 billion. The first and second quarters results will differ significantly from the fourth quarter. Apple earned $4.99 per share for the holiday quarter, up 19 percent from $91.8 billion in 9 percent sales.
The next share price catalyst for Apple is the annual Global Developers Conference, which begins on June 22. At the conference, Apple executives will talk about software updates for iPhone, iPad, Mac, Apple Watch, and other devices. AAPL shares have a relative strength rating 93 out of 99, which puts them in the top 7% of shares in the last 12 months.