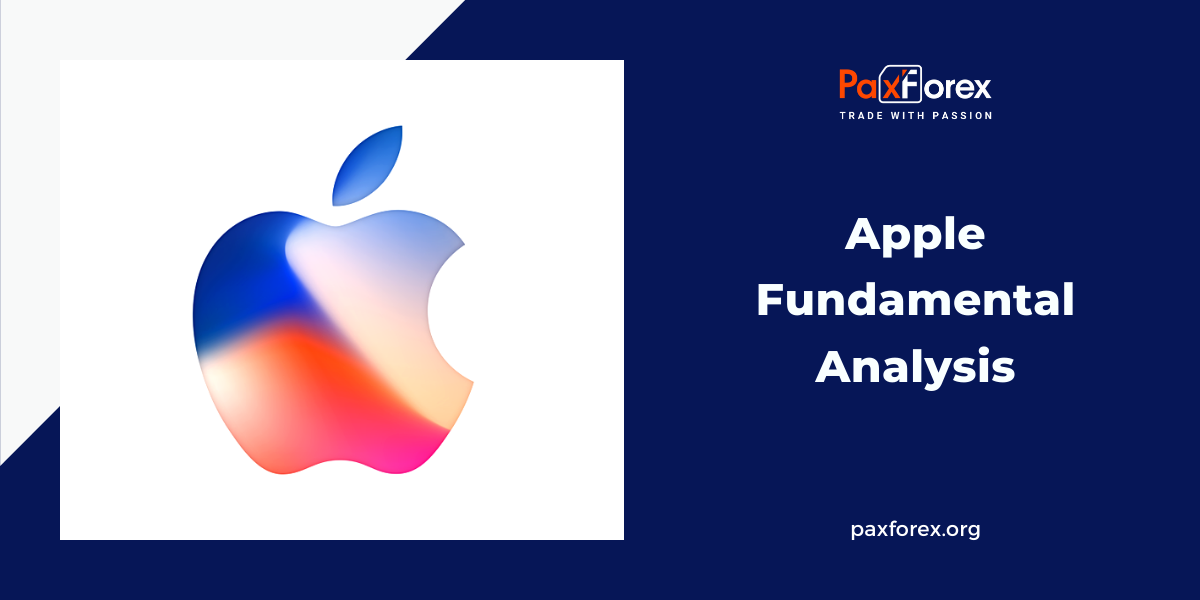 Source: PaxForex Premium Analytics Portal, Fundamental Insight
Apple will release its fiscal 2022 Q1 results today after the market closes, and investors are hopeful that the company will show good results to stop the stock's decline.
Apple stock is down in 2022 because of a hawkish stance by the Federal Reserve, which could lead to four interest rate hikes in 2022 to keep inflation under control.
Apple CEO Tim Cook noted during an earnings conference call in October that the company lost about $6 billion in revenue in the fourth quarter of fiscal 2021 because of "industry silicon shortages and COVID-related manufacturing disruptions." Cook added that "the impact of supply constraints will be greater in the December quarter."
Because of supply chain issues, Apple declined to release its first-quarter earnings guidance, so it remains to be seen how the company's results will compare to Wall Street expectations. Analysts expect Apple's fiscal first-quarter revenue to grow just 6% year over year to $118.4 billion. Last year in the same quarter, the company grew revenue 21% to $111.4 billion, and in fiscal 2021, its full-year revenue rose 33% to $365.8 billion.
Higher rates encourage investors to move their money from high-risk companies to relatively safer investments, such as bonds. In addition, higher interest rates increase borrowing costs, which can have a negative impact on the bottom line, something investors don't want to see in high-value stocks.
When you add in the fact that Apple suffered from supply chain problems during the holiday season, the odds seem to be stacked against the iPhone maker when it releases its results. Does this mean that investors should start selling Apple stock before the earnings report is released? Or should they take advantage of the drop and buy more? Let's find out.
The company's earnings are only expected to increase 12% year-over-year this quarter. By comparison, in the fiscal year 2021, Apple's adjusted earnings rose 71% to $5.61 per share.
The bigger concern is that Apple's growth rate could slow significantly this fiscal year. Analysts expect fiscal 2022 revenue to grow just 4.5% to $382.3 billion, and earnings are expected to rise just 2.3% to $5.74 per share. A potential increase in interest rates could add to the gloom and prevent Apple from repeating its outstanding performance in the stock market over the past three years.
So, there are quite a few reasons why investors might want to sell Apple stock before the earnings report comes out. However, experienced investors should focus on the big picture, as the company may offer a surprise in both the short and long term.
It would be a bad idea to write Apple off, given the way it dominates the 5G smartphone market. According to Strategy Analytics, Apple has been the leading provider of 5G smartphones since it launched its first 5G-enabled device in the fourth quarter of 2020. More specifically, Apple controlled 26% of the 5G smartphone market in the third quarter of 2021, and it's unlikely to relinquish that position anytime soon.
That's because Apple has a huge user base in the upgrade window waiting to get their hands on a 5G-enabled iPhone. Wedbush Securities analyst Daniel Ives estimates that about 230 million iPhone users have not upgraded their phones in the past three and a half years, which means that Apple's sales could start rising once the supply chain issues are resolved.
The good news is that Wall Street is seeing improvements in Apple's supply chain. Wells Fargo analysts raised their price target on Apple stock to $205, indicating a 26% upside from Friday's close. Analyst Aaron Rakers says the combination of an improving supply chain and strong demand for Apple's products could help it maintain its growth momentum.
CFRA Research also has a similar view, saying that supply constraints are likely to ease in the first half of the year, and Apple could gain share in markets such as China. Not surprisingly, analysts believe the tech giant could beat expectations. Katy Huberty of Morgan Stanley estimates that Apple sold 83 million iPhones last quarter, beating expectations of 80 million units.
In addition, Huberty predicts that Apple will sell 55 million iPhones this quarter, beating market expectations. Thus, Apple may beat expectations when it releases its earnings report, and that will help the stock regain its strength. More importantly, tech stocks can maintain their momentum into the future, as they are on several appetizing catalysts.
Overall, a strong report and optimistic outlook can lift stocks and make them more expensive. That's why investors might consider buying Apple stock ahead of the quarterly report, as it's currently trading at 29 times earnings guidance, a small discount from the 31.6 times earnings at which it traded last year.
As long as the price is below 163.20, follow the recommendations below:
Time frame: D1
Recommendation: short position
Entry point: 159.27
Take Profit 1: 154.90
Take Profit 2: 150.00
Alternative scenario:
If the level of 163.20 is broken-out, follow the recommendations below:
Time frame: D1
Recommendation: long position
Entry point: 163.20
Take Profit 1: 175.00
Take Profit 2: 179.00