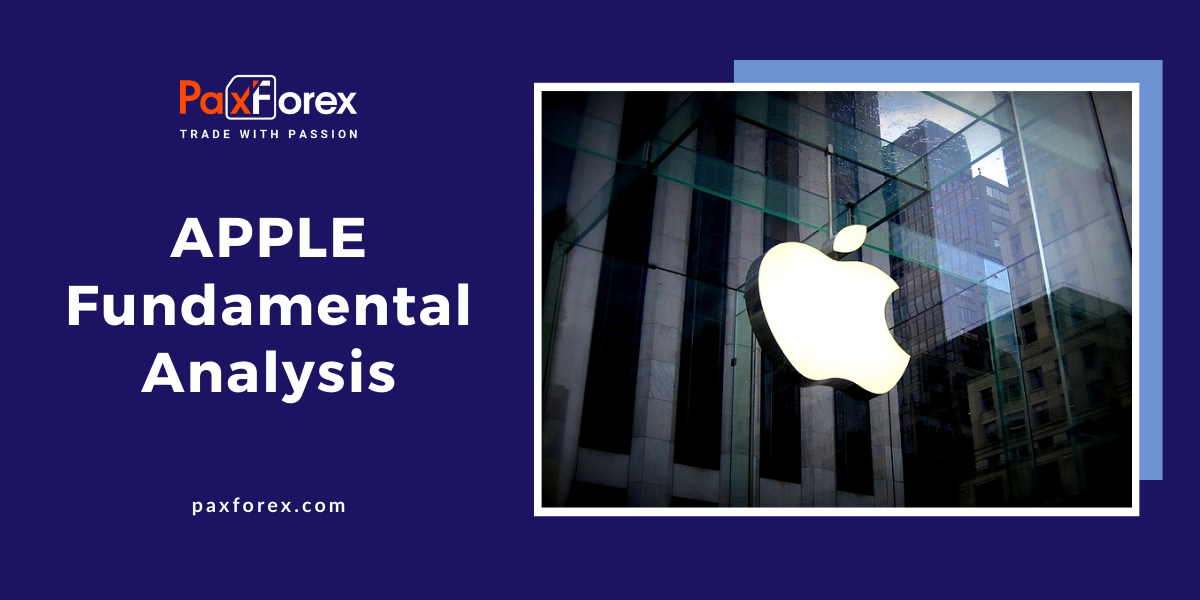 Source: PaxForex Premium Analytics Portal, Fundamental Insight
Over the past year, Apple shares (NASDAQ: AAPL) have soared by 90%. But some analysts are confident that the company's shares may grow even more. Indeed, two analysts have recently slapped the price benchmark of $450 per Apple share, implying a 15% increase since now.
Below is more detailed information about what is behind these conclusions and the increase in price targets for Apple shares.
Needham analyst Laura Martin on Wednesday raised her price target for Apple shares from $350 to $450. What is the main catalyst that can drive the share price up? The technology company is growing rapidly in service and consumables, she says. As these businesses continue to grow, they will make the company's overall ecosystem of hardware, software, and services tighter, reducing customer outflow.
Highlighting the strong performance of these businesses, Apple's service and consumables, home appliances and accessories segments grew 16 percent and 41 percent year-over-year in fiscal 2019, respectively. Significantly, as the Apple Durable Goods business segment is part of a segment in which other products grow more slowly than Apple Watch and AirPods sales, the overall growth rate of this segment reduces the growth rate of Apple's wearables business.
Of course, growth in Apple's wearables business slowed down in the second fiscal quarter due to supply issues, store closures, and lower consumer spending. But Apple's wearables, home furnishings, and accessories segment still posted 23 percent year-on-year growth during that period.
Of course, revenue from services remained stable, because sales and subscriptions to the App Store are likely to benefit from consumers being at home. Total revenue from services increased by 17% year-on-year in fiscal 2, and the segment is likely to continue to grow strongly during fiscal 2020.
Martin's bullish sentiment on Apple coincides with the decision of Wedbush analyst Daniel Ives earlier this week to raise the stock price target from $425 to $450, citing a similar bullish sentiment on the services, as well as a likely tailwind caused by rumors about the launch of 5G iPhone this fall.
While both analysts have specific reasons for optimism, investors seem to be most willing to pay a high price for the tech giant's stock because the quality of its earnings is improving.
Apple's highly profitable business services are growing as a percentage of the company's total revenue. Today, the services account for 19% of profits for 12 months, compared to 16% a year ago and 14% two years ago. Without slowing growth in this important segment, investors are betting that Apple's growing service business can strengthen the company's overall ecosystem and increase the number of customers. Besides, as service revenue is twice the return on Apple's hardware sales and more predictable than product launches, the company looks more attractive now than when it was more dependent on annual iPhone launches.
Martin and Ives are taking reasonable steps to update their pricing, based in part on the evolution of services and the quality of the Apple ecosystem. Apple is becoming a high-income machine with an ever-growing potential to keep competitors on edge and consumers in the ecosystem.