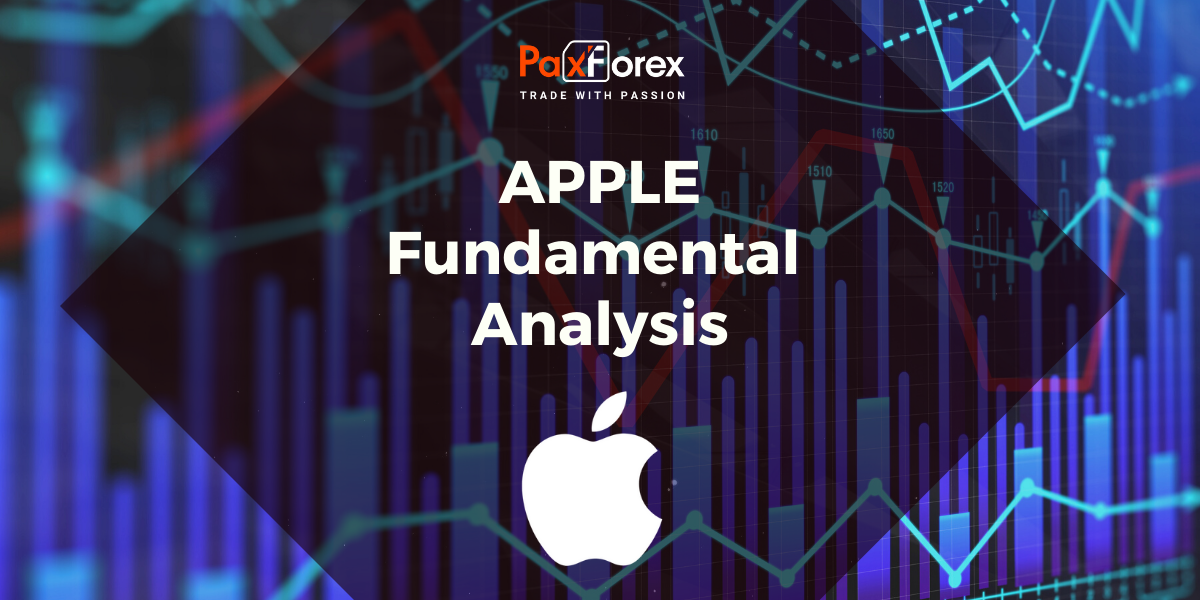 Source: PaxForex Premium Analytics Portal, Fundamental Insight
Apple shares jumped to a record high level after the quarterly earnings report. The tech giant's market capitalization exceeded $2 trillion. But with the recent fall in Apple shares, many investors are wondering if it is worth investing in these shares right now.
Apple has repeatedly been a striking example of an American success story. At first, it ignited a revolution in personal computers in the 1970s, when Apple II appeared. Then invented the PC in the 1980s, releasing the Macintosh.
The largest engine of the modern success of Apple is the iPhone. Debuted in 2007, the gaming smartphone has caused years of rapid growth and assembled a loyalty base of customers keen to purchase Apple products and services.
But iPhone sales decreased as customers continued to use older phones for a longer period between updates. Nevertheless, the company may be on the verge of a serious update cycle with its first 5G iPhone, which will be released this fall.
Today in Cupertino, California, the company will hold an online event to launch new products. According to the news, Apple will present its latest smartwatch - Apple Watch Series 6. This event may become the next catalyst for Apple shares, analysts say.
The new line of smartwatches will include high and low-class models. New features for leading devices will have blood oxygen detection and an improved electrocardiogram, news reports say.
In October, Apple will hold the second event, which will present its iPhone 12 smartphones with support for 5G. Apple always releases its new iPhone in September, but the coronavirus pandemic has delayed its release.
Deliveries of the new iPhone will come a bit later than the standard launch period at the end of September, financial director Luca Maestri revealed on July 30.
With the iPhone slowing down, investors are wondering what the next driver for Apple shares will be.
Lately, two businesses have given Apple growth in sales and profit: services and wearables.
In June, income from Apple services increased by 15% to $ 13.16 billion. The services include the App Store, AppleCare, iCloud, Apple Pay, Apple Music, Apple TV+, and other applications.
At the same time, Apple's Home Products and Accessories sales grew 17 percent to $6.45 billion in June. This division makes wearables such as Apple watches, AirPods wireless headphones, and Beats headphones. It also includes Apple's HomePod wireless speakers and various other gadgets.
On July 30, Apple showed better than expected results for the previous quarter, but the guidelines remained unchanged.
For the third fiscal quarter ended June 27, Apple made $2.58 per share, with sales of $59.7 billion. Analysts predicted a $2.04 per share gain on sales of $52.25 billion. On an annualized basis, Apple's profits increased by 18 percent and sales increased 11 percent.
In June, iPhone sales grew 2 percent to $26.42 billion. The new iPhone SE with a lower cost allowed for increased sales in this quarter.
Sales of Mac computers in June jumped by 22% to 7.08 billion dollars. IPad sales jumped 31% to $6.58 billion. Remote work and school-related trends, caused by the Covid-19 pandemic, boosted sales in both product categories.
Apple did not provide guidance for the next quarter, mentioning market indecisiveness associated with the coronavirus.
However, it announced a 4-to-1 share split. The AAPL shares began trading on a split basis on August 31.
On June 22, Apple began its annual World Development Conference. This year the conference was held online due to the Covid-19 pandemic
In their opening report, Apple management was talking about the company's transition to its own processors for computers, leaving Intel behind. They also demonstrated the latest software for iPhone, iPad, Mac, Apple Watch, and Apple TV set-top boxes.
The operating system of the Apple iOS 14 smartphone will enclose more customizable home screens, enhanced Siri support, improved privacy features, and mini-applications called App Clips. The release, which will happen this fall, will also include modifications to Maps, Messages, and other applications.
August 19, AAPL shares were the first to reach a market capitalization of 2 trillion dollars. For a long time, an Apple analyst Gene Munster, managing partner of Loup Ventures, said that Apple shares could reach a market capitalization of 3 trillion dollars around this decade.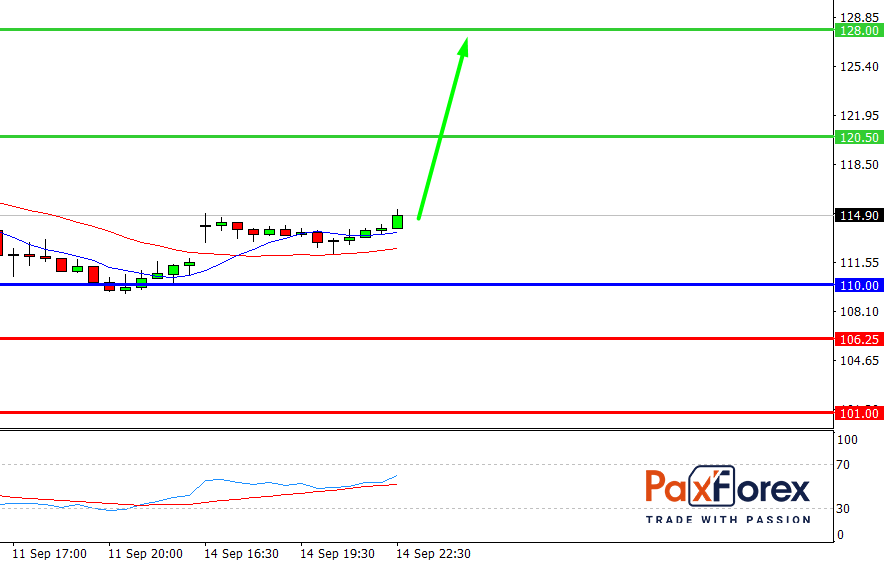 While the company is traded above 110.00, follow the recommendations below:
Time frame: D1
Recommendation: long position
Entry point: 115.35
Take Profit 1: 120.50
Take Profit 2: 128.00
Alternative scenario:
If the level 110.00 is broken-down, follow the recommendations below.
Time frame: D1
Recommendation: short position
Entry point: 110.00
Take Profit 1: 106.25
Take Profit 2: 101.00