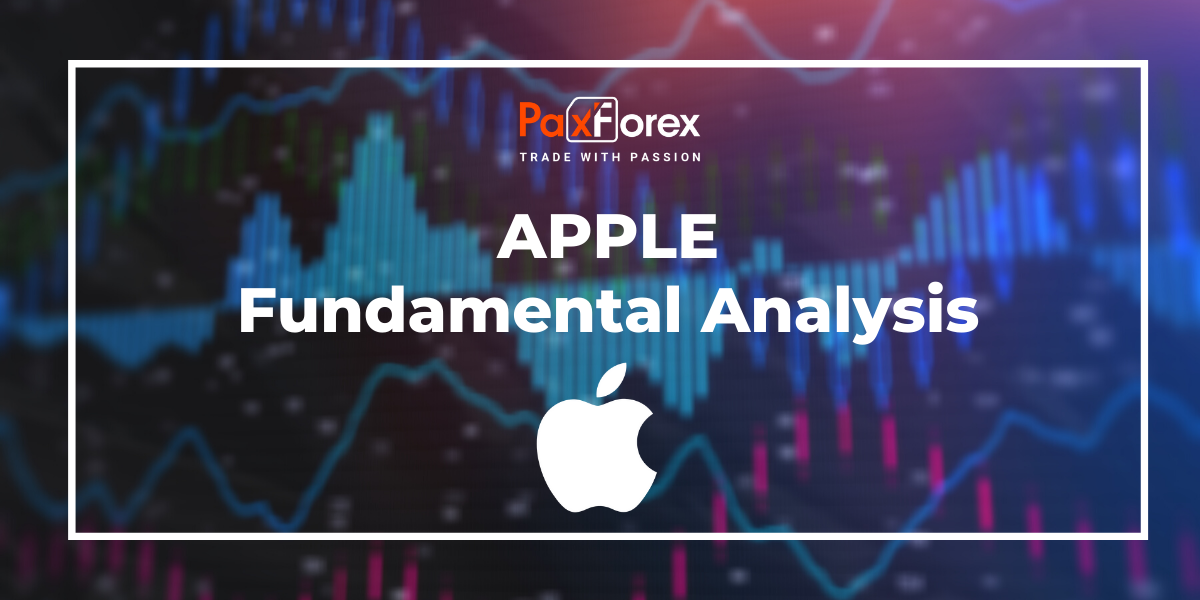 Source: PaxForex Premium Analytics Portal, Fundamental Insight
The price of Apple shares this year rose by almost 60%, and it doubled in the last 12 months. The company's market capitalization - the largest on the U.S. stock exchanges - is 2.16 trillion dollars, and until recently, shares have repeatedly reached record highs.
All these figures can somehow scare away or alert some investors, as the company is already at an incredibly high level. It now has a market capitalization of about $400 billion more than the next major companies, giant peers Amazon and Microsoft, whose capitalization is about $1.7 trillion for two.
Is the big Apple rally the result of overly cheerful investors who raised the price so high? Or can this technology giant continue to grow and generate sensational profits for the market?
If we look at some of Apple's key metrics and compare them with those of last year, we can get a clearer picture. For example, the P/E ratio in October 2020 was 35.7, compared to 19.2 in October 2019. These figures indicate that over the past year, investors have become much more optimistic about Apple. A year ago, the dollar of sales was estimated at 4.10 dollars at the stock price. Today, this dollar is valued at $7.60. The same thing happened with the company's profit and free cash flow. Simply put, the price of Apple shares rose much faster than profit, sales, and free cash flow.
How do these figures compare with those of major technology companies? Here you go - Amazon 126.5, Microsoft 37.5. While Apple's valuation has grown rapidly, it remains lower than that of its peers. One of the reasons is that Amazon and Microsoft have higher growth rates. According to Amazon's forecasts, this year, adjusted earnings per share will grow by 38%, and Microsoft has just completed the fiscal year with 21% annual growth. For comparison, in the fiscal year 2020, which ended in September, Apple will grow by 9%.
In recent years, Apple's iPhone sales growth has stalled, and this device accounted for about two-thirds of total revenue. If iPhone sales had not grown, investors would have wondered: how would the Apple company have grown?
This skepticism was reflected in the relatively low valuation of the company. In May 2016, when the legendary investor Warren Buffett began to accumulate Apple shares for Berkshire Hathaway, the P/E ratio of the company was only about 11. Since then, it has tripled, and most of this growth came last year. There are two main reasons why investors have changed their attitude towards the company.
Firstly, there is optimism that iPhone sales can give momentum. It is expected that today Apple will announce that the iPhone, released this fall, will support 5G connection, a technology that can significantly increase the speed of download. This update may encourage many iPhone users - and about a billion of them - to switch to a new phone.
Secondly, Apple is diversifying its revenue. In early 2017, CEO Tim Cook said he wants the company to double its revenue from services by 2020. It happened, and in the quarter ended June, the company set a record for revenue from services ($ 13.2 billion). The installed base of Apple users has more than 1.5 billion devices, and if it can force these users to increase the use of services such as Apple Music and App Store, it will contribute to growth.
The company has also expanded its home products and accessories segment, which includes products such as AirPods, Apple Watch, and Beats. When Apple reports its annual revenue on October 29, the segment's revenue will more than double in just three years.
These two segments have a much more significant impact on revenue. In 2016, they accounted for only 16 percent of Apple's revenue. In the first nine months of the fiscal year 2020, they produced $62 billion, or 30 percent of total revenue. Even with this growth, the iPhone still accounts for more than half of the company's revenue.
Evaluation, as well as beauty, in the eye of the beholder. This means that only every investor can answer the question of whether Apple is overvalued. After all, the market is built on people who accept the opposite sides of the trading: buyers and sellers.
For investors who focus on traditional valuation indicators, Apple probably looks daunting. It has not had such high scores for over ten years.
For investors who look at Apple as one of the most innovative companies of all time, the outlook may be different. The company's innovations have helped to create a massive and loyal customer base, which is why Forbes magazine year after year calls Apple the most valuable brand in the world.
With such a track record of innovation and customer loyalty, Apple's overvaluation is questionable. Historically, there was never a bad time to buy Apple shares while you were holding these shares. As a $2.16 trillion company, Apple has long lagged behind its competitors, but it can continue to provide long-term investors with market returns for many years.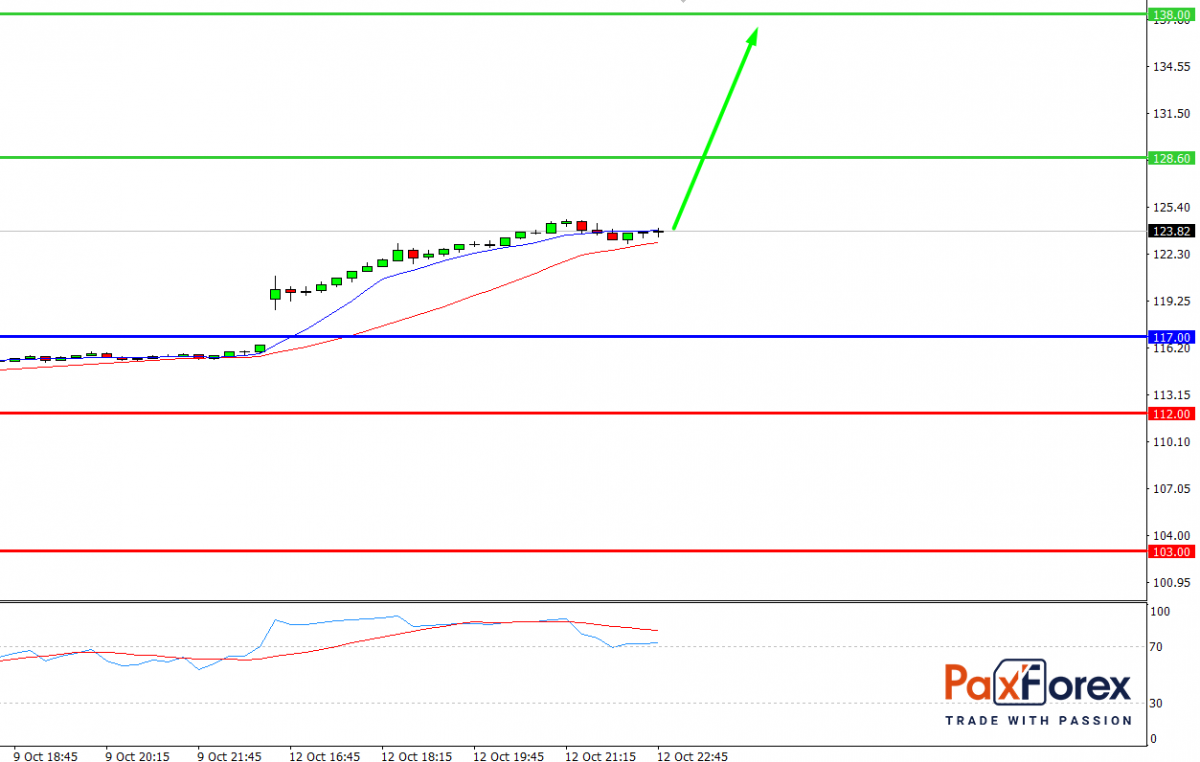 While the price is above 117.00, follow the recommendations below:
Time frame: D1
Recommendation: long position
Entry point: 125.00
Take Profit 1: 128.60
Take Profit 2: 138.00
Alternative scenario:
If the level 117.00 is broken-down, follow the recommendations below:
Time frame: D1
Recommendation: short position
Entry point: 117.00
Take Profit 1: 112.00
Take Profit 2: 103.00