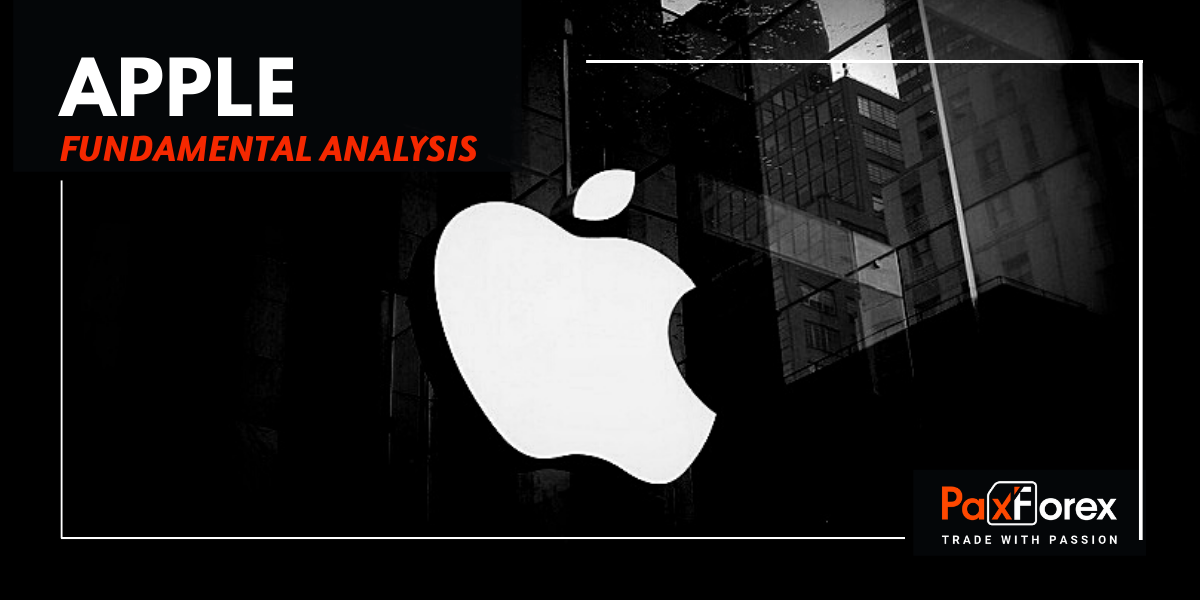 Source: PaxForex Premium Analytics Portal, Fundamental Insight
As Apple begins to sell 5G devices and increases its volume in anticipation of the holiday season, investors have every reason to be optimistic. With the shift in workload caused by COVID-19, demand for Apple devices has grown on many fronts.
However, stocks have also grown significantly this year, and the company's revenues have risen many times to multi-year highs. Such activity may make investors think about whether they should continue to add positions in the technology giant or reduce them.
Of course, investors who bet on the company's growth have good reasons to buy into Apple shares at first glance. For starters, its giant $2 trillion market capitalization is a constraint.
This means that to achieve double income, market capital must grow to at least $4 trillion. It is logical to assume that investors prefer to buy shares in medium capitalized companies for further growth, which only need to add $5 or $10 billion to double their investment.
Today's Apple also does not look like a growth stock. First, the company has become the largest holding of Warren Buffett's Berkshire Hathaway. Although Buffett has passed on more investment decisions to other members of his company, this position probably points to approval as a value share.
Second, dividends are likely to be more motivational for long-time shareholders than for new investors. Even though dividends have been increasing annually since the company resumed payments in 2012, the annual dividend payment of $0.82 per share brings in only 0.7%, which is well below the S&P 500 average of about 1.6%.
Besides, new investors will have to pay more than 29 times forward profit for this revenue flow. Over the past two years, this figure has grown dramatically, far exceeding the average price-to-earnings ratio (P/E) of just under 17. The 55% increase in Apple shares probably explains much of the higher valuation.
However, the forward multiples are not necessarily the reason for the sale. The forward multiple of 29 is low if measured concerning the so-called "FAANG" shares. Compared to Facebook, Amazon, Netflix, and Alphabet, only Facebook trades at a lower forward P/E ratio.
Moreover, despite some problems, the latest report gave the shareholders a reason to remain bullish. The last quarter brought record revenues of about $64.7 billion, as well as record sales for Mac and services. Revenues in many countries, from Brazil to Germany and India, also rose to record highs over time.
The only negative point is that iPhone sales fell by almost 21 percent. This amounted to about 41% of Apple's total revenue, compared to about 50% in the last nine months. However, this came just before the release of the new iPhone, which the company announced in mid-October.
The new iPhone 12 is Apple's first 5G iPhone, and in many ways, it begins a 5G update cycle. CEO Tim Cook said sales of the iPhone 12 began with a "great start".
Investors will probably have to wait for the next quarterly report to see the results. However, the transition to 5G is likely to spur further iPhone purchases, especially in China. It could also mean that the smartphone will again account for most of Apple's revenue.
Moreover, the company has spent most of 2020 on protection against allegations of anti-competitive behavior. Apple supported a study earlier this year that showed that its 30% commission is comparable to other digital platforms, such as game consoles.
It should be noted that last month the House of Representatives Judiciary Committee published the results of the study, which was conducted within 16 months. Lawmakers have argued that the App Store represents a monopoly on the distribution of iOS software, and Apple pushed back the results of the study, preferring to identify the relevant market as widely as possible to minimize its market share.
Apple has made several small concessions to address concerns, such as recently allowing users to modify standard applications for certain features on iOS. The new program is another additional concession designed for the same purposes, but it may not be enough to suppress criticism. Apple's most active critics, including Spotify and Fortnite, the creator of Epic Games, have already spoken out against the changes, claiming that the $1 million thresholds are arbitrary and creating a new multi-level system that developers must now navigate.
Analysts predict revenue growth to slow to 5% next year, while profit growth could slow to 9% if forecasts are correct. This is happening at a time when the multiplier has reached a multi-year high and may indicate a multiple contractions shortly.
Apple stocks are likely to recover eventually. However, whether you're an Apple shareholder or a potential buyer, waiting seems reasonable at this point.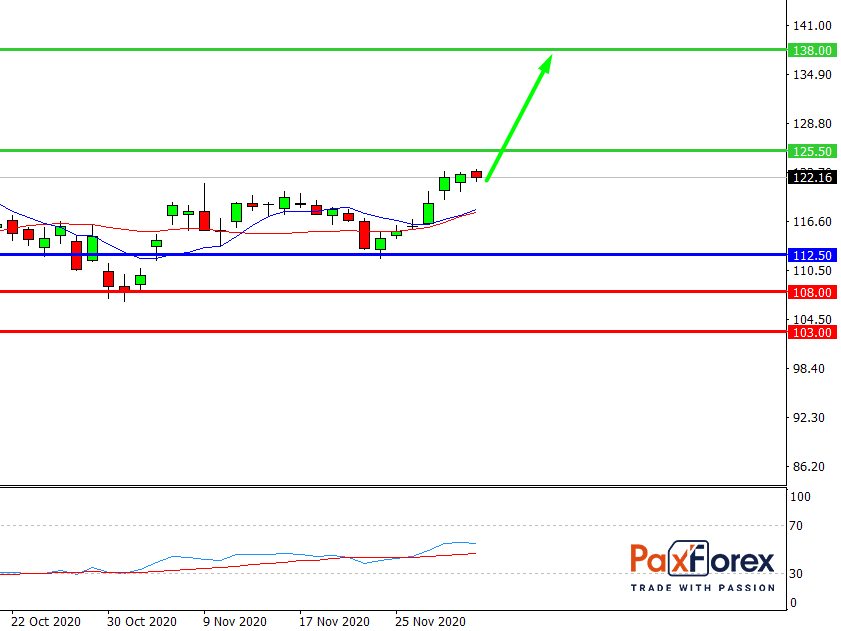 While the price is above 112.50, follow the recommendations below:
Time frame: D1
Recommendation: long position
Entry point: 122.72
Take Profit 1: 125.50
Take Profit 2: 138.00
Alternative scenario:
If the level 112.50 is broken-down, follow the recommendations below:
Time frame: D1
Recommendation: short position
Entry point: 112.50
Take Profit 1: 108.00
Take Profit 2: 103.00