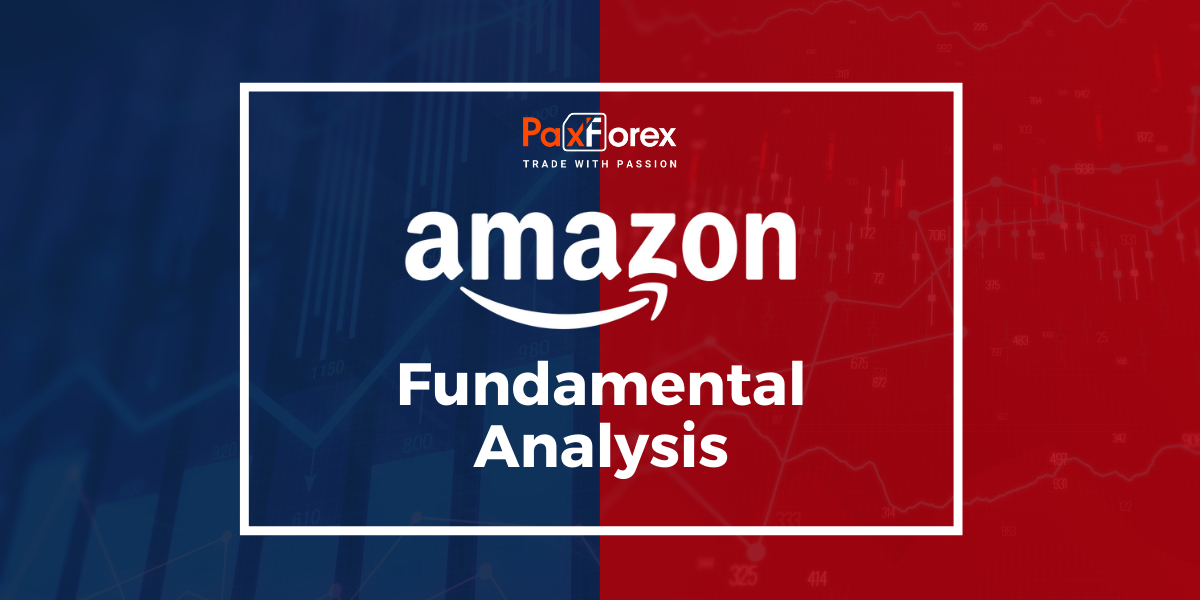 Source: PaxForex Premium Analytics Portal, Fundamental Insight
Amazon stock has jumped 78% this year because e-commerce has picked up due to the pandemic. However, vaccines are starting to spread, and there is hope that the pandemic will end soon. Although it will likely cause a slowdown in online retail sales, Amazon's growth story is far from over.
Here are three accelerators for the company that will fuel Amazon's growth in 2021.
Amazon Logistics' efforts don't get the attention they deserve. It is the company's transportation network that allows it to fulfill more and more e-commerce orders to the customer's doorstep. Historically, Amazon has relied on UPS, FedEx, and the U.S. Postal Service (USPS) for most of its needs, including last-mile delivery. But Amazon's needs tend to be greater than those of third-party carriers, especially during peak periods, which has prompted Amazon to invest more in its own delivery services.
Likely, Amazon will eventually fulfill the vast majority of its orders. The company is certainly investing heavily in this sector. During a second-quarter conference call, CFO Brian Olsavsky told investors that the company will increase its fulfillment capacity by 50 percent this year, compared with 15 percent in 2019. It's unbelievable that Amazon, by its size and scope, continues to grow its fulfillment network by 50% in 2020. But that's how the company is going to fulfill the vast majority, if not all, of its e-commerce orders over time. And once that network investment is made and the company achieves that goal, Amazon may even open up its fulfillment network to third parties. In the future, when we want to mail a package, imagine that we can just leave it in the yard so that Amazon's delivery person can pick it up and send it to the end customer.
To the extent that Amazon is showing early signs of progress next year, it could act as a trigger for stocks.
Amazon's efforts in grocery stores remain fairly underappreciated, but its concepts should continue to evolve next year. The biggest of these opportunities appears to be in the grocery category, given the size of the $665 billion U.S. market. But it's not just about Whole Foods, which Amazon acquired a few years ago. This year, Amazon opened its first Amazon Fresh Foods store in Woodland Hills, California. The company seems to have combined what it learned from owning and operating a Whole Foods store with Amazon's cutting-edge technology to create an exciting new grocery concept. At Amazon Fresh stores, shoppers can use Amazon's new Dash Cart to find out exactly where the items on their shopping list are, scan items as they put them in their cart, and then simply exit through the Dash checkout lane without stopping because Amazon knows what you bought and deducts money from your account accordingly. This technology is somewhat similar to the "just walk out" technology it uses in its Amazon GO store chain. Both Dash Cart and GO allow customers to walk away without stopping at a cashier. The difference is that GO technology relies on cameras and sensors in the ceiling and on the shelves, while Dash Cart technology is in each cart. Amazon Fresh has since opened additional locations in Irvine, North Hollywood, and Northridge, California, as well as Naperville, Illinois. Additional stores in the Chicago area are planned for Bloomingdale's, Oak Lawn, and Schaumburg, Illinois.
Given the sheer size of the U.S. grocery market, it's understandable why Amazon is working so hard to improve the grocery shopping experience. As these concepts gain momentum, Amazon will roll out these stores faster. This could be a catalyst for equities to the extent that investors begin to value grocery stores as one of the company's next big businesses.
Continued adoption of e-commerce
Many investors expect Amazon's e-commerce sales growth to slow significantly after COVID-19. If the vaccine leads to the beginning of the end of the pandemic, more consumers may feel comfortable returning to physical stores to shop.
Over time, the share of online stores in total retail sales has increased, as it allows for a better user experience. There is no doubt that more consumers are spending more online this year. As they discover a better user experience, it can form habits that lead to even more of their spending online even after the pandemic.
To the extent that Amazon's growth in online sales over the next year remains solid, investors should expect it to act as a booster for the stock, as many expect moderate growth.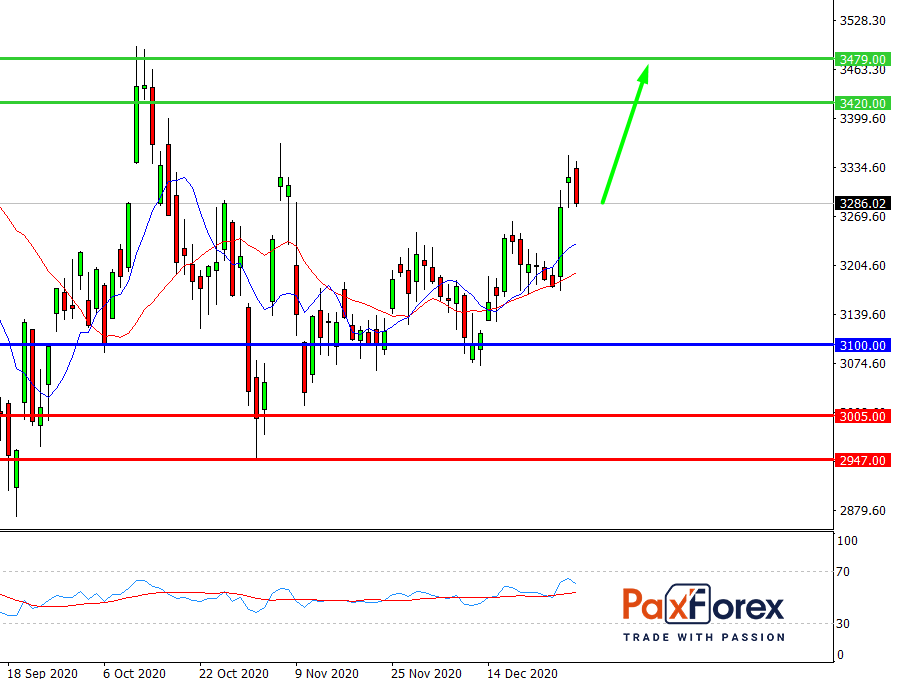 While the price is above 3100.00, follow the recommendations below:
Time frame: D1
Recommendation: long position
Entry point: 3283.00
Take Profit 1: 3420.00
Take Profit 2: 3479.00
Alternative scenario:
If the level 3100.00 is broken-down, follow the recommendations below:
Time frame: D1
Recommendation: short position
Entry point: 3100.00
Take Profit 1: 3005.00
Take Profit 2: 2947.00