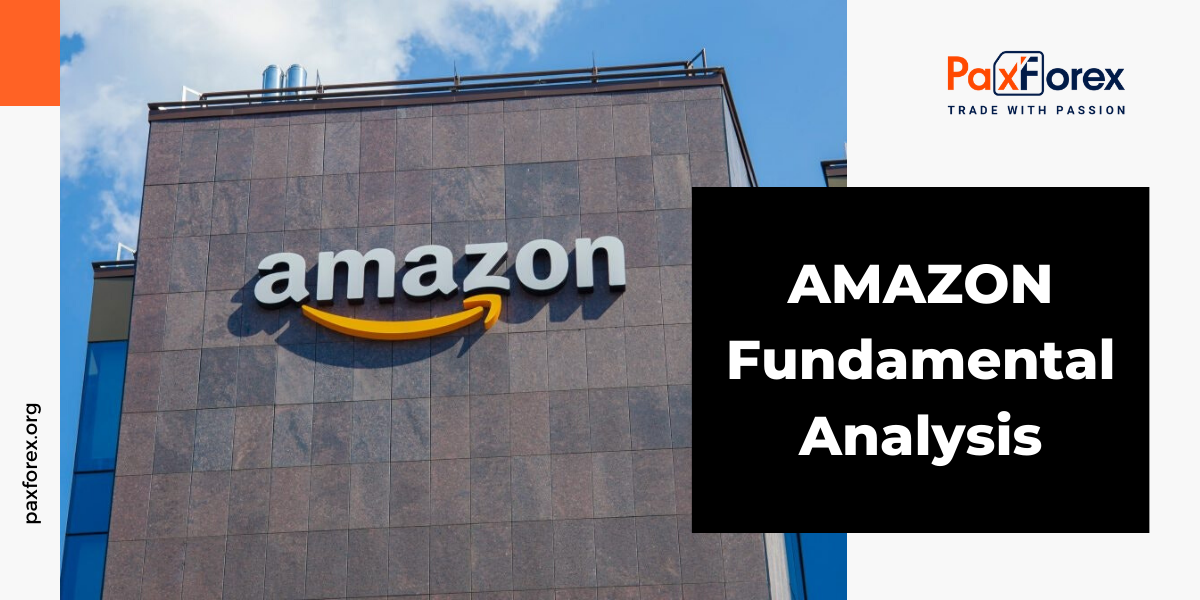 Source: PaxForex Premium Analytics Portal, Fundamental Insight
Lately, the stock market rarely gives us good news. Even some of the most seemingly resilient companies have faced serious challenges in the past year. In many cases, economic factors, such as rising inflation, have negatively impacted companies' earnings and appetite for stocks.
But there is good news: there is reason to believe that a bull market is coming. History tells us that such periods of rising stocks always follow bear markets. The only thing unknown is the exact timing.
So, what to do during the waiting period? Invest in great companies with good long-term prospects. And if they have fallen in these turbulent times, then there is an opportunity to buy them at a bargain price.
Amazon is an ideal candidate. Right now, the company's stock is trading at its lowest level relative to sales volume since about 2015. Here are a few more reasons to buy the company's stock right now.
When you think of Amazon, you probably think of online commerce. But the company's cloud computing business, Amazon Web Services (AWS), typically generates revenue. In 2021, for example, AWS's operating income accounted for more than 70% of Amazon's total operating income.
Over the years, AWS has seen double-digit growth in quarterly revenue and operating income. The company has expanded its infrastructure around the world to manage storage for large companies and organizations. Last year, for example, Delta Air Lines chose AWS to accelerate the transformation of its digital business. And AWS is a leader in the global marketplace.
It's true that AWS is experiencing a bit of a downturn right now, as rising inflation is hitting its customers' wallets. They're spending less than usual on storage solutions. Nevertheless, even though AWS's operating income fell 2 percent in the last quarter, the company's revenues continued to grow in double digits.
These economic headwinds are temporary. As inflation eases and customer budgets improve, AWS will once again be a profit driver for Amazon.
Amazon is also the market leader in e-commerce. Of course, inflation is now putting double pressure on e-commerce: It's increasing Amazon's costs and hitting customers' wallets.
As has been said about AWS, this situation is temporary. So once the economic problems subside, Amazon will be ready to rebound -- and that's thanks to its Prime membership program.
Prime offers its users fast and free shipping, as well as other benefits such as movies and books. Last year, the Prime program even launched a new feature: it allows members to buy with Prime from various sites outside of Amazon. The benefit? The same checkout and shipping benefits that members get on Amazon.
Amazon is already seeing positive results. Last year, Amazon said Prime members were increasingly relying on the service for shopping and entertainment. And in the fall, the NFL's "Thursday Night Football" premiere game generated the highest number of Prime registrations in three hours in the United States. Over time, the company has grown to more than 200 million users worldwide.
All of this should lead to renewed revenue growth once consumer spending starts to pick up -- and that's great news for profits in the long run.
Meanwhile, in today's tough economic climate, Amazon isn't just waiting for better times. The company is taking steps to better prepare for that time.
Amazon is working to improve its cost structure. This will help the company cope with today's challenges, but the effect will not stop there. Improving its cost structure will also help Amazon grow in a strong economic environment.
Amazon has decided to cut 18,000 jobs as part of this program. The company has already made some progress. For example, in the fourth quarter, the company said its workforce was better aligned with demand compared to the previous year.
Amazon has also seen an increase in labor productivity in its product delivery network. This is crucial because the company quickly doubled its network immediately after the pandemic began and then faced overcapacity. This expanded network should serve Amazon well over time.
The company has also increased its investment in AWS. And that's a good thing, given the role this business plays in generating revenue. Last year, Amazon increased its investment in technology infrastructure by $10 billion.
In the short term, these investments are costly -- even job cuts, since they result in costs such as severance packages. But over time, they should pay off. And today's efforts could make Amazon a winner in the coming bull market.
As long as the price is above 91.00, follow the recommendations below:
Time frame: D1
Recommendation: long position
Entry point: 98.69
Take Profit 1: 102.00
Take Profit 2: 109.00
Alternative scenario:
If the level of 91.00 is broken-down, follow the recommendations below:
Time frame: D1
Recommendation: short position
Entry point: 91.00
Take Profit 1: 87.00
Take Profit 2: 82.00