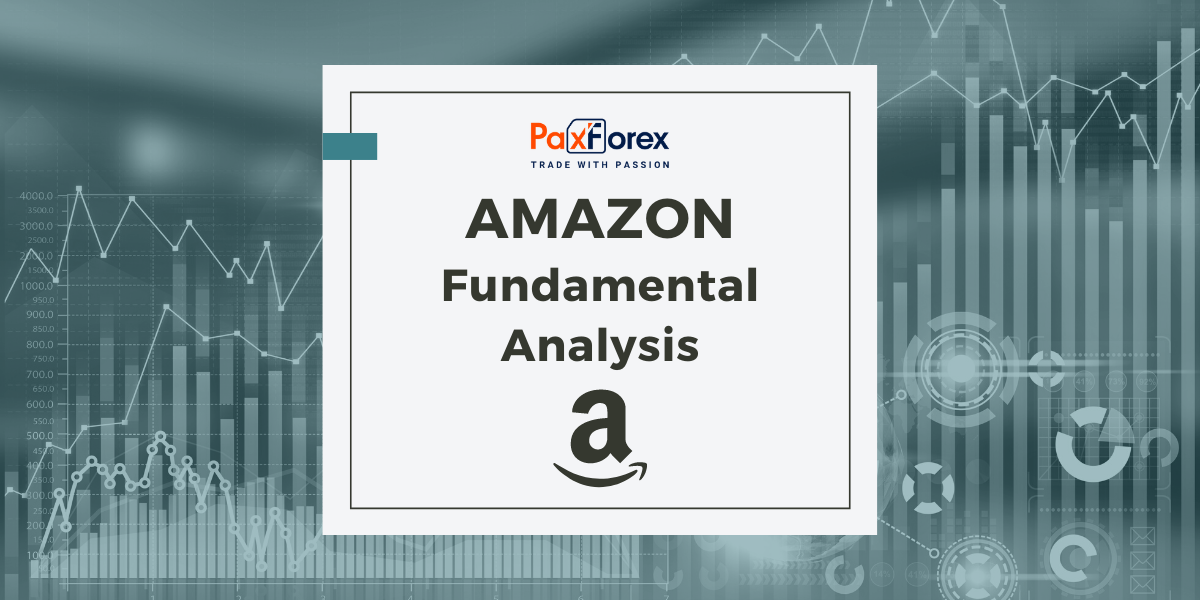 Source: PaxForex Premium Analytics Portal, Fundamental Insight
Pricing at about $3,300 per share makes Amazon look expensive, but you can't judge a stock by its price alone. Another way to think about buying stock is to think about how much you would have to pay to own the entire company (assuming you can do it).
Amazon's current market capitalization is $1.67 trillion. That's what you would have to pay to buy all of Amazon's outstanding shares at their current price. That looks expensive, too, but it may not actually be when you consider the company's earnings potential. This high market capitalization is a reflection of investor confidence that Amazon will grow to a level consistent with its overall value.
Undoubtedly, we all want our stock to rise in value over time. But for investors to get a good return on Amazon stock from these levels, the company will need to generate annual returns that are reasonable relative to the current market cap.
Does Amazon have what it takes to make a multi-billion dollar annual return?
Amazon has delivered extraordinary growth since its founding in the 1990s, and it still has room to maintain its growth momentum. While Amazon has not succeeded in everything it started (such as the Amazon Fire Phone), the e-commerce giant has successfully spread its influence into several markets, including video streaming, grocery delivery, and cloud services, and it is still in the early stages of growth in all of these markets.
In 2020, Amazon generated a whopping $386 billion in net revenue. Amazon Web Services' cloud business accounted for 12% of that. Most impressively, Amazon's core retail business is still growing domestically, with North American sales up 40% year over year in the fourth quarter, on par with international sales, which grew 57%.
During the pandemic, the company received a huge boost from shoppers who stayed home. Data from the U.S. Commerce Department show that total e-commerce retail sales increased 37% in the third quarter, a sharp acceleration from pre-recession trends. Even with so many people switching to online shopping last year, e-commerce still only accounted for about 13.5% of all U.S. retail sales in the third quarter. It could be decades before e-commerce becomes a more meaningful percentage, providing Amazon with a long-term growth perspective.
With this opportunity, Amazon could easily generate more than $1 trillion in net annual revenue at some point, making the current market cap less costly.
Management said in a fourth-quarter conference call that Prime customers, who total more than 150 million, continue to shop with greater frequency and in more categories than they did before the pandemic. Also, Prime subscribers are increasingly taking advantage of digital benefits such as Prime Video and Amazon Music, making them more loyal customers.
Amazon has created a powerful growth flywheel by combining physical store experiences, such as Whole Foods and Amazon Go stores, with the benefits of Prime membership.
The company still has a lot of growth potential in its core retail business, but investors also love Amazon for its market-leading position in cloud infrastructure services.
If you're thinking about buying Amazon stock, you should know that Amazon Web Services accounted for most of Amazon's operating income last year. AWS is now a $51 billion-a-year business that generates solid profits. More and more organizations continue to migrate their data processing systems from on-premises servers to the cloud, which drove a 28% year-over-year increase in AWS sales in the fourth quarter.
The increase in AWS profits is one of the reasons Amazon's stock price has risen more than 500% over the past five years. But about half of those profits also came from nearly doubling the price-to-sales ratio.
Compared to other top e-commerce stocks like Etsy and Shopify, this online retail giant offers relatively good value. Amazon is cheaper when judged by price-to-sales and price-to-earnings ratios, and ranks No. 2 among the three when measured by free cash flow.
Some investors may wonder whether Amazon stock is still a good buy since founder Jeff Bezos will step down as CEO in the third quarter and move into the role of executive chairman.
Amazon is a fine-tuned machine at this point, so investors shouldn't notice any changes in the company's operations.
Moreover, Bezos will still play an active role in running the company and still owns a stake worth about $200 billion.
With so many e-commerce opportunities around the world, Amazon remains one of the growth leaders to watch.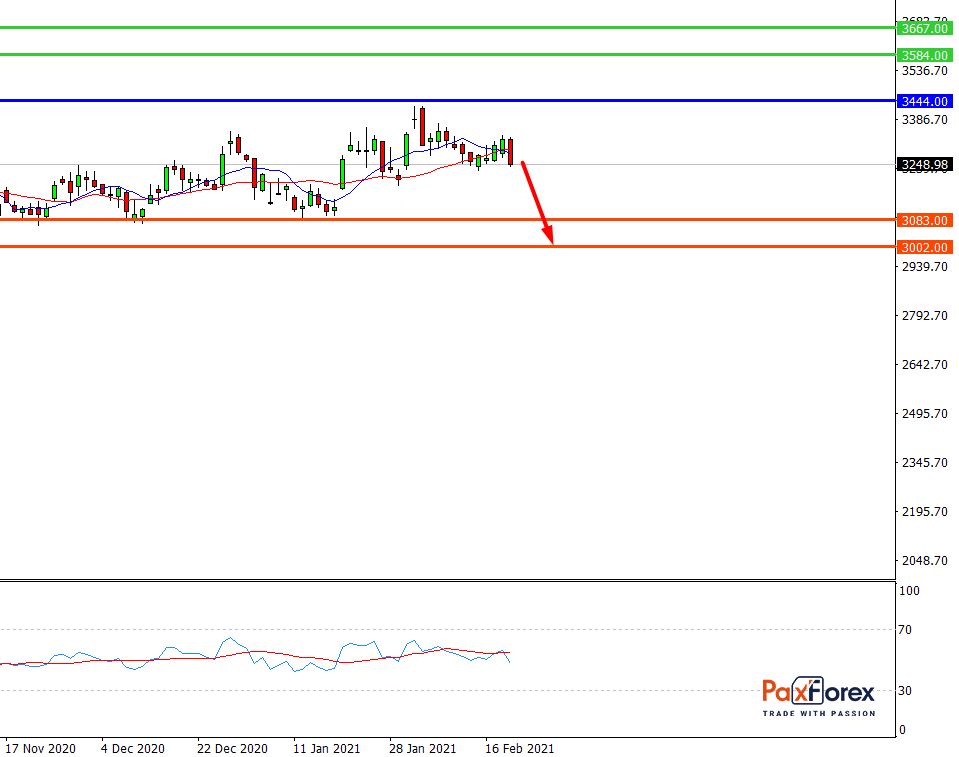 While the price is below 3444.00, follow the recommendations below:
Time frame: D1
Recommendation: short position
Entry point: 3444.00
Take Profit 1: 3083.00
Take Profit 2: 3002.00
Alternative scenario:
If the level 3444.00 is broken-out, follow the recommendations below:
Time frame: D1
Recommendation: long position
Entry point: 3444.00
Take Profit 1: 3584.00
Take Profit 2: 3667.00