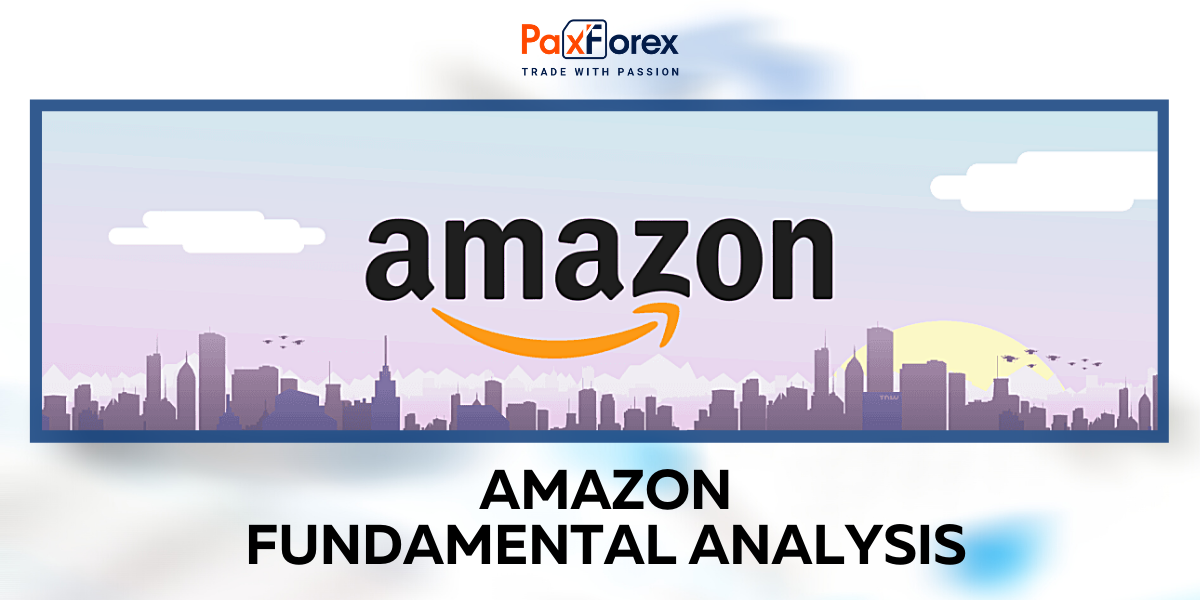 Source: PaxForex Premium Analytics Portal, Fundamental Insight
Amazon has made a great fortune for its shareholders. Chief Executive Officer Jeff Bezos is the richest man on earth and has a fortune of about $190 billion according to the Bloomberg index.
For those of us who didn't make it to Amazon's IPO, can the company still be a gold mine?
Amazon continues to be a driving force in online retailing. Americans turned to a trusted e-commerce master during the pandemic, and sales grew 40% in the second quarter ending June 30 and 37% in the third quarter ending September 30. The company expects similar growth in the current fourth quarter.
Revenues tripled in the third quarter and free cash flow increased to nearly $30 billion, allowing Amazon to fund its many new initiatives.
Holidays are generally the most valuable time period in retail, and Amazon said it was the largest holiday season in the company's history. Sales from independent retailers rose 60 percent on the Black Friday weekend. However, it is still waiting for the influx of buyers before and after the holiday season.
Preliminary Black Friday shopping season data indicate Amazon's market share. Adobe analysts found that buyers spent about $11 billion online on Cyber Monday, a 15% increase over last year. Total holiday spending on Cyber Monday was over $100 billion, a 27% increase over last year. Cell phones accounted for 37% of total sales. Cyber Monday was "the biggest online shopping day in U.S. history," says Adobe Digital Insights director. "For the remainder of the holiday season, we expect record sales to continue as shoppers avoid crowds.
One day delivery was the most popular last-minute option, with a 45% increase, but it was close to the second-day pickup, up 37% over the previous year. This is a potential pain for Amazon, as it has not yet made a significant breakthrough into brick stores. The company is trying to gain a foothold in storefronts and its stores Amazon Fresh and Amazon Go took off. But it lags far behind its competitor Walmart, which is still the largest American retailer, despite Amazon's dominating position on the Internet.
Amazon has evolved from an online boxer into an online market, where you can buy almost anything you want. However, it has also spread to other growth factors everywhere, such as Amazon Web Services, which offers a range of cloud computing solutions. The company also sells its own branded devices such as the Alexa remote control, Echo Dot, and Fire TV Stick.
It is considering selling its cashless technology, which it uses in its supermarkets, to other retailers to generate another source of revenue.
Amazon is a leader in innovation and combined with its strength in retail, it must continue to show high growth rates.
Amazon shares debuted in 1997 at $18 per share, and if you invested $1,000 at that price, you would already be a millionaire. But the growth is far from over.
Believe it or not, Amazon shares are now quite cheap compared to profits and potential. Although at the time of writing this article shares are traded at $3,104, they are among the cheapest shares in the last decade. In terms of EV-to-EBITDA, Amazon is trading at 33.9, which is below the historical average and median value for the last 10 years.
Amazon is an excellent stock to hold, and it is likely to contribute to the prosperity of shareholders. However, for a giant like Amazon, growth may slow down, which means investors may have to wait longer to turn it into a million dollars.
E-commerce may seem to be taking over the retail world, but this is only partially true. In the third quarter, online retail sales in the U.S. grew by almost 37 percent year on year. The COVID-19 pandemic has dramatically accelerated online sales as people stay home instead of shopping in stores. But even with this growth, e-commerce still accounted for only 14.3 percent of U.S. retail sales. This leaves a lot of room for growth.
According to eMarketer, online retail sales will increase by more than $400 billion between 2020 and 2024. Amazon could take up most of these sales. Although almost no one will be surprised that the company is the largest player in the e-commerce market, what may be surprising is the size of this advantage. According to estimates, this year Amazon will account for 39% of all American online retail sales. Walmart No. 2, the fastest growing online retailer, is projected to account for only 5.8 percent of the market, excluding groceries.
Amazon is also looking for a huge grocery market dominated by Walmart. Amazon Fresh stores have started to open as the company intends to take a large share of the huge U.S. food market, which this year should provide sales of 750 billion dollars.
The company has almost always been highly valued and for many years dragged the S&P 500. With a market capitalization of nearly 1.6 trillion dollars, Amazon's biggest growth days are behind. But even at these levels, these are strong growth stocks that will outperform the market for years to come.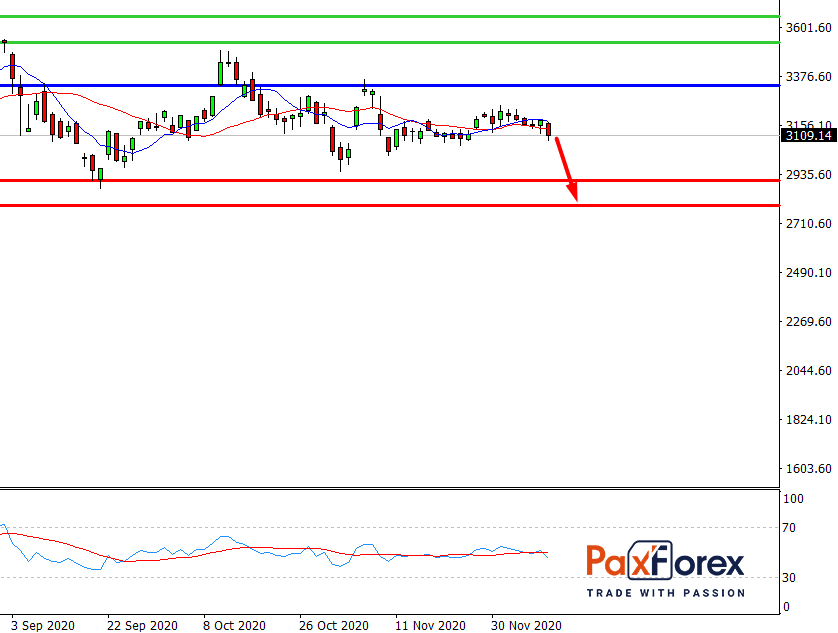 While the price is below 3336.00, follow the recommendations below:
Time frame: D1
Recommendation: short position
Entry point: 3155.00
Take Profit 1: 2909.00
Take Profit 2: 2793.00
Alternative scenario:
If the level 3336.00 is broken-out, follow the recommendations below:
Time frame: D1
Recommendation: long position
Entry point: 3336.00
Take Profit 1: 3533.00
Take Profit 2: 3651.00