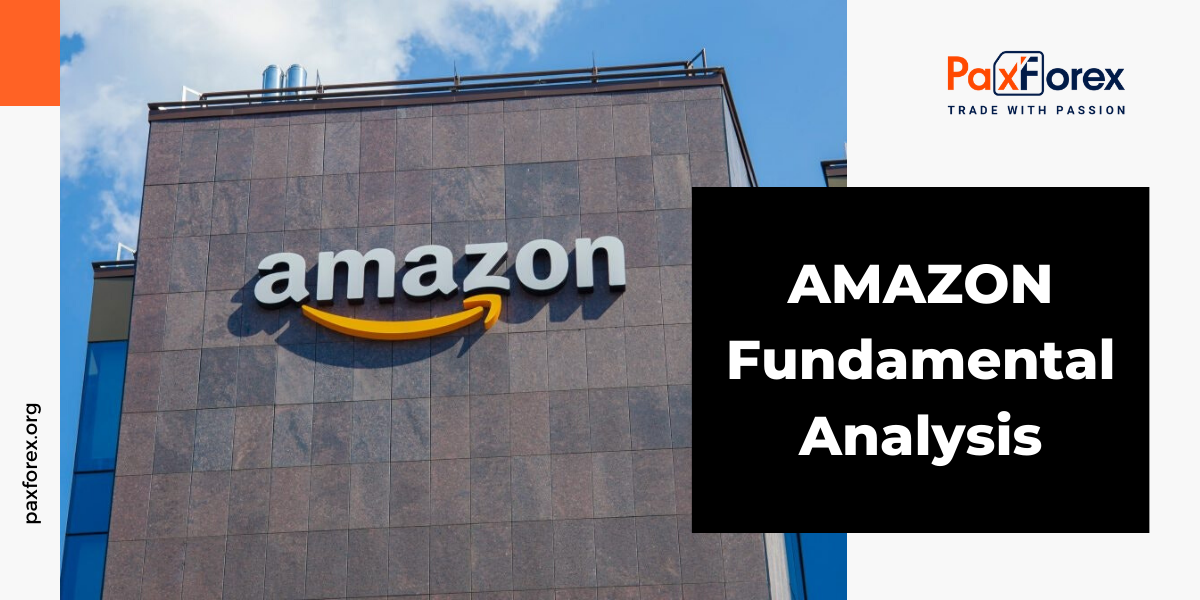 Source: PaxForex Premium Analytics Portal, Fundamental Insight
All eyes were on Amazon last week as the e-commerce giant released its earnings for Q2 of 2022. After surging for several quarters during the pandemic, things have now deteriorated. The retail division is the same story as other retailers: rising costs and lower expenses are slowing revenue growth and reducing profits. At the same time, other segments, such as weather-resistant Amazon Web Services (AWS), still have momentum.
Amazon is a huge company with many moving parts. How can investors make sense of them, and what does it all mean for Amazon stock? Let's find out.
Amazon is the second largest company (by sales) in the U.S. after retail giant Walmart. Walmart is so big, with sales of $572 billion in 2021, that over the years it has overtaken the rest by a wide margin, even though revenue growth has been low. But Amazon is making progress and, thanks to pandemic growth, is within arm's length of leader Walmart with $470 billion in sales in 2021.
The company posted a net loss of $2 billion in Q2 of 2022, its second consecutive quarter of net losses. But management typically measures progress in terms of operating income, from which taxes, interest, and other non-operating expenses are deducted, and which it (like many companies) sees as a more accurate overall measure of operating health. Operating income fell from $7.7 billion to $3.3 billion for the year, an important distinction because the net loss was largely due to Amazon's investment in Rivian Motors, and they have been affecting Amazon's bottom line for several quarters now.
In Q2, the company's total revenue rose 7% from a year ago to $121 billion, the upper end of its projected range, and management expects that growth to increase to 13-17% in Q3. These numbers, which include Prime Day purchases in July, have already gone through impressive pandemic growth, as well as lower growth in a highly competitive environment in the last few quarters, and they are more in line with the pre-pandemic growth rate. As attractive as high growth looks to investors, slow and steady growth is actually a big sign of stability.
Operating income is expected to be in the $0 to $3.5 billion range as inflation still puts pressure on the bottom line.
AWS continues to be an incredible revenue and earnings driver. The cloud computing services segment closed some important new deals in Q2 with companies such as Delta Air Lines and investment banking firm Jefferies Financial Group and updated many of its features to offer a better service.
As usual, AWS posted phenomenal growth. Quarterly revenue was up 33% over 2021 to $19.8 billion. Operating income rose 36% to $5.7 billion, and that's including payroll growth and technology investments.
Amazon CFO Brian Olsavsky said he believes businesses are still in the early stages of cloud computing adoption. AWS is certainly making a name for itself by developing capabilities in this area and is generating significant revenue for Amazon, while other segments are feeling the pressure.
Amazon, in addition to its e-commerce business, operates in many areas. AWS is clearly a success, as is the decision to open up to third-party sellers, which accounted for more than half of devices sold in Q2.
Notably, Amazon recently acquired telemedicine company One Medical for $3.9 billion. This complements its health care developments, which include real-time telemedicine services and Amazon's pharmacy. In addition, the company is launching in-person appointment services.
Other segments of the company include physical retailing and just-walk-out technology, which the company is rolling out in its own stores as well as selling to customers.
Amazon continues to ramp up sales and venture into new categories. While the company's stock may not offer as much upside as it used to - it has risen more than 1,000% in the past 10 years - it gives investors a high-probability, low-risk shot at even more profits over the next 10 years and longer. The stock is down about 18% this year, and now that looks like a good entry point.
As long as the price is above the 133.00 level, follow the recommendations below:
Time frame: D1
Recommendation: long position
Entry point: 141.36
Take Profit 1: 145.00
Take Profit 2: 150.00
Alternative scenario:
If the level of 133.00 is broken-down, follow the recommendations below:
Time frame: D1
Recommendation: short position
Entry point: 133.00
Take Profit 1: 125.00
Take Profit 2: 119.00