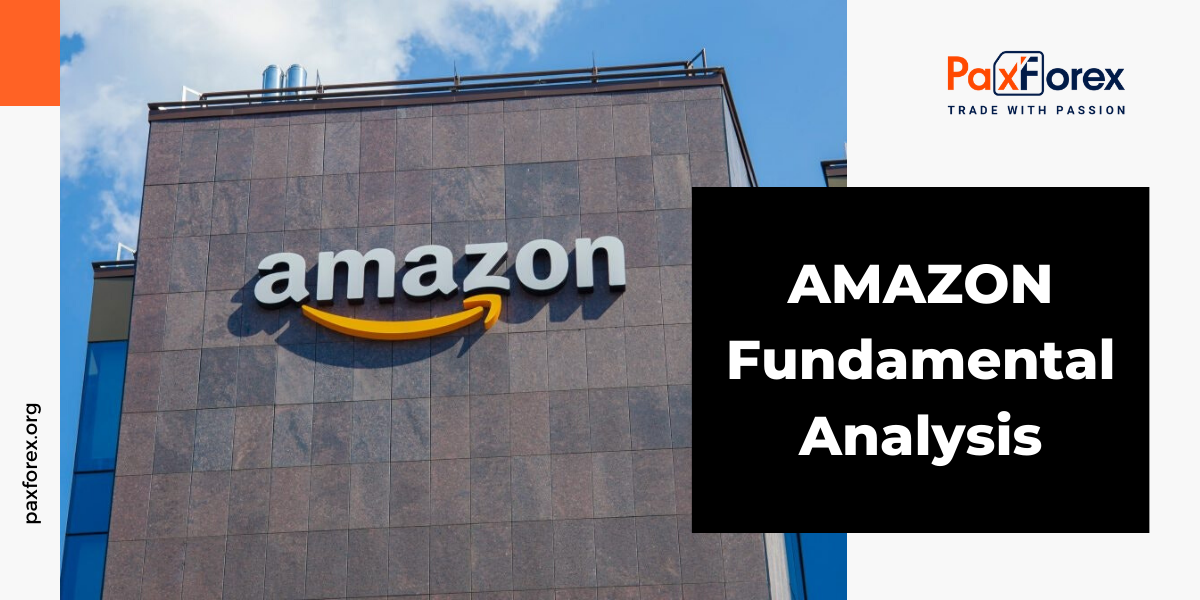 Source: PaxForex Premium Analytics Portal, Fundamental Insight
Amazon has a number of units that should ensure sustainable revenue and profit increase within the following few years as the coronavirus keeps powering online shopping. Today, with a third-quarter report trumping all expectations behind, are Amazon shares a worthy investment?
The company has demonstrated impressive resilience to Covid-19. As the coronavirus spread - closing businesses and driving customers to stay home - Amazon was well-positioned to profit from changes in consumer behavior and a substantial shift in the way companies do business.
Nevertheless, the e-commerce giant has also increased some major costs as a result of the pandemic. In the fourth quarter, Amazon is expected to spend about $4 billion on protection costs.
While the third-quarter results were remarkably higher than Wall Street's forecasts, Amazon stock plunged right after the earnings conference call. The possible explanation for this was the guidance for the fourth quarter, as the operating profit assessment was more down than some estimates. The business forewarned shareholders that a particularly higher coronavirus expenditure is expected in the fourth quarter.
"While we believe Amazon's guidance is fair, we believe it's too conservative, and we can't consider the business will spend all of its cumulative gross margin on sales, marketing, and costs associated with Covid," Wedbush analyst said in a note to clients. He raised its target price for the Amazon stock from 3700 to 3900.
Last week, the e-commerce giant reported an adjusted profit of $12.37 per share, which is remarkably higher than its forecast of $7.48 per share. Revenue increased 37 percent quarter-on-quarter to $96.1 billion, outperforming forecasts of $92.8 billion.
Amazon expects fourth-quarter revenue in the range of $112 billion to $121 billion, in comparison with $112.7 billion in the consensus quarter. It represents a 33% growth. While the target operating revenue of $1 to $4.5 billion fell below the consensus of $5.84 billion.
Revenue from AWS skyrocketed by 29% to $11.6 billion, in line with forecasts.
"Amazon acted well in revenue and operating profit in the third quarter, although not as well as in the second quarter," Pivotal Research analyst Michael Levine said in his report. "The idea stays unchanged, though some extra Q4 investments are likely to result in lower margins.
Levine maintained his Amazon stock buy rating and price benchmark at 4500.
Few companies have created such big and long-term opportunities as Amazon. In 2017, the company paid $13.4 billion for the acquisition of Allle Foods Market, moving on to the sale and delivery of food products. Amazon also continues to make significant investments in cloud computing, transportation, video content, and online video services, competing with Netflix and others.
Amazon is also expanding its impact on self-propelled car technology with the statement of goals to acquire Zoox, a six-year-old startup for an unrevealed price. Reportedly Amazon has spent about 1.2 billion dollars.
Amazon is also researching the health care market, having purchased the online pharmacy PillPack in 2018 for less than $1 billion.
However, not all of its endeavors have been successful. But many agree that it is ready to take bold steps that sometimes prove extremely profitable. Among its biggest successes is Amazon Web Services, the largest provider of cloud computing services. Another big success story is Amazon Prime.
Amazon Prime has evolved in one of the fundamental aspects defining the performance of its shares. With Amazon Prime, customers pay an annual fee and obtain multiple benefits such as free shipping, music, and video content. In the U.S., there are more than 70 million Prime subscribers.
This year's annual Prime Day event was held from October 13 to 14. The two-day magic sale is the largest event organized by Amazon, with great discounts on a wide range of products.
Amazon does not publish data on sales within the framework of Prime Day but invariably says that in terms of sales this fairy takes first place among all other major trade events, such as "Black Friday". Estimates of Prime Day sales range from $7.5 billion to $9.9 billion, the midpoint of which is believed to be 40% more than in 2019.
"Prime membership renewal rates keep improving, and members are watching more videos every quarter, particularly internationally, which we predict will guide to descending churn rates in the future," said Needham analyst Laura Martin in a note to clients. She maintained her Amazon stock purchase rating and price target at 3700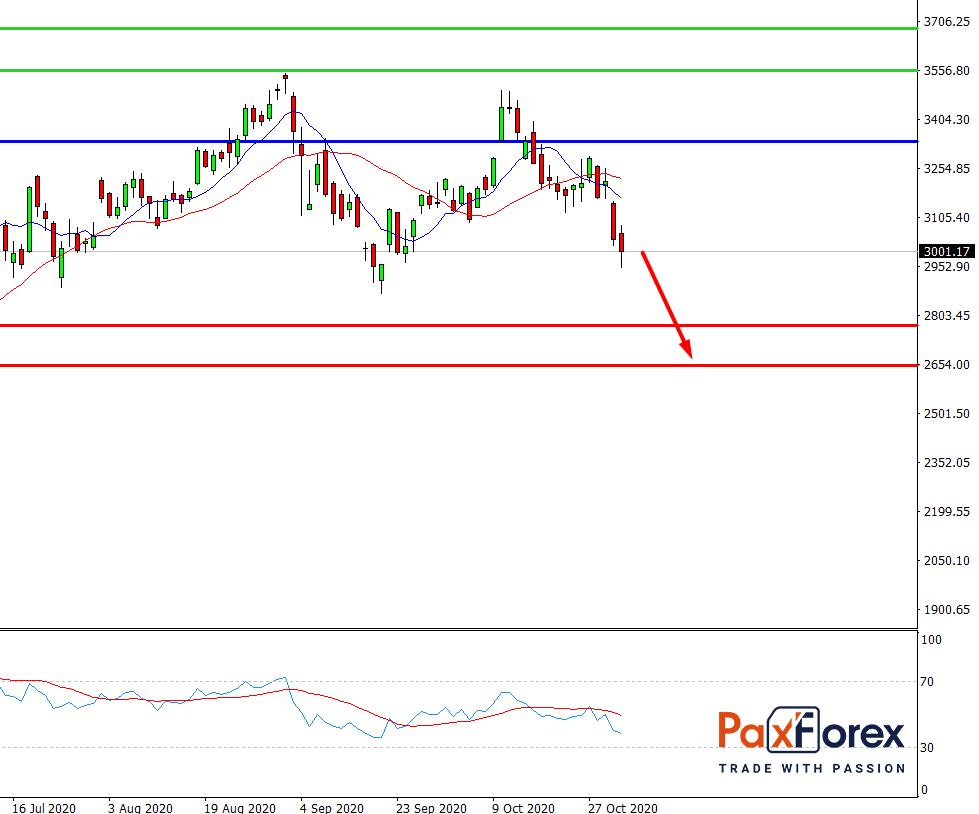 While the price is below 3338.00, follow the recommendations below:
Time frame: D1
Recommendation: short position
Entry point: 3036.15
Take Profit 1: 2771.00
Take Profit 2: 2648.00
Alternative scenario:
If the level 3338.00 is broken-out, follow the recommendations below.
Time frame: D1
Recommendation: long position
Entry point: 3338.00
Take Profit 1: 3557.00
Take Profit 2: 3686.00