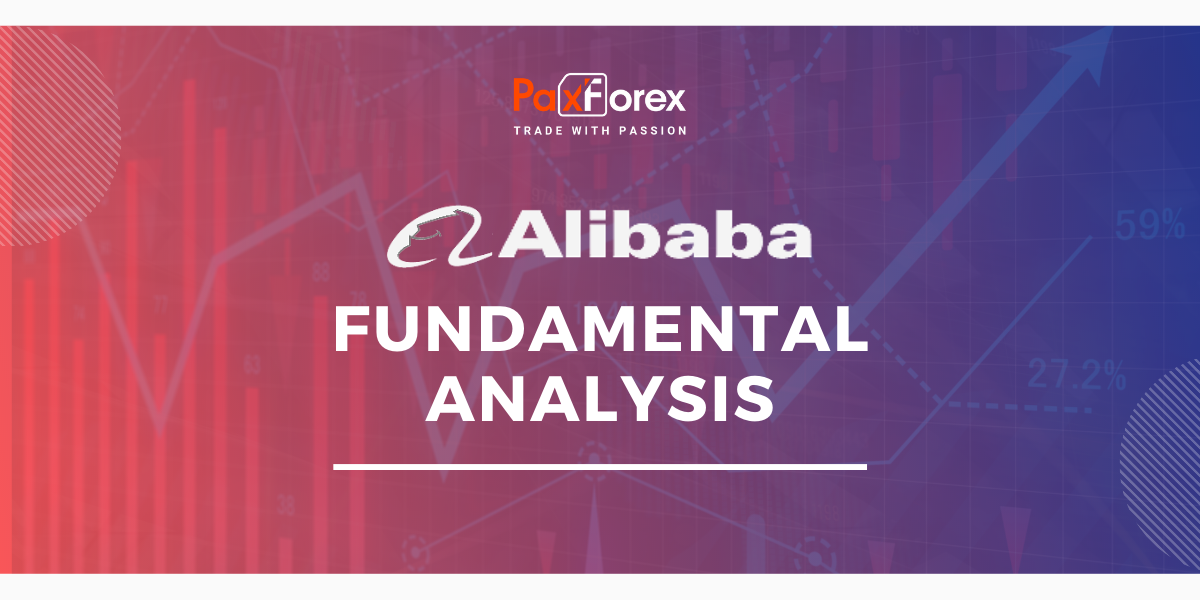 Source: PaxForex Premium Analytics Portal, Fundamental Insight
The past year has been a volatile one for Alibaba, China's largest e-commerce and cloud platform company. The stock price fell along with the broader market as the COVID-19 pandemic hit China in early 2020, but rebounded as the company's online sales rose and quarantine measures boosted the use of its cloud services.
However, a series of regulatory problems suddenly ended Alibaba's year-end rally. Chinese regulators suspended the long-awaited IPO of Fintech Group subsidiary Ant Group, fined Alibaba for its unauthorized takeover of InTime Retail, and then launched an antitrust investigation into e-commerce.
Meanwhile, the "disappearance" of Alibaba co-founder Jack Ma, rumors of China's plans to nationalize Alibaba and Ant, the removal of Alibaba from the US threat list, and the Pentagon's desire to add Alibaba and Tencent to an investment blacklist due to their alleged ties to the Chinese military - all have had an impact on prices.
However, Jack Ma made another public appearance recently, and the Treasury Department blocked the Pentagon's attempt to move against Tencent and Alibaba shortly before President Joe Biden was inaugurated. The stock has recovered from those events but is still lagging behind many of its competitors. Over the past 12 months, the stock is up about 17%, while Baidu and Tencent are up 87% and 71%, respectively.
Will Alibaba catch up with its competitors this year? Or will it continue to struggle as regulators kneel to their core businesses and allow rivals like JD.com and Pinduoduo to establish a foothold?
According to eMarketer, Alibaba controlled 56% of China's e-commerce market last year. JD.com and Pinduoduo held 17.1 percent and 10.5 percent of the market, respectively. All three companies operate under different business models.
Alibaba, Taobao, and Tmall, the main platforms, are mainly paid listing platforms. It does not take over any warehousing work but fulfills orders through its logistics subsidiary Cainiao. JD.com takes inventory and fulfills orders through its first-party logistics network. Pinduoduo offers paid listings like Alibaba but encourages buyers to pool their efforts on bulk purchases.
Alibaba generates most of its revenue and all of its profits from its core commercial business, which includes all of its online stores, physical stores, and logistics services. It subsidizes the growth of its other three nonprofits -- Alibaba Cloud, its digital media and entertainment division, and its innovation initiatives -- with profits from its core commercial business.
This cycle allows Alibaba to expand its ecosystem with other services, including streaming media, cloud services, video games, and even a search engine, to extend its lead over Tencent, Baidu, and other tech giants. It has also allowed Alibaba to generate robust revenue and net income growth over the past five years.
Analysts expect Alibaba's growth to accelerate in the second half of the year, with revenues and profits up 48% and 35%, respectively, for the full year. However, investors should not get too hopeful about these forecasts, which may not fully reflect the impact of China's recent antitrust moves against Alibaba's business.
Alibaba's online marketplace growth was already slowing even before the antitrust investigation, and the company was increasingly relying on less profitable businesses, including stores, wholesale channels, cross-border markets, and Cainiao, to boost its core commerce revenue.
That's why Alibaba's adjusted EBITA margin for its core commerce business fell to 35% in the second quarter, down from 38% in both the first quarter and the previous quarter. This decline may seem insignificant, but this downward trend could continue and negatively affect Alibaba's ability to sustain its other loss-making businesses.
To make matters worse, Chinese antitrust regulators reportedly plan to prevent Alibaba from engaging sellers in exclusive deals. JD, Pinduoduo, and several companies have called these deals anti-competitive, denying Alibaba sellers the opportunity to cross-list their products on other platforms. If these new rules are adopted, Alibaba sellers will be able to list their products on other platforms, creating unprecedented problems for Taobao and Tmall.
Alibaba currently trades at only 20 times forward earnings, compared to forward P/E ratios of 29 and 21 for Tencent and Baidu, respectively.
Alibaba stock certainly looks cheap, but it probably faces more regulatory hurdles than Tencent and Baidu. Tencent's recent mergers and high-tech companies are under scrutiny, but their core gaming, social media, and advertising businesses remain fairly safe. Baidu is universally considered a "loser" in China's burgeoning tech market, despite owning the country's largest search engine, so it is also not a major antitrust target.
Alibaba's valuation is likely to limit its downside potential this year, but it will lag behind Tencent, Baidu, and other Chinese tech stocks as Chinese antitrust regulators find new ways to rein in their dominant e-commerce and cloud businesses. Thus, it is still a decent long-term prospect for China's growing tech sector, but investors should not expect it to deliver big market returns this year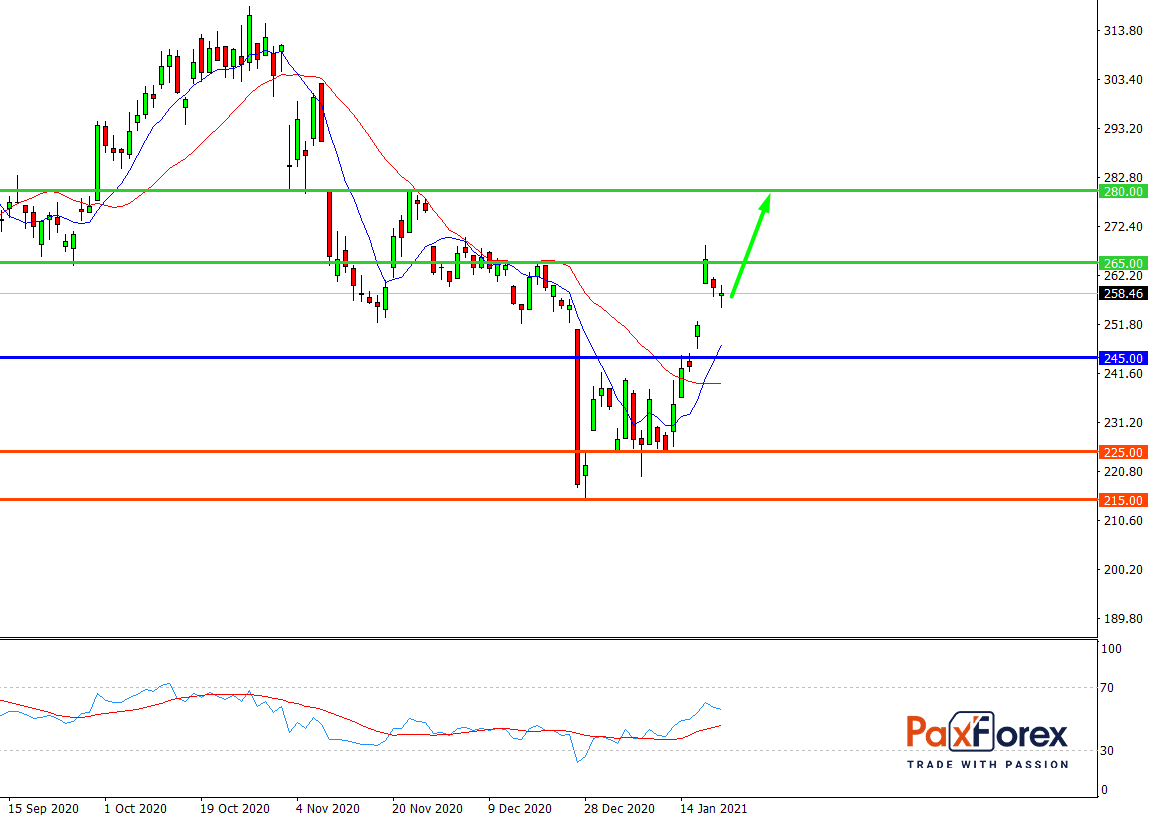 While the price is above 245.00, follow the recommendations below:
Time frame: D1
Recommendation: long position
Entry point: 259.00
Take Profit 1: 265.00
Take Profit 2: 280.00
Alternative scenario:
If the level 245.00 is broken-down, follow the recommendations below:
Time frame: D1
Recommendation: short position
Entry point: 245.00
Take Profit 1: 225.00
Take Profit 2: 215.00