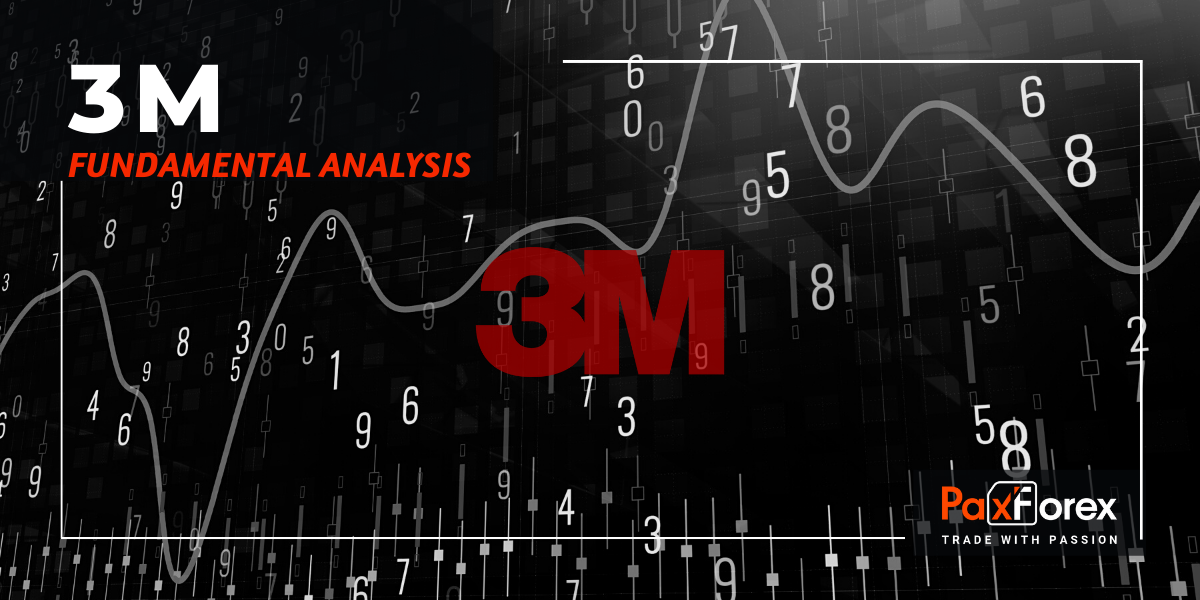 Source: PaxForex Premium Analytics Portal, Fundamental Insight
If you are now thinking about buying shares of 3M, this idea is quite an interesting and cost-effective one. In short, you're not buying 3M for what it is now, but for what it could become if the restructuring of CEO Mike Roman begins to generate operational improvements and its final markets begin to improve. Moreover, this way investors get a dividend yield of 3.4% while they wait for these improvements to gain momentum. In this way, 3M has an attractive price based on risk/reward. And here's why.
One of the most popular ways to evaluate a mature industrial conglomerate's stock value is to look at its Free Cash Flow (FCF) yield. In simple language it is FCF divided into market capitalization, so the higher its value, the better. The FCF is important because it is the cash flow for the year that a company gets at its free disposal to repay its debt, buyback its shares, and pay dividends. In theory, at least a company could pay all of its FCFs as dividends, but in reality, most companies strive to pay only part of their FCF as dividends.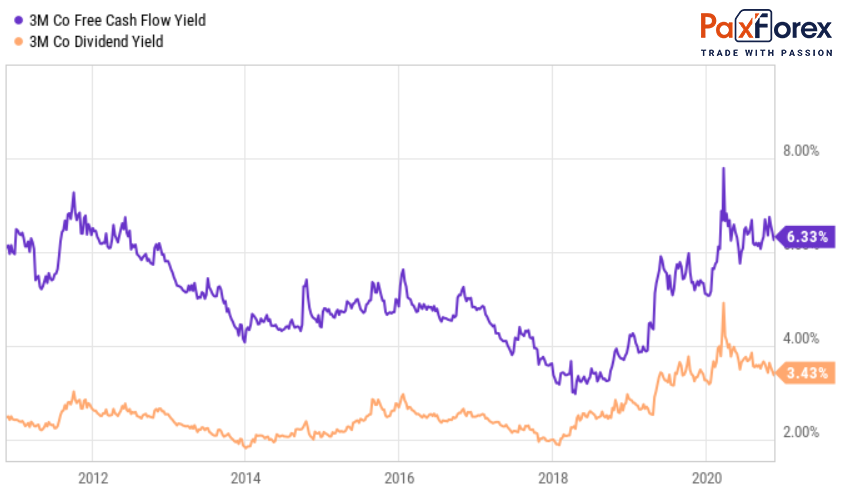 The chart above shows how high the FCF yield became 3M, as well as how well the dividend yield of 3M is covered. Thus, investors looking for profit can sleep well knowing that the 3M dividend yield is sustainable.
It is fair to say that the current yield of 3M`s FCF is probably close to its maximum. The reason for this is that industrial companies often focus on containing capital investment, depleting inventories, and collecting cash from accounts receivable during a downturn. These positive monetary actions often compensate for lower revenues, so FCF may rise at a slower pace. However, they then tend to fall during the recovery as these actions are reversed.
Indeed, Wall Street analysts predict that the company's FCF will fall in 2021, even if earnings before interest, taxes, depreciation, and amortization (EBITDA) increases. However, as you can see below, the profitability of 3M's FCF is still projected to be very attractive in the coming years. For clarity, the figures in the table below assume that 3M's marginal market value will remain at current levels.

Of course, there is a reason why the 3M evaluation became cheaper. In recent years, the company has consistently failed to meet its own expectations, and its management has provided guidance, which often proved too optimistic.
In particular, the consumer and medical segments have disappointed expectations. For example, i4 years ago, management gave a forecast that from 2016 through 2020 the growth rate of healthcare will be from 4% to 6% per year. Then, in 2018, management said that in the period from 2019 to 2023, the growth rate of health care will be from 4% to 6% per year. For the consumer segment, growth was expected to be 3% to 5% in 2016-2020 and then 2% to 4% in 2019-2023. Thus, the company has not approached these figures over the past few years.
However, in response to some disappointing earnings reports, Roman is taking steps to restructure 3M for growth. Not surprisingly, much of the corporate activity was focused on the unsatisfactory healthcare segment. Two major acquisitions - M*Modal Artificial Intelligence System for $1 billion and Acelity, a leading wound care company for $6.7 billion - were made in 2019. Meanwhile, in 2020, the pharmaceutical delivery companies were sold for $650 million. 3M is also rumored to be considering selling its food safety business for $3.5 billion.
At the company level, 3M announced a new operating model and streamlined its organization in early 2020. A new Enterprise Resource Planning (ERP) system has been implemented and business groups will now work globally rather than at the country level.
It is still too early to judge whether these changes are working, but one positive sign is that pricing is positive in 2020 in the face of falling sales.
Will restructuring actions work and lead the company in the right direction? It is possible. But investors should recognize that 3M is not a highly traded company. In other words, there is a margin of safety for error on the backside. Thinking more positively, if Roman again gets sales and margin growing together, the upside is substantial. In terms of risk/reward, 3M looks like a worthwhile option for investors who are also looking for some 3.4% dividend yield.
While the price is above 170.00, follow the recommendations below:
Time frame: D1
Recommendation: long position
Entry point: 176.00
Take Profit 1: 188.30
Take Profit 2: 192.70
Alternative scenario:
If the level 170.00 is broken-down, follow the recommendations below.
Time frame: D1
Recommendation: short position
Entry point: 170.00
Take Profit 1: 162.80
Take Profit 2: 158.50