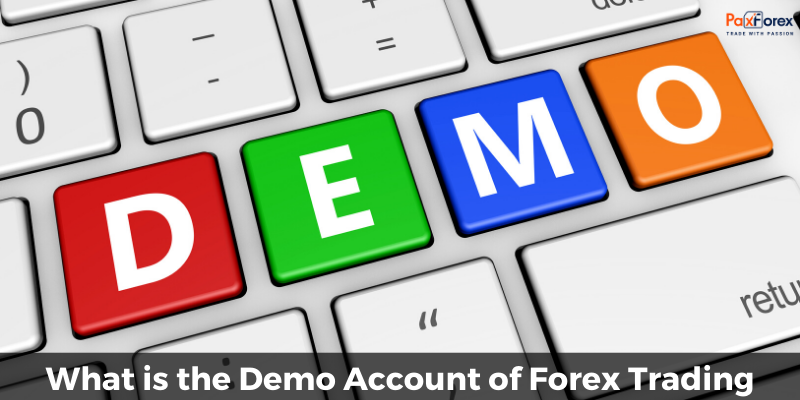 Already quite a lot has been said about the possibility to make money on the financial markets, i.e. trading on the forex market. But unlike any other type of income, for your trading to be successful you need not only to be a good practitioner but also perfectly know the theory.
Needless to say, many people come and leave this market quickly, and do not understand what is going on. Many brokerage companies claim that there is nothing easier than trading on Forex. Sometimes it is true, but many aspects depend on what one expects from trading. Again, having firmly decided to start trading on Forex, first of all, you need to get some practice which can be obtained nowhere but on the demo account.
Generally, a demo account is a free type of account, where virtual funds are used for opening transactions. Transactions are executed based on current market quotes using all technical systems and means used in real accounts. Trading terminals, the process of opening and closing orders, the use of indicators and graphical elements, as well as many other software features - all of this is absolutely identical, whatever type of account you use. That`s why this lack of differences is so valuable in the use of demo accounts. A beginner trader can fully get acquainted with the practical side of trading and not lose a cent of his personal funds on unsuccessful trades or random actions.
Demo accounts are one of the most significant means you can have in your trading arsenal. This is because, when you're trading in a market as large and ever-changing as forex, you're constantly in need of a space where you can obtain trading experience risk-free.
As mentioned above, the main and probably the only difference from a real account is the use of virtual currency. Accordingly, trading can also be called virtual, so all trading operations are performed using separate servers. Here, all transactions are executed automatically and without any delay due to lack of supply or demand, as it may be in the real market.
Using a Forex Practice Account to Trader's Advantage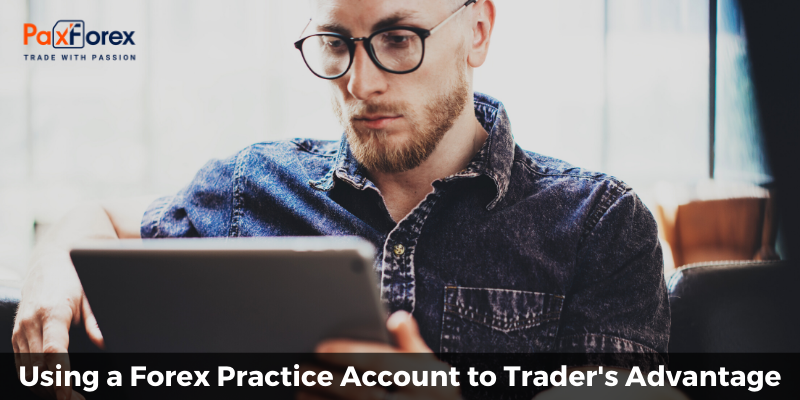 A demo account is an excellent companion not only for beginners but also for professionals. For the first ones, it's imperative to demo trade on the Forex market before opening a real trading account - it allows studying the diverse functions of the terminal, making the first trades and not to lose a penny. On the other hand, a professional trader has a wide scope of possibilities to try out a new trading approach, to recognize its drawbacks and benefits, to conduct a full analysis and bring everything to perfection before using it in a real account.
The key features that are available on the demo account can be combined into several groups:
Familiarizing with the trading terminal is an ideal solution to study the functionality of the program. We think there is no need to explain a tangible gap in learning efficiency by simply looking at the terminal and actually testing it, in which everything can be tried without fear. The demo account provides complete freedom of action and it blurs the line between boring theory and rich practice.

Technical skills - an integral part of successful trading is the accuracy and efficiency of actions. These qualities are especially important for intraday trading or scalping when only a few minutes or even seconds can be available for thinking and opening a trade. At such moments, it is crucial to have experience in quickly opening orders, setting Stop Loss and Take Profit levels, and closing a position fully or partially. All these, as well as many other skills, can be successfully developed in training using a demo account.

Market experience - using a demo account, you can learn not only the trading terminal but the market as a whole. Daily observations, analytics, visual identification and memorization of graphic models - all this forms the experience that is extremely important in trading.

Testing a trading strategy. A demo account is the best way to test different strategies and to evolve trading programs, EAs, and automated bots using virtual money. Even a perfectly calculated theoretical part of the system does not guarantee that it will show good results in practice. You should always consider that the market is not constant, so any calculations should be supported by statistical data. If the parameters of your trading system allow you to test it on a demo account, it is certainly worth doing.
A demo account allows for developing any type of trading plan without venturing valuable trading capital. Which is, after all, the foremost purpose for professional traders and leading fund managers in the FX market.
Who needs a forex demo account?
Newcomers watching for risk-free trading conditions to test their understanding of the forex market

Traders testing a new broker's features, services, and trading platform

Traders seeking to test and explore a new platform; such as MT4, cTrader, or other proprietary platforms

Traders looking to experiment or perfect a new strategy
How to Open a Forex Demo Account to Practice Trading Currency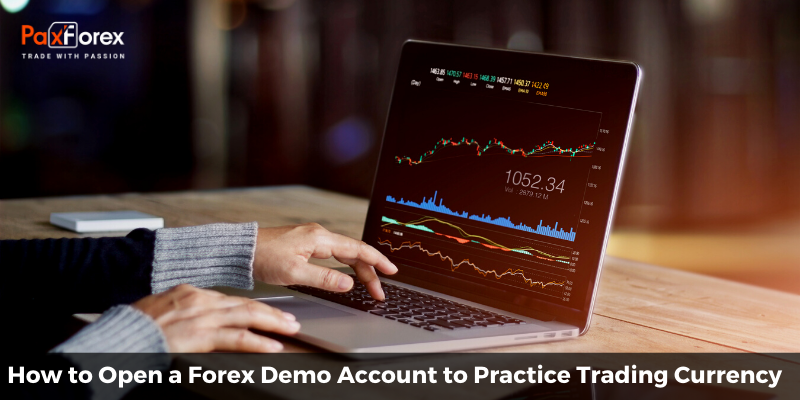 Opening a demo account is a process consisting of literally two or three steps. At the same time, at each of the stages, you will not face any difficulties. Registration comes down to two main things: entering personal data (user name, email, etc.) and setting account properties (server, starting amount, etc.).
Nearly all Forex trading brokers offer a free Forex demo to clients letting them training using virtual trading funds. In most situations, customers will be asked to sign up for a Forex training account and follow all the procedures required. Notwithstanding, they will need to verify their identity at the time of registering a real account. These free demo trading accounts normally have no trading limitations.
Preferably, Forex demo accounts should be free of charge and allow traders to get familiarized with a broker's trading platforms and their particular trading conditions.
Forex brokers will have dedicated pages that implement simple and intuitive access to clients who want to open a demo account. Even real account registration pages will take notice of a demo account. But failing that, traders can get in touch with a broker's customer service department and ask about opening an FX demo. Demo trading accounts are relatively straightforward and easy to use, and traders can access their demo accounts through a simple login.
For example, let`s see how to open a demo account with the PaxForex.
Select the type of account (Cen/Mini/Standard), leverage (100/200/300/400/500) and the size of the capital you want to trade with

Fulfil your name, email and a phone number

Check on "I agree to…"

Click on "Next Step"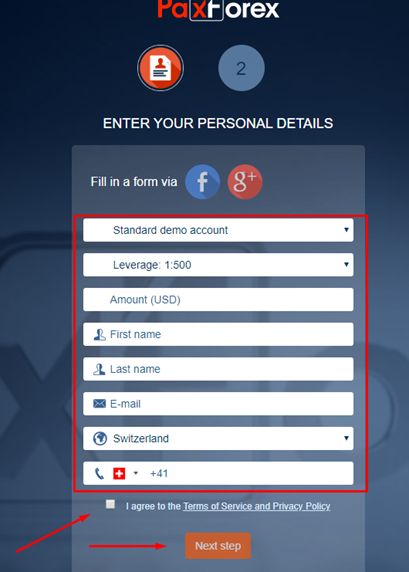 Open an email from PaxForex to verify your email address. To do that, just click on the link from the email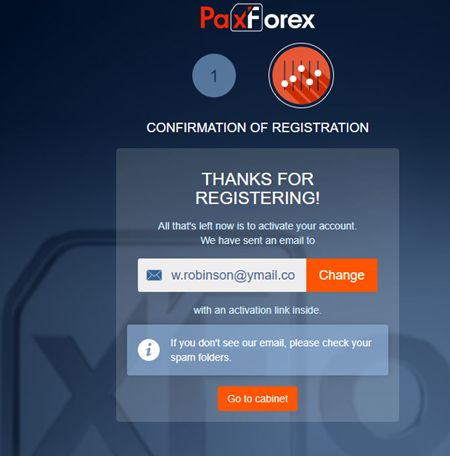 Now your demo account is created and you can login with the login credentials that have been sent to you after the validation of the email address. Use the link from the email to download MetaTrader4 (if you still don`t have it)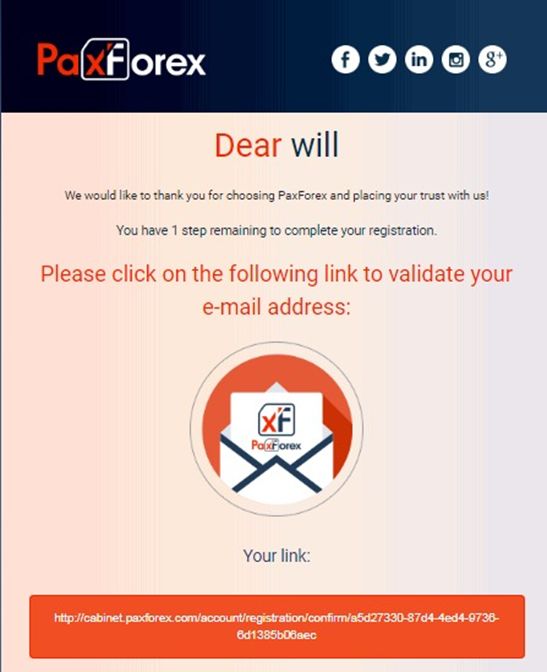 Practical Use of Demo Account
A demo account opens up unlimited opportunities for self-development, especially if you are just beginning your journey. Explore the possibilities of the trading terminal, find new ways to solve common tasks and increase your efficiency. Bring your program skills to automation to think about a trading solution, not how to implement it.
Make full use of your demo account features - choose a trading strategy and study it in practice. Every trade you open will form an understanding of the market. Try different indicators, study their features on the chart in real-time. Analyze market behavior, memorize graphical models, learn to control your emotions - this is an invaluable experience that largely determines success.
What is the Ideal Trading Platform for a Forex Demo Account?
The MetaTrader 4 (MT4) trading terminal is one of the most popular and broadly used trading platforms when it comes to retail forex trading.
It is supported by a vast majority of developers thus ensuring that even the most custom of trading indicators can be easily found or coded without having to spend a lot on coding indicators for lesser-used/known trading platforms.
What Are the Basic Specifications of FX Demo Trading Accounts?
Forex trading demo accounts may have various trading designations according to the broker's different products and services. Generally, Forex brokers only offer a single type of demo trading account that will have the best trading conditions the broker can offer. Most Forex practice accounts have a given starting capital of $100,000, which is the absolute minimum trading capital required to open a single lot contract. Of course, brokers may offer different minimum margin requirements and micro trading capabilities, but most brokers are logical in their approach and give a fixed $100,000 demo. It's also usual for Forex brokers to set their demo trading capital at $10,000. But on other occasions, brokers may allow traders to specify the starting capital. It would be excellent to choose a Forex broker that lets you define your own virtual trading capital for a demo, as this allows you to set a realistic account balance directly correlated to your trading account.
The leverage for a Forex demo is usually changeable, as traders can choose their leverage option at the time of creating an account. While real trading accounts have the choice of changing the leverage according to the trader's risk appetite, changing leverage in a demo account is slightly more complex. Notwithstanding, traders should be able to change their trading specifications by changing their contract size and risk percentages, allowing them to try out new strategies to find the perfect method.
Other Forex demo specifications may include the type of orders, the trading conditions, commissions, SWAPs, order execution speed, and market protocols. While a demo account duplicates real trading, the spreads quoted in a demo Forex account should not be taken at face value as representative of the spreads and cost of trading. Sometimes, demo trading accounts may not charge SWAPs or commissions for overnight positions, while the spreads may also be extremely increased. Consequently, you should understand that the trading specifications for a Forex practice account are completely distinct from a real trading account.
When to Switch to a Real Account?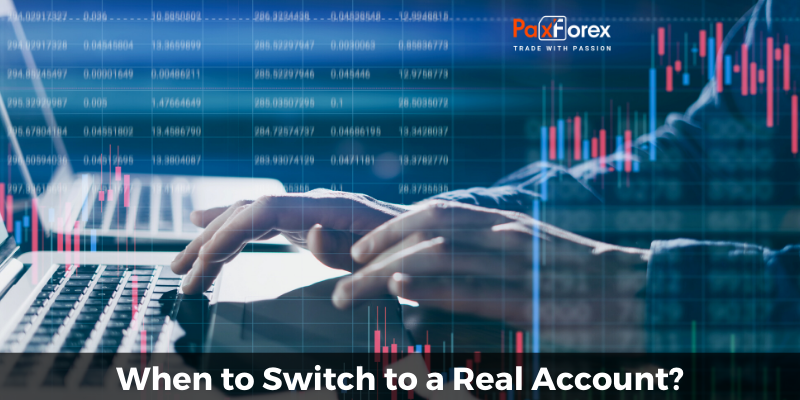 The question of when to stop working with the virtual Forex trading account arises for every broker. Here it is very important to choose the right moment, not to rush, but not to delay the entrance to the financial market for several years. To make the right decision, take into account the following important points:
The profitability of deals. If 6-7 trades out of 10 bring profit - this is the first reason to think about opening a real account. Please note that profitability is calculated as a percentage of total income to losses.

Ability to manage capital. A correctly chosen position volume is one of the key points of work on the Forex market. It is believed that risk is worth no more than 5% of the capital in one trade. Once you have learned how to manage capital, you can think about switching to a real account.

Control your emotions. Perhaps, this is the main aspect, because of which successful trading on a demo account does not guarantee the same results in the open market. Tune yourself to the fact that loss-making trades are a natural phenomenon, because of which you do not need to panic or get upset. As soon as you can calmly perceive both victories and defeats, and your performance will not be disturbed, if the price goes in the opposite direction, then you can end with a virtual account.
Anyway, there is no single criterion as to when exactly to move to the open market. This decision is influenced by a trading strategy, understanding of risk management rules, timeframes and choice of a currency pair. Remember that a demo account is provided to acquire the necessary skills and confidence.
Conclusion
A demo account can be called the best way to start trading. In this case, extensive opportunities combined with the full freedom of action form a great tool not only for self-development of a beginner trader but also for a professional.

The simple procedure of opening a new account allows you to make a lot of mistakes without fear of the consequences. You will get a precious experience, your own view of the market, thanks to which the first steps in real trading will be quite fearless for you.