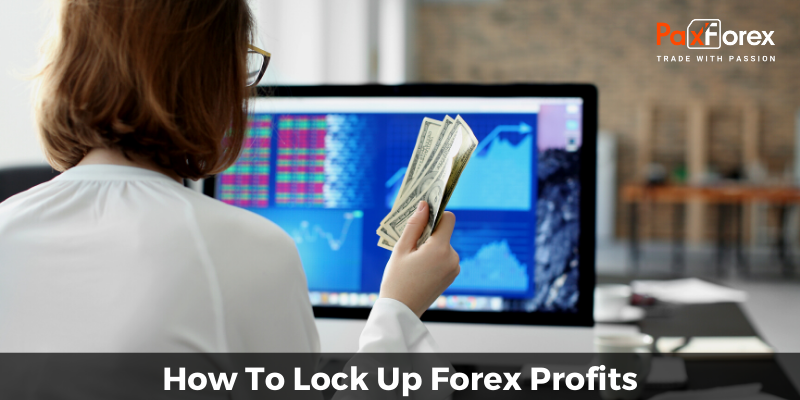 Profit is, without any doubt, the ultimate motivation for all trading activity. And it makes total sense to want to preserve a larger portion of your gains, instead of continuously exposing them to risk. But there are both right and wrong moments to lock in your profits, which makes us wonder: when to lock profits?
When the trade has been going well, the question that might come to mind is: should you lock in some profits? But the answer isn't always single-layered. Locking profits means closing a position partially or fully, when it brought a good amount of positive results. Partial locking is nearly always a good idea, as it allows you to rearrange the assets and may be bet more on other open positions. At the same time you reduce the risk associated with the order and can focus your attention on a different instrument.
But locking an entire position can backfire with a "too soon" principle. When you lock trade too early, you automatically deprive yourself of potential profit and that obviously isn't smart. This happens when a trader is either not confident enough in the strategy they implement or do not have a lot of risk handling skills or didn't set up a clear profit target.
These three concepts kind of help us with the problem of when to lock profits. Start by making sure the strategy you chose works for you specifically and does not cause any discomfort. If you are at the beginning of your trading journey, give a go to a demo account, where you can test a limitless amount of strategies for free.
Then build up your risk tolerance by accepting the fact that large gains will always go hand in hand with high risk taking. Your best solution is to adopt several risk reducing techniques, such as portfolio diversification, automated orders, non correlated currency pairs and partial profit locking whenever possible. You always have a range of solutions to choose from, so don't get too overwhelmed when something didn't go according to plan.
And finally, set a profit target before opening any position. Just think about it this way: is it easier to run when you know where your desired destination is? Same here, as long as you have a clear number in mind, it will be much easier to keep your emotions at bay and follow through.

Also, achieving the set target doesn't mean you will have to exit altogether. When there's a strong ongoing trend, you can use your MT4 lock terminal profit by closing just a portion of the position and continue riding the wave for as long as you want. As a result, your risk is reduced to virtually nothing, because you have already gained the amount you looked out for, and now you are just testing your skills and your luck to see if anything else can happen.
Bottom line is: locking Forex profits is a great idea, as long as it is done wisely. Continue learning and practicing to make sure you will always make the most suitable decision, whether it is about new approaches, innovative techniques or expert opinions.