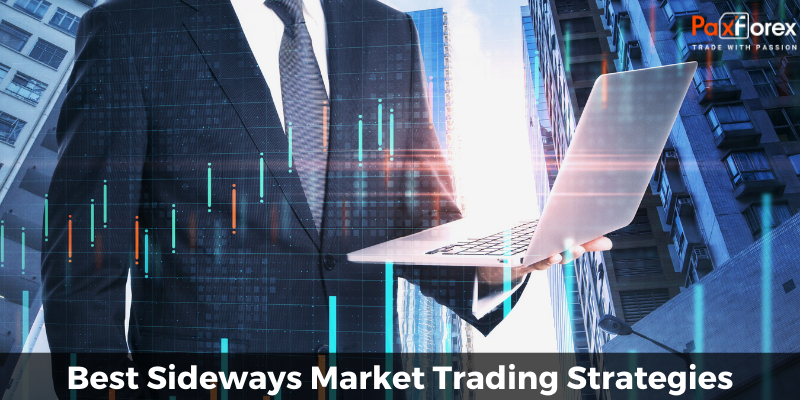 The only traders who don't believe that sideways markets are filled with opportunities are newbies. Any pro trader knows that there is always a way to benefit from the price movement, whether it is bullish, bearish, or contained by a range. Today we are talking about Forex sideways market strategies and the indicators that will help in the process.
Sideways Market Indicator
In case you didn't already know, a sideways market is the one that's not trending. A sideways price movement remains within a virtual corridor: the space between the levels of support and resistance. And although it might appear underwhelming, there is a wide variety of available trading opportunities.
But before you go ahead and plan your trades, you first need to make sure the market is, in fact, moving sideways. To do that you will need to outline the support and resistance level. In many strategies for sideways markets, this step is somewhat manual. Take a look at the chart and notice all highs and lows that stand out. Then connect them with a straight line to see if they are all more or less in the same range. If what you got as a result is a perfectly horizontal tunnel: that's your range.
Such an approach is mostly effective, which is proven by hundreds of traders across the market. But currency trading beginners are far less intuitive than the pros when it comes to spotting patterns on the chart, which means that sideways market strategies that call for manual establishment of support and resistance can be problematic. In such cases, a trader can get assistance from one of the technical indicators for MT4.
Perhaps, the most common sideways market indicator is Bollinger Bands (BB). The BB indicator consists of three dynamic moving averages: one simple and two Standard Deviation ones. The bands wrap the price movement and can stretch out rather far from each other, depending on volatility. However, when the bands are narrowing down and stay very close to the price, the market is believed to be moving sideways.
You will come across several sideways movements on a daily basis. Some of them are only going to last for several swings, others longer. Whichever the case, traders have to always be prepared and have at least a couple of strategies trading up down and sideways markets up their sleeve. This brings us to the next point: trading strategies for sideways market.
Trading Strategies for Sideways Market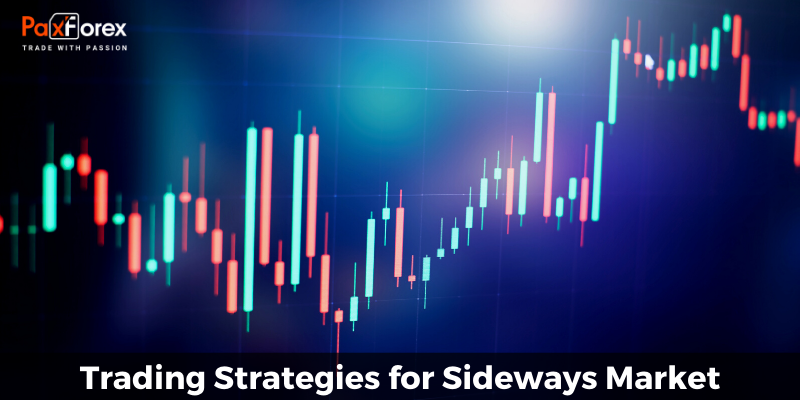 What is the biggest advantage of a sideways market? According to the opinion of many expert traders it is the predictability. Properly established resistance and support levels practically guarantee the comfortable trade setups, including clearly visible entry and exit points. Plus, there is always a suitable trading strategy for sideways market for pretty much anyone, disregarding whether they are buying or selling.
With that said, it is also fair to mention that most sideways market trading strategies fit within the day trading category, including subcategories like scalping and trading. This is largely due to the fact that markets don't usually stay inside the range for too long, sooner or later one of the sides will take the wheel and a trend will begin.
So, apart from having several effective trading strategies sideways markets in mind, a trader should also learn how to tell when ranging is coming to an end and get ready for trading inside a trend. One of the ways to do this is studying and recognizing chart patterns. Every candle on the chart is essentially the reflection of traders' behavior, and when that behavior begins to either shift or fade, it'll show.
Other than that, trading in the sideways market is very basic for the most part. Once you've chosen the currency pair to work with and outlined the levels of support and resistance, pick a position that you are about to open. In case you are looking to buy, you will be entering when the price goes down to the level of support and exiting when it either reaches the middle or the resistance, depending on the target profit you set for yourself. And for selling the opposite: enter at the top, exit at the middle or the bottom.
Setting achievable profit targets is crucial to both organize your trading and help you reduce stress. Make sure you are practicing impeccable discipline when it comes to locking your profits and moving forward. Keep learning more about the market and remember: every price move holds opportunities, and your job is to spot them and seize them.