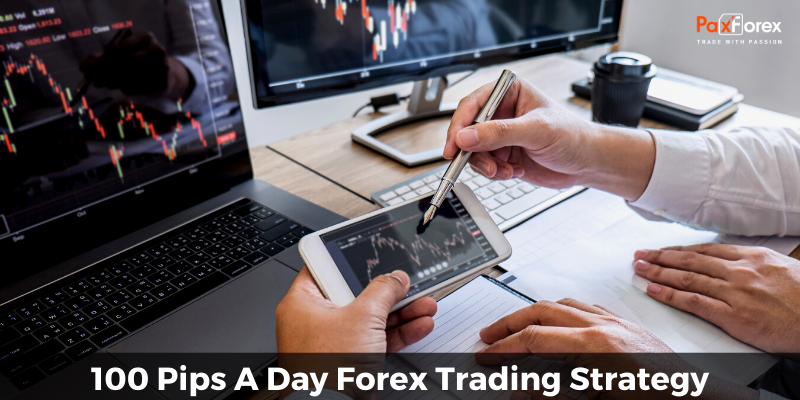 Some trading strategies are more complex, others are based on very straightforward principles. The Forex 100 pips daily strategy is one of those that have a very simple premise. Today we will discuss everything you need to know about the 100 pips trading strategy.
100 Pips a Day Strategy Formulation
The Forex 100 pips a day strategy definition is very obvious: the main objective of this approach is to gain a profit equal to 100 pips during one trading day. Now, if you are new to trading, you might not yet have an idea of just how much is a hundred pips and whether it is hard to achieve. Actually, the answer varies.
Let's start with the basics, a pip is a measuring unit used to express the value of currency during trading. The abbreviation "pip" is decoded as either the Percentage In Point or Price Interest Point, however the etymology of the term shouldn't concern you too much. Your main takeaway is this: pips are used for a number of purposes, from setting specific trade parameters to planning out the trading process. That planning is exactly what served as a foundation for the 100 pips a day Forex strategy. So, how does it work?
100 Pips a Day Strategy Implementation
Depending on how volatile your pair is 100 pips can be a question of several hours. With that said, a lot of pairs never get that much attention during one day. So, the very first thing you will need to do is to settle on an instrument that gets the sufficient amount of volume.
Then, the actual trading process is very flexible. One of the very common takes on the 100 pips a day strategy implementation is using several Exponential Moving Averages (EMAs) set at different periods on a daily chart. From the way the averages interact with each other and correlate with an oscillator of your choice, you will be able to spot entry points for both selling and buying.
Now, the most important point to keep in mind is that your goal is to reach 100 pips worth of profit. Which means that even if the price continues going into favorable direction, you will need to exit. Some 100 pips a day strategy guides help to solve this problem by suggesting opening the next trade, which will give you an opportunity to achieve even more profit. Next, let's discuss a few tactics that are crucial to anyone trading with the 100 pips a day Forex strategy.
Forex 100 Pips Strategy and Tactics
Experts say that the main tactic is built into the 100 pips a day strategy formulation: as soon as you get 100 pips, you need to stop. And although this approach may seem slightly frustrating, it is considered the wisest action path for beginners. Profitable trading is ensured by solid discipline. This way, the strategies that set specific limits are perfect for exercising self-control and forward thinking.
Another one of important Forex 100 pips strategy and tactics tips is to know when to walk away. Sometimes even the most thorough market research can't entirely predict what will happen at the market. Which means that there are going to be days when 100 pips can't be achieved in one day. Take a pause and come back the next day: the market isn't going anywhere. As long as you are persistent, you will become successful.
Finally, the 100 pips a day strategy guides traders to close all trades within the course of one day. This is largely due to the fact that traders are charged for the positions that remain open overnight. The majority of day traders simply can't afford such fees and the smartest solution in their case is to wrap it up and return tomorrow.