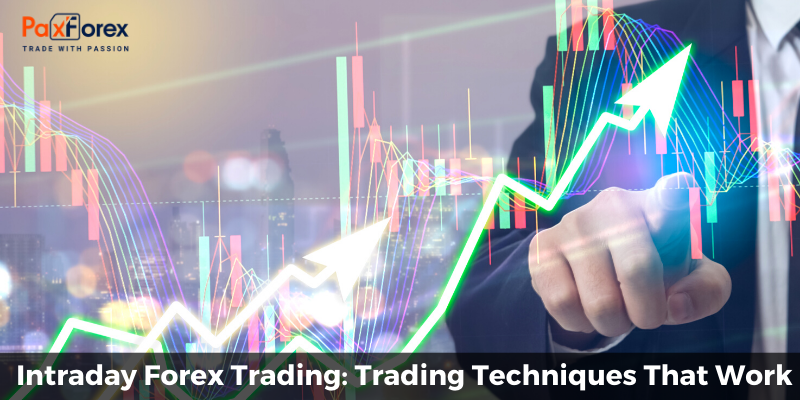 Every Forex strategy has its share of loyal followers. But the intraday methods seem to always remain among the top traders' choices. Let's discover what is intraday trading in Forex and what are some of the Forex trading intraday strategies that work.
What is Intraday Forex Trading
The main difference between choosing to trade Forex intraday or overnight is the swap fees. Swap is an overnight interest fee that wither adds or withdraws from your account as a position gets transferred to the next day. The swaps are designed to cover the charges of closing and simultaneously reopening the trade, so it can survive another day.
Although swap charges don't seem like much, many traders quickly notice that just like spreads, swaps add up rather quickly. That's how intraday trading came to exit. The main goal of an intraday trader is to process all the positions within the course of one trading day. But this is just the general idea, in reality, there are dozens of the best intraday Forex trading strategies.
Forex Trading Intraday Strategies That Work
Intraday Forex trading is one of the largest method categories. Therefore, before you select the most simple intraday Forex trading strategy for you, start by getting familiar with the main approaches to trading within one day.
Scalping is one of the most recognizable Forex intraday trading techniques and it is also the most skill-requiring one. Scalpers benefit from insignificant fluctuations in the price, and often close trades just a few minutes after opening it. The main idea is that over time these insignificant victories will add-up and form one solid profit.
Fading is a style that dictates traders to go short right after an upward move. In this case, the intraday Forex trading signals and opportunities are supplied by the constant tug-of-war between the buyers and the sellers who are always looking to push the price in their desired direction.
Forex intraday swing trading that also includes trading daily pivots is a more paced-out approach. The traders tend to focus on larger price fluctuations, often comparing the daily low to the daily high.
Finally, momentum trading also known as trading on the news is also one of the noteworthy Forex intraday trade ideas. In a nutshell, this fundamental outlook on trading involves buying an asset before the release of the expected news or a report and holding on to it for as long as required after that release.
Forex Intraday Trading Techniques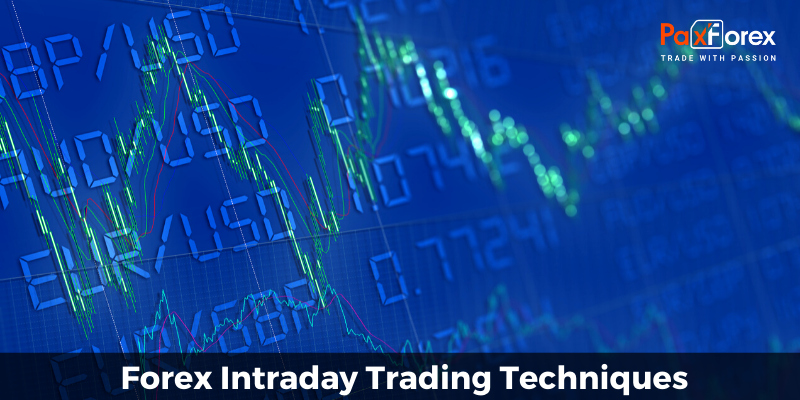 Some of the very common Forex intraday trading techniques include multiple time frame analysis, generous application of automated orders, and the location of day trading Forex intraday candlestick patterns.
Multiple time frame analysis is a method of spotting and confirming trading opportunities by comparing several charts. One of the common approaches for this style is to find a possible trade set up on a larger chart and then zoom in closer on a smaller frame to pin down the most optimal entry point within the same area.
Automated orders are great for all types of trading strategies, but since the intraday trading can be rather hectic at times, getting a technological back up can help a lot. By commanding the system to automatically execute your trade to either minimize the losses or gather the targeted profits, you can get a better sense of security and control, and significantly reduce the trading stress level.
The candlestick chart patterns often prove to be nearly a guarantee of an optimal trade setup. The specific cable formations can tell the trader a whole load of information: from the current mood of the majority to the likely unfolding of the current situation.
Intraday Forex Trading Signals
The intraday trading signals directly depend on the strategy you choose. In some cases, it will be a certain price volume, in others a candlestick pattern or an indicator reading. Whatever is the case, make sure to always have a way of confirming your signal.
Because the charts form rather quickly on short time frames, a large number of signals will appear. But not all of them will be true. That's why many intraday Forex traders believe that the best time frame for intraday is 1H, as it progresses fast enough, but doesn't create too many insignificant signals.
The Best Forex Indicators for Intraday Trading
We've briefly mentioned using indicators to find suitable trading opportunities, so it would make sense to list a few of the best Forex indicators for intraday trading. Here are the three most commonly used indicators for intraday trading:
Moving average is a great tool that shows the direction of the price by connecting the medium values over the chosen period. With help from this indicator, traders can easily disregard the market noise and focus on implementing their strategy.
Bollinger Bands is an indicator that builds up from the simple Moving Average, by adding two more lines to the chart. When applied correctly, the bands can accurately represent the levels of support and resistance and help traders to pick the most optimal entries and exits.
Relative Strength Index is a momentum indicator that can be used in combination with other tools to evaluate whether the market is overbought or oversold. This indicator can both assist with confirming a trend direction and predicting the most possible next move of the market.
Forex Intraday Trading Tips
One of the main intraday Forex trading tips is to make sure that day trading is right for you. Depending on your resources and availability, intraday trading can turn out to be more effort-consuming than you expected.
Then, even if you are comfortable with the overall idea, you need to find a strategy that works for you specifically. Because while the most advertised and popular best intraday time frame Forex trading method will work for hundreds of traders, it may not fit your preferences. So, make sure to take a decent amount of time choosing the right strategy.
Finally, one of the most effective intraday trading tips Forex is to open a free demo account and practice trading there first. A demo account can help you decide which strategy to go with as well as what are the best time frame intraday trading Forex techniques for you.
How to Trade Intraday
Forex intraday trading is not very different from any other approach, as long as you understand it correctly. Dedicate an efficient amount of time to learning and understanding the ups and downs of intraday trading, and you will easily succeed.