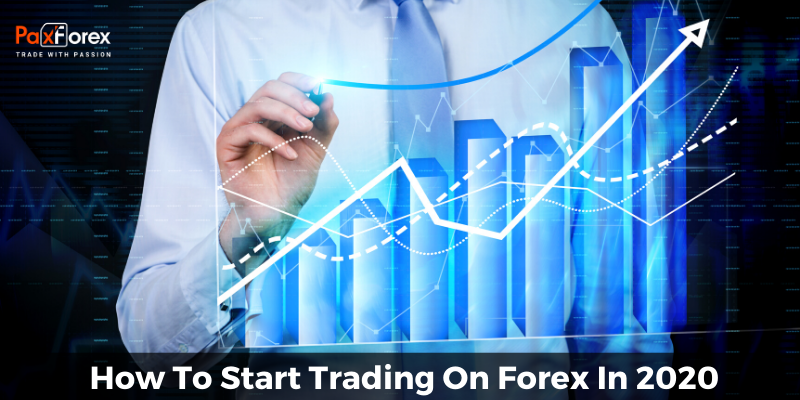 Do you think you've got what it takes to become a profitable trader? Absolutely! As long as you are certain that currency trading is for you and dedicate enough time to master Forex, anything is possible. Today we will discuss how to start a Forex trading career without any experience, and most importantly, without loads of cash in the bank.
Is Forex Trading for Everyone
The biggest obstacle of how to start trading on Forex effectively is doubting yourself. Less than thirty years ago currency trading in particular, or any other type of trading in general, was exclusively accessible to a specific category of financial experts. And although today anyone can become a trader, the stereotype about Forex being a place for highly-skilled pros still exists.
Of course, the more experience and knowledge you gain, the better will be your trading results. However, even if you have only been trading for a couple of weeks, you have good chances of succeeding. While for many Forex is a full-time job, the majority of modern traders are experts in other fields. This means that the market participants trading by your side is anyone from a barista to a nurse, from a mid-tier banker to a global financial institution. Simply said: everyone.
What all traders have in common is the dedication to understand how the market works and use that knowledge for their benefit. So, the real question you should be asking instead of doubting the possibility of becoming a successful trader is 'how to start trading in Forex'?
How to Start Trading Forex
The foundation of every foreign exchange success is knowledge. Forex market is a complex mechanism that operates across multiple industries, time zones, and regions. Very logically, in order to get an idea of how to start trading Forex, you should get a general understanding of the amount of information you will need to process.
But don't get overwhelmed! Fortunately, a lot of reputable Forex brokers do a great job of providing all the necessary information all in one place. And your job is to find the right broker for your trading needs.
There are a lot of approaches you could take when looking for a Forex broker. Some pay attention to the range of services and trading instruments, others value the constantly updating info streams and professional advisory. Truth is — the more a broker can offer, the better. Find a company that understands that learning and practicing are important and provides you with all the best educational tools.
Then, find out more about the trading conditions this broker suggests. The brokerage market nowadays is flooded with offers, and at the same time with dishonest service providers. Make it your priority to carefully read the fine print and ask questions whenever something is unclear. You are looking for an honest, mutually beneficial partnership, so make sure you invest a sufficient amount of time in the search.
After you find a broker who has a great reputation, offers a variety of trading tools and solutions, and also has the resources to teach you how to start Forex trading — consider yourself halfway down the road to success. The next thing you'll need to do is develop a trading strategy that will help you profit off currency trading.
Build Your Personal Trading Plan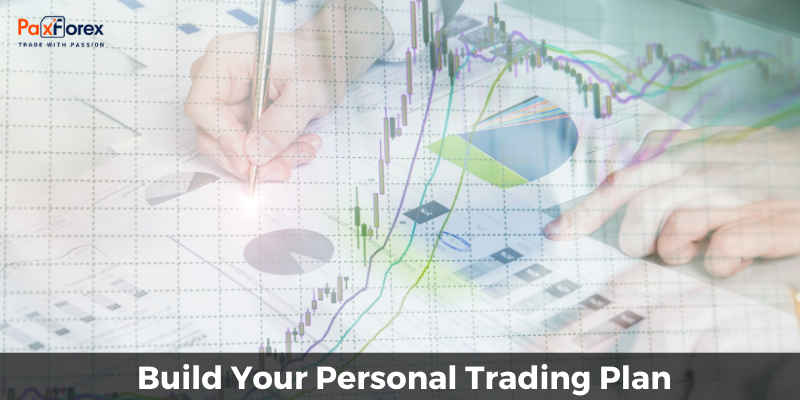 Some traders are skeptical about implementing a strategic approach. After all, can't you just listen to your gut and think on the spot? Well, no you can't. Those who underestimate the importance of following a strategy usually end up failing miserably. Simply because it isn't possible to have the correct reaction for every type of trading scenario.
Picture going to a job interview in an unfamiliar city. You have a limited amount of time and zero knowledge of local geography. Would you rather try and guess your way around or use a navigator? Exactly. Your trading strategy is your map and your action plan at the same time. A good strategy will take you from the moment of spotting the beneficial setup on the chart to executing the trade and gathering your profits.
Of course, you might say, when I am in a strange town I can just ask around. And quite frankly, you can do the same for Forex trading and consult the community representatives. But the information they share, if they do share, will still basically be a strategy. All of the trading video tutorials, podcasts, posts, and webinars essentially describe various trading plans. If you ever find a trading mentor who suggests to 'listen to your heart' turn around and find someone else. Because while having a certain level of intuitive thinking can play a big role, trading is more about calculator and analysis.
So, how to start trading Forex in a smart way? By finding or developing an appropriate strategy. It might be challenging to create your own trading method without any experience, so focus on selecting one from the existing strategies. To make the right choice, first, evaluate your trading capabilities and expectations.
Your trading strategy will largely depend on how much time you have available for trading, as well as how experienced you are. Many novice traders mistakenly believe that strategies that sound fast, such as any day trading strategy, for example, are the way to go if you have limited time on your hands. However, in reality, the short-term strategies require both an advanced skill level and a sufficient amount of time, due to the fact that in order to get visible results, a trader will have to process multiple positions within one day.
The best advice is to start by taking baby steps and testing the water. Consider implementing one of the swing strategies by investing a smaller amount. As the price completes a swing, in either direction, you will see just how significant the profit and loss can look like on Forex. Don't feel too comfortable learning by betting actual money? Then, consider opening a demo account.
How to Start Forex Trading in Demo
Demo accounts are perfect for anyone who wants to learn how to start trading on Forex. The demonstration mode precisely simulates the live trading account, giving its users an option to run free and experiment with any possible strategy, instrument, or technique. You don't need to invest to open a demo account, which means you are also not risking anything in the process.
The best way of how to start a Forex trading in the demo mode is to select a range of trading strategies that seem attractive and try them one by one. Make sure to make notes throughout the process. Notice how well the strategy fits the characteristics of the chosen currency pair, how appropriate are the solutions that it offers, and so on.
You can always bring the necessary changes to a strategy if you feel like it doesn't really hit the spot. And when the strategy doesn't meet your requirements, simply move on. Remember that you are not risking anything in the demo mode, so you can polish off your trading for as long as you need to.
Another thing to keep in mind while practicing in your demo account is that the absence of risk is only relevant during training. The actual trading process is full of risks and it is best to come prepared. Next, let's talk about how to start trading in Forex while considering the potential risks.
How to Start a Forex Trading Risk Management Plan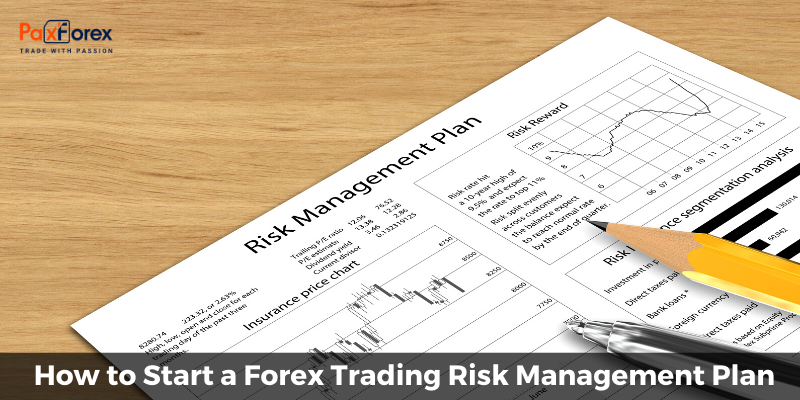 Risk management is a huge contributing element to how to start Forex trading effectively. Just like the trading strategies and analysis techniques, risk perception varies from one trader to another. Some Forex traders prefer to keep their risk to the minimum by taking a slow and steady approach, others choose to go big or go home. Which way is right? Both.
Risk-taking is highly individual and your trading strategy will vary depending on your levels of comfort during stressful scenarios. However, there is one thing that unites all traders disregarding how they approach risk: profitable Forex trading isn't possible without risking a portion of your equity.
So, how to start trading on Forex with proper risk management in mind? Start by outlining the risks that you will be taking as you implement the chosen strategy. For example, scalping strategies live off highly volatile markets: the required reward of several pips can be reached within a couple of minutes due to the combination of speed and volume of trading. But escalated volatility also means that the price can leap in an undesirable direction very fast.
To make sure the unpredicted move doesn't hurt the account balance too much, traders can take advantage of automated orders, such as stop loss and take profit. Stop loss is used to cut the losses in case things don't go as planned. Counterintuitively, the take profit order is used for pretty much the same reason. When the target price is reached, the automated order helps to gather the profit and exit, before the price starts moving in the opposite direction. In general, even outside the fast-paced methods like scalping, automated orders are highly useful for all types of trading strategies.
There are many other risk managing practices that allow traders to optimize their results by cutting down losses and paying attention to a range of instruments. Take your time to find a suitable risk aversion approach and feel free to continue learning and experimenting along the way.
Now, that you have an idea about Forex trading strategies and risk management, it's time to get specific. Below we will talk about how much money do you need to start trading on Forex and what are the possible scenarios for trading with $100, $500 and $5,000
How Much Do You Need to Start Trading on Forex
As previously mentioned, Forex trading was rather exclusive through the larger part of its history, which meant it called for significant financial resources. However, with the introduction of online retail trading, currency trading became much more accessible and affordable. But how much do you need exactly to start trading?
First, establish how much do you have available for Forex trading. This availability means setting aside a comfortable sum of money which will not hurt your overall budget. There are strategies out there that will show you how to start trading Forex with as little as $10. What's important is that you should be at peace with the idea that you might never see these $10 again. On the bright side, however, the $10 can also grow into a $100. So, don't get discouraged by the idea of failing from the first try, just keep in mind that it's a possibility and your job is to get up and keep going.
Although trading with any amount is possible, there is one thing that will strongly depend on how much money you initially invest. And that is your trading account type. The account types divide by size of the lot you will be able to trade. Lots are an expression of the number of currency units that are traded together. The bigger is the lot the higher is per pip value, the risk, and the potential profit.
The big lot size accounts come with a set of distinctive benefits, apart from giving an option to operate with large amounts of money. Bigger account types usually offer lower spreads which can be a great asset for any trader, but especially day traders and scalpers. Spread is the difference between the ask and bid price quotes that gets subtracted from the profit after each trade, as a service charge. The more positions you open, the more exposed you are to the spread charges, so it makes perfect sense to look for low spread Forex brokers.
At this point, you know what to keep in mind when choosing how much to invest in Forex. Next, let's look at some specific suggestions on how to start a Forex trading career with different initial deposits.
How to Start Trading on Forex With $100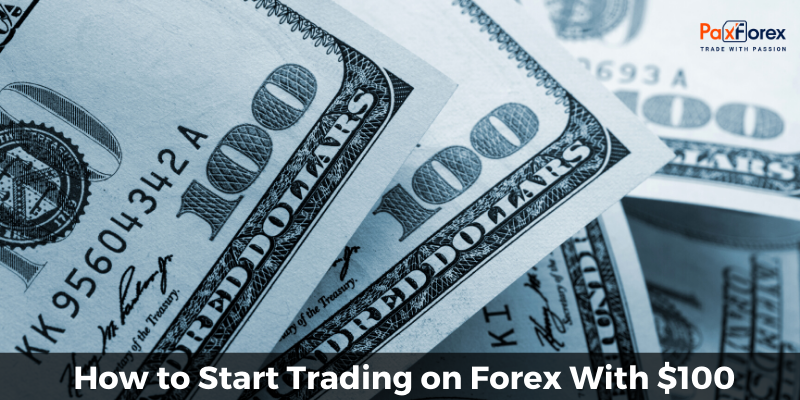 With $100 you can open a Mini account, which is ideal for new traders, as it doesn't expose you to extremely high risks. Mini account at PaxForex also provides the same lot size as the Standard account at a competitive among similar accounts minimum spread of 1.4. You can open the Mini account at the same time as your demo account and test each trade before taking it to the real market. Aside from learning as you go, here are a few more suggestions on how to start trading Forex with $100.
Choose one highly liquid instrument. There is a currency pair category known as major pairs, which include combinations of USD, EUR, GBP, JPY, AUD, and CHF. The reason for their dominance at the market is multilayered: from strong and complex economies of the countries that control the currencies to international trade regulations and policies. You'll get to all these as you continue trading, at first just focus on the fact that the major currency pairs are more likely to bring you visible profit.

Limit your trades. When you don't have too much to trade with it is best to set certain limitations to your trading process. For example, you can establish a range of 10 pips a day, in either direction. This way, you will exit the market after gaining profit worth 10 pips as well as after losing the same amount. Through this approach, you will be able to extend the initial hundred for longer and slowly build it up into a bigger number.

Consider using leverage. Leverage is a great tool that helps traders increase the size of every position and with it the significance of potential profit. Just make sure to keep an eye on the margin level in order to always be in control, and make a habit of not biting off more than you can chew.
How to Start Forex Trading With $500
With $500 you will still be trading in the Mini account, but with more room for action. Since you have more money to trade with, you have two options: either open more trades or use several trading instruments. Although it isn't advised for new traders to spread their attention over more than one instrument at first, adding just one more won't hurt. This way, instead of walking away and waiting for the next opportunity when things aren't going as planned, you can switch to another instrument and see if there are any opportunities there. Here are a few tips on how to start Forex trading with $500.
Master fundamental analysis. Technical analysis is great for the majority of scenarios, but if you want to engage in longer-term strategies, it's always a good idea to get an understanding of fundamental tendencies. Through combining technical and fundamental analysis you will be able to make more effective decisions and invest your funds more wisely.

Implement a variety of strategies. The more you have in your account, the wider is the range of trading opportunities. For example, you can choose to base your trading decisions on the specific chart patterns, or on the certain indicator readings. You can also mix and match and experiment with different setups and tools.

Trade with two-thirds of your balance. Trading with no more than two-thirds of your account balance is a rule of thumb for many Forex professionals. While taking risks is important to conquer new heights, preserving a portion of your account for later use can also be very helpful.
How to Start Trading Forex With $5,000
The more you invest, the wider is your opportunity horizon. This way, $5,000 will get you access to the Standard account, with the minimum spread reduced to 0.4. Additionally, the Standard account allows you to trade beyond currencies, and explore the benefits of working with shares, CFDs, and ETFs. $5,000 is also halfway to a VIP account, which will give you the advantage of priority execution and constant support from a personal account manager. Here are bonus tips on how to start trading Forex with $5,000.
Diversify your portfolio. At this point, there is no reason to hold back and limit your instrument selection. Switch between strategies, instruments, and even asset classes to take the most out of Forex trading experience. Plus, a diverse portfolio is an ultimate tool in most risk management approaches.

Develop a regular deposit/withdrawal schedule. Make sure to top up your account on a regular basis in order to participate in the most exciting scenarios with visible positions. But at the same time make a habit of withdrawing from time to time so you can actually access and enjoy the results of your hard work.

Create your own trading strategy. Traders who start trading in Forex with $5,000 and more are usually the ones with certain levels of expertise. This means that you should have enough knowledge and skills to create your individual trading method. By trading on your own terms you can eliminate all the discomfort and progress at your own pace.
How to start trading Forex with PaxForex
PaxForex has everything for you to learn how to start trading in Forex. We work hard to deliver the most up-to-date learning materials, analytical reports, advanced technological tools, and a lot more. If your goal is resourceful and comfortable trading, then PaxForex is your best choice! Open an account with us today to begin the exciting journey to currency trading excellence.