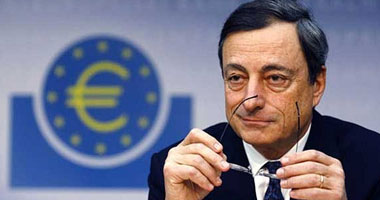 Incentives of the European Central Bank are gaining momentum, but if it turns out that current efforts are not enough to accelerate the recovery in the euro area, the ECB is ready to do more, said yesterday the bank's president Mario Draghi.
Growth momentum in the euro area has become weaker during the summer, but the measures taken by the ECB and the reforms in the countries of the block should still lead to a moderate recovery in the next and 2016 years, he said.
"We see the initial evidence that our program of mitigate lending brings tangible benefits," said Draghi, speaking in the European Parliament, adding that they need more time to take effect of the recent measures.
The ECB injects money into the banking system by offering long-term loans to banks and buying private securitized debt in order to encourage banks to expand lending to households and companies.
Draghi said that "credit recession seems left behind." Central Bank chief economist Peter Praet made similar comments Monday, saying that there were ghost signs that the dynamics of lending in the eurozone reached a turning point.
However, the overall picture remains disappointing. Economy in the euro area remains very weak in recent months, as governments implement reforms to make their economies more competitive and reduce the debt burden.
Draghi repeated that ECB is ready to take new measures if inflation will remain too low for too long, saying that the ECB is preparing the ground for further steps and they can include the purchase of sovereign bonds.